Romagnoli F.lli S.p.A. is taking its commitment to the environment one step further and choosing the innovative Sormapeel packaging for its all-uses èVita ware potatoes.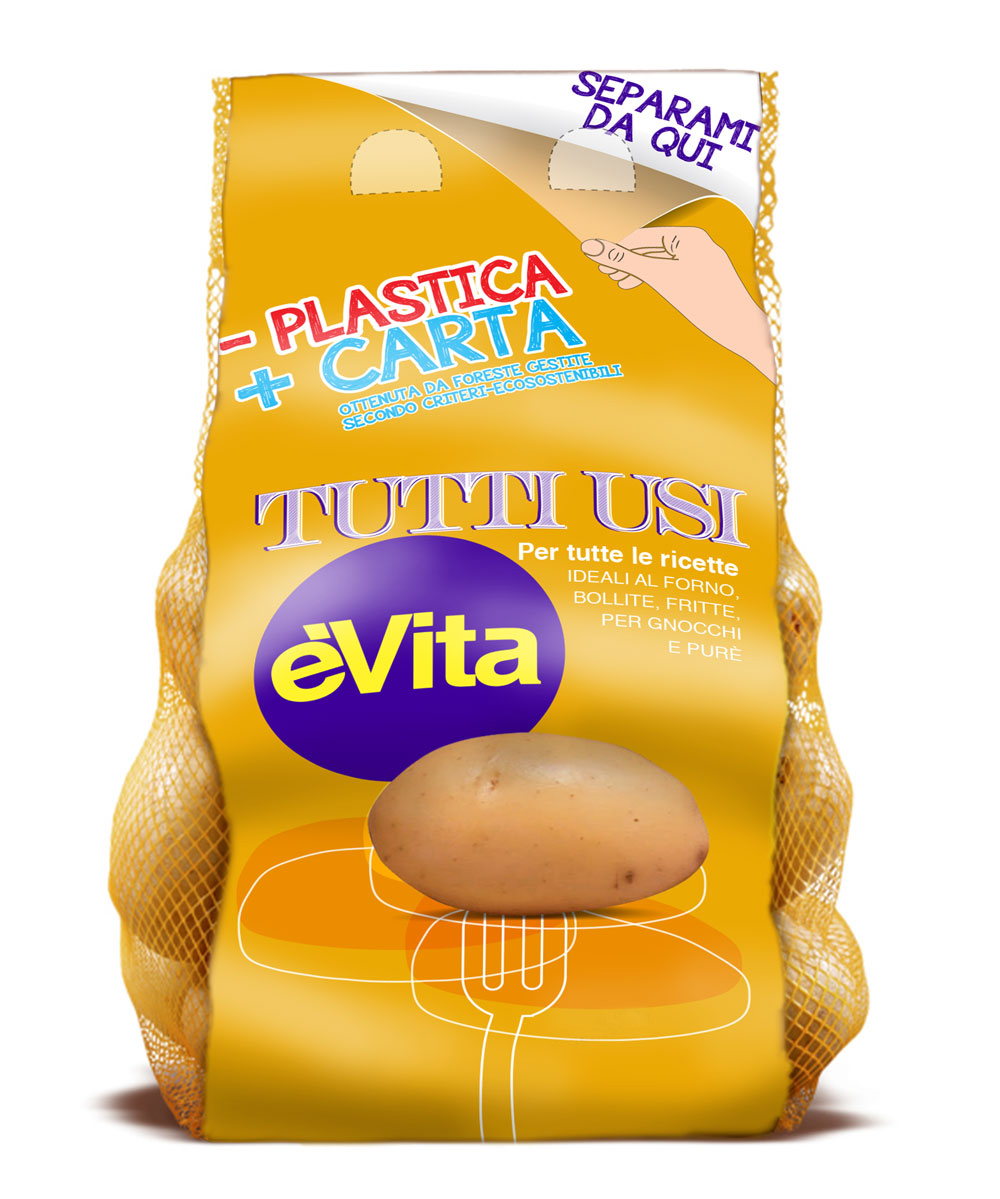 The new pack is made from paper and polyethylene, two elements that are easy to separate and recycle in plastic and paper waste collection respectively. It helps cut plastic by 25% compared with the vertbags in use and it will soon be extended to the entire line of èVita brand ware potatoes.
The new pack for all-uses èVita potatoes – available in 1.5 kg and 2 kg formats – is also a great communication tool. Once the plastic and paper parts have been separated, consumers will be able to read news and interesting facts about the company, its products and their use in the kitchen on the inside of the pack.
Sustainability is playing an increasingly important role in consumers' purchasing decisions. 36% of Italians now choose products that limit their environmental impact, and 61% say they are willing to change their buying habits to reduce the effect on the environment. The role of packaging is particularly crucial: in fact, 37% of Italians think a product is sustainable if it is packaged with recycled materials or with a low environmental impact (source: Nomisma-Spin Life Consumer Product Packaging Observatory).
The CEO of Romagnoli F.lli S.p.A., Giulio Romagnoli, spoke about this choice while underlining how the use of the Sormapeel vertbag for all-uses èVita ware potatoes is fully part of the company's process to make its supply-chain production increasingly sustainable and to offer consumers environmentally friendly products also in their choice of packaging. This process which the company is carrying out ranges from offering a new generation of potatoes resistant to the main plant diseases right up to investments which allow it to be self-sufficient for over 50% of the electricity used in its production plant, or from èVita Residue-Free new potatoes* to process innovations that allow it to recover all of the water used in its product processing. For Romagnoli F.lli S.p.A., real innovation is an essential part of sustainability. However, it has to be a shared commitment by everyone involved in the supply chain by promoting ethical and informed models of growth.
*Chemical residues legally permitted under the limits of analytical determination (0.01 ppm) and residues of plant protection substances authorised for use in organic farming (pursuant to Annex II of EC Reg. 889/2008), up to a maximum of 50% of the Maximum Residue Limit.