This potato, spinach, carrot and chickpea veggie burger is a healthy and delicious vegetarian recipe made with the Constance variety, with its soft, flavourful flesh.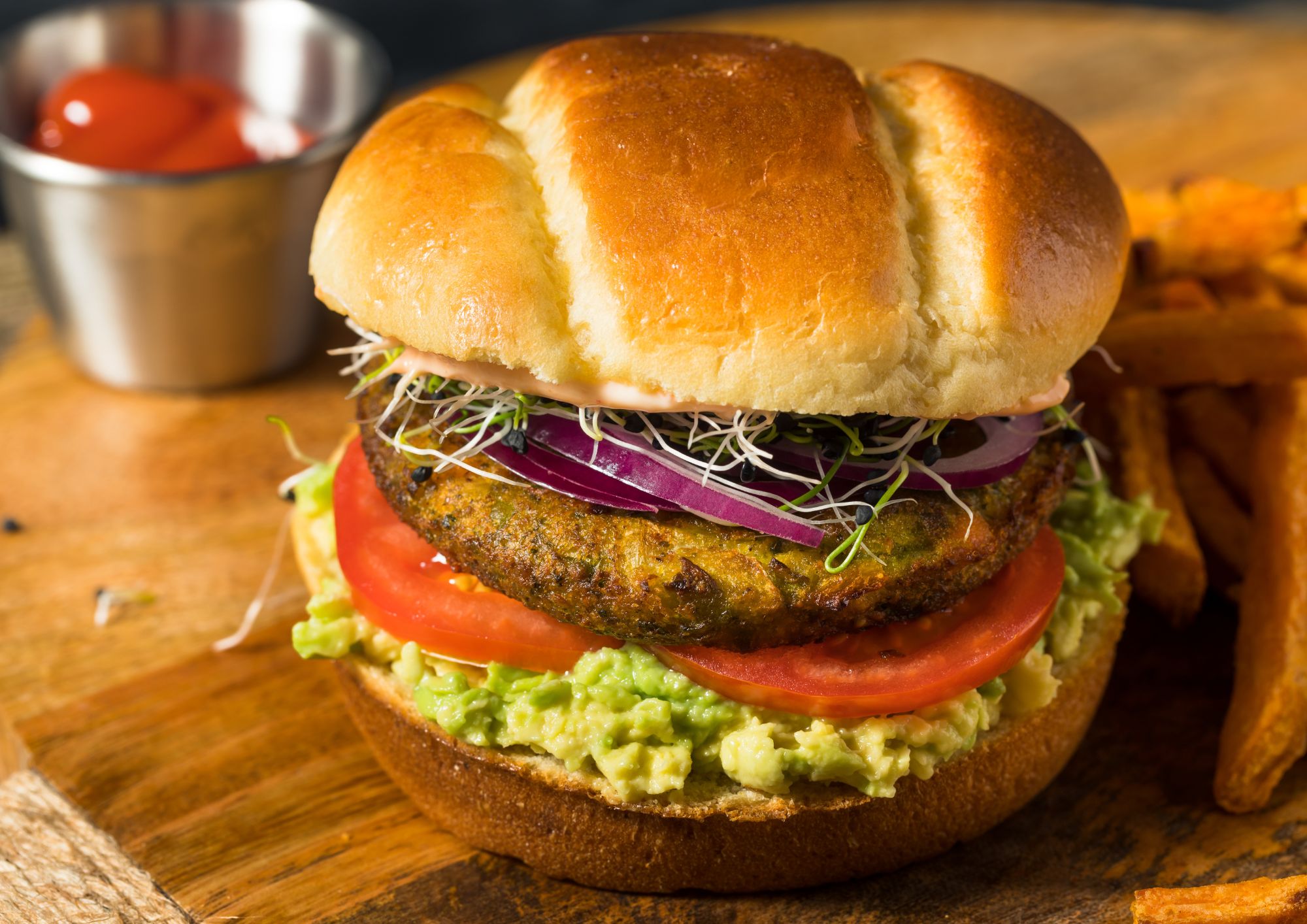 Ingredients for 4 people
Spinach, 400g
Chickpeas, 200g
Constance potatoes, 150g
Carrots, 100g
White wine, 100ml
Parmigiano Reggiano, 80g
Breadcrumbs, 50g
Flour, 30g
Extra virgin olive oil, 40ml
Shallot, 2
Egg, 1
Garlic, 1 clove
Table salt, to taste
Black pepper, to taste
Avocado, 4
Tomato, 2
Burger bun, 4
Mixed sprouts, to taste
Paprika mayonnaise, to taste
Preparation
Thoroughly wash the potatoes and carrots, peel them and grate them julienne style. Also clean the spinach and rinse the drained chickpeas. Pour the chickpeas with some extra virgin olive oil as required into a mixer and blend until you get a cream. Sweat the chopped shallot in a pan with a drizzle of extra virgin olive oil. At this point, add the potatoes and carrots and simmer with the white wine. When the vegetables are cooked and nicely dry, roughly mash them with a fork. In another saucepan, brown a clove of garlic with a drizzle of oil, then add the spinach and, when they are ready, remove the garlic and season with salt to taste.
Put the vegetables together in a bowl, add the blended chickpea cream, the previously beaten egg, the grated parmigiano, the breadcrumbs, the ground pepper and then mix all the ingredients together well. The mixture must be soft yet firm: add some more breadcrumbs if necessary. Leave the mixture to rest for 30 minutes before shaping into burgers. Make burgers using a little mould or your hands, then gently coat them with flour on both sides, place them in a greased ovenproof dish and cook at 180°C for 30 minutes, making sure you turn the burgers halfway through cooking. When ready, take the burgers out of the oven and leave them to cool down.
Cut the avocado in half, take out the stone, then remove the flesh and put it into a bowl. Add the lemon juice to stop it from turning black. Mash the avocado with a fork until you get a cream, then season with salt and pepper. Cut the bun in half and spread a little of the paprika mayonnaise on the top half. Put the avocado cream on the base of the bun, then add two slices of tomato, the burger, a few slices of fresh shallot, the mixed sprouts, and close the bun. Bon appétit!
Image: Canva