What better occasion than Halloween to give free rein to your creativity in the kitchen? Here's a recipe made for us by food blogger Irene Bombarda (Instagram handle: @uno.spicchio.di.melone), who used our èVita Residue-Free potatoes grown with the Constance-variety and its yellow flesh to create irresistibly monstrous baked potatoes!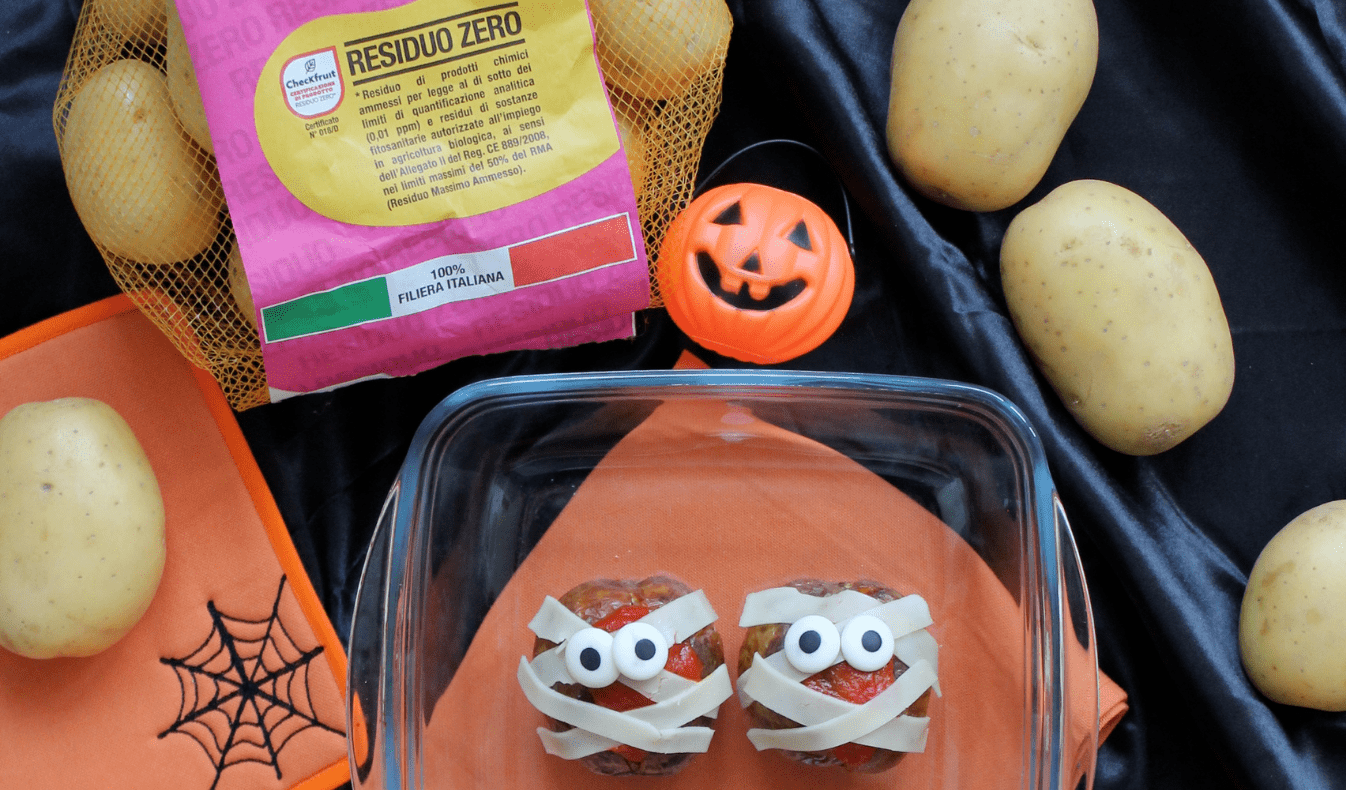 Ingredients for 9 baked potatoes
èVita Residue-Free potatoes, 9 medium
Tomato passata, 200 ml
Cow's milk mountain cheese, 4 slices
Extra virgin olive oil, to taste
Salt, to taste
Black pepper, to taste
Garlic, to taste
Edible 'eyes' or black olives, 2
Preparazione
Wash and dry the potatoes with a cloth. Place them on a baking tray lined with baking paper and add a drizzle of extra virgin olive oil. Bake in a preheated oven at 200 degrees for an hour, turning the potatoes after the first 30 minutes. In the meantime, start preparing the tomato sauce and cheese. Fry a clove of garlic in a pan with extra virgin olive oil, add the passata, some salt to taste and cook for about 15 minutes. Make thin strips from the slices of cheese to be used as 'bandages' for our 'mummy' baked potatoes. Before taking the potatoes out of the oven, check that the centre is also well-cooked with a fork. Once ready, cut them lengthwise, opening them up without completely cutting them and, using a fork, soften the potato inside, adding a little salt and pepper. Add the tomato sauce and use the strips of cheese to create a bandage effect. Finish by adding pre-made edible little eyes, or you can use small pieces of black olives. Your 'Halloween-edition' baked potatoes are now ready to serve!
Image by Irene Bombarda