The tenderness of Levante variety new potatoes meets eggs Benedict in a dish with delicate textures and bold flavours.
Levante is a "Next-Generation" variety, which is naturally resistant to the main diseases and perfect for growing Residue-Free potatoes. It is characterised by its yellow flesh, semi-floury texture and light yellow skin. Discover how we have used it to make this simple recipe that will amaze everyone.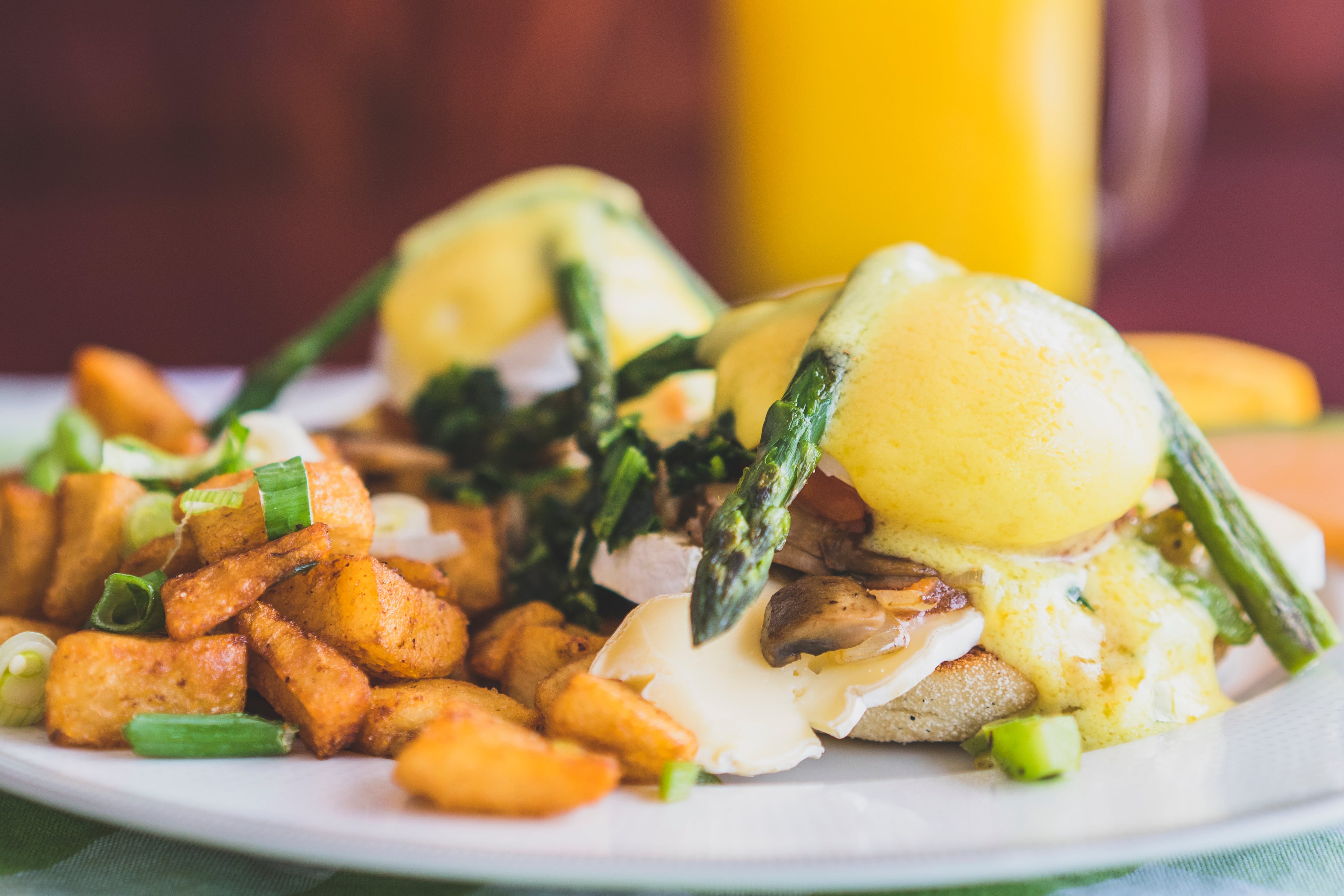 Ingredients for two people:
Eggs, 8
Levante variety new potatoes, 6
Brie cheese, 400 g
Field mushrooms, 100 g
Bread, 4 slices
Chives, to taste
Clarified butter, 100 g
Lemon juice, 20 ml
Garlic, 1 clove
White wine vinegar, 10 ml
Extra virgin olive oil, to taste
Sweet paprika, to taste
Salt, to taste
White pepper, to taste
Preparation
Start by preparing the new potatoes. Peel them and, once you have diced them, leave them to soak in cold water for about 10 minutes. After they have soaked, drain them and then boil them in salted water for 5 minutes. Put the drained potatoes in a bowl and add some salt, extra virgin olive oil and sweet paprika to taste. Mix the potatoes with a tablespoon, put them on a baking tray lined with baking paper and cook in a preheated oven at 200°C for 35 minutes. In the meantime, focus on the asparagus. Wash them, boil them in salted water for 10 minutes and put them to one side. Now start preparing the mushrooms. Wash them thoroughly, making sure you remove any potential soil residue, dry them and then cut them into slices. Heat up two tablespoons of extra virgin olive oil and a clove of garlic in a non-stick pan, add the mushrooms and a pinch of salt and cook for about 15-20 minutes.
While the vegetables are cooking, prepare the Hollandaise sauce. Melt the butter in a bain-marie until the white froth on the surface has completely evaporated. Filter it into a bowl with fine-mesh sterile gauze and put it to one side. Still using a bain-marie, cook 4 egg yolks in a saucepan, mixing them with a whisk and adding lemon juice, white pepper and salt to taste. Keep stirring, drizzle the clarified butter into the egg yolks and cook for another 5 minutes over a low heat, but do not let the water boil. When the sauce becomes light and smooth, remove it from the heat.
When all the vegetables are ready, cook the poached eggs (two per person). Pour the water, white wine vinegar and salt into a large saucepan. When the water starts to boil, turn down the heat and, using a whisk, create a swirl by stirring in the same direction. Break the eggs into a small bowl and pour them into the saucepan one by one. Cook them each for about 2-3 minutes and drain them with a skimmer. You do not need to keep stirring the water during cooking. Toast the slices of bread and cut the brie into thin slices. Put two slices of bread onto each plate and put the following on top in this order: the brie, eggs, asparagus and then the Hollandaise sauce. Add the roast potato side dish, garnish with a handful of chives and then serve.
Image by Atelier Knox from Shutterstock