Crunchy on the outside, soft on the inside and capable of bringing out the best of all the flavour of our Levante variety potatoes. A traditional Swiss dish, this is a rösti, a sort of pancake whose main ingredient is potatoes.
Certain versions also add speck ham, onion or cheese. We'll show you the original version, served with sour cream: an explosion of flavour in a quick and easy dish.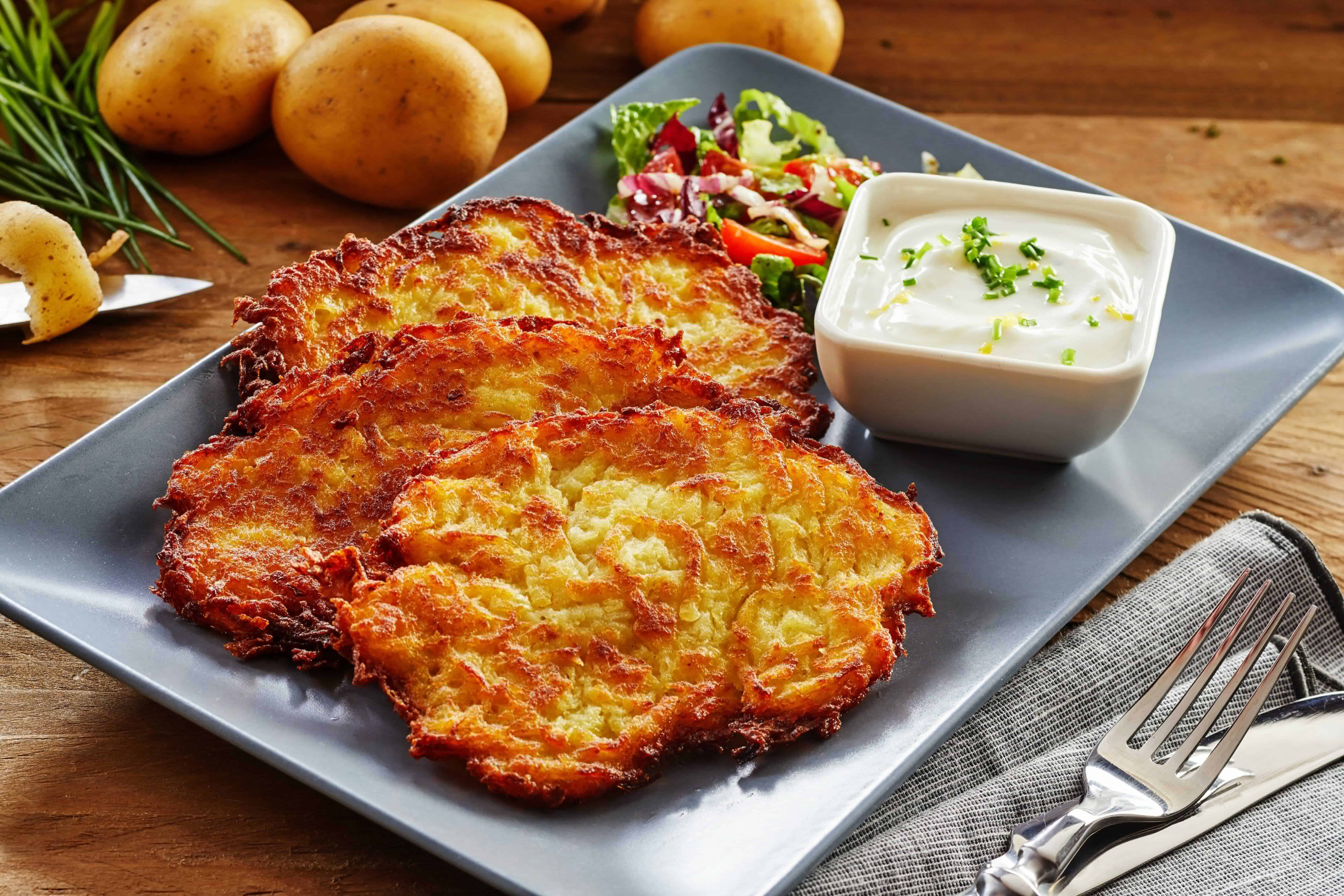 Ingredients for 4 people
Levante variety potatoes, 1 kg
Butter, 80 g
Extra virgin olive oil, to taste
Salt, to taste
Black pepper, to taste
Fresh liquid cream, 250 ml
Whole milk natural plain yoghurt, 70 ml
Chives, to taste
Preparation
Start with the sour cream, which must be made the day before. Mix the fresh liquid cream and yoghurt in a bowl and leave this cream to rest at room temperature, covered with a cloth, for 24 hours. Before serving it, enrich it with finely chopped chives. To make the rösti, peel and grate the potatoes with a large-hole grater, then season them with a knob of butter, salt and pepper. Melt a large knob of butter in a big non-stick pan and add a drizzle of oil. Pour in the grated potatoes, mix over a medium heat for about 5 minutes and, using a spatula, divide the mixture by forming pancakes about 15-20 cm in diameter and not very thick. Brown the röstis, cooking them for 5-6 minutes on each side over a medium-high heat, then transfer them onto a plate and dry off any excess fat with kitchen paper. Check that they are cooked properly with the rösti soft on the inside and crunchy on the outside. Repeat this process until the mixture is finished. Once cooked, plate them up and serve with sour cream flavoured with chives.
Image by stockcreations from Shutterstock