We're giving fish and chips a Mediterranean twist with this succulent tuna fillet seared on the grill served with fragrant chips made with our Twister variety potatoes, with their semi-firm, light yellow flesh and intense flavour.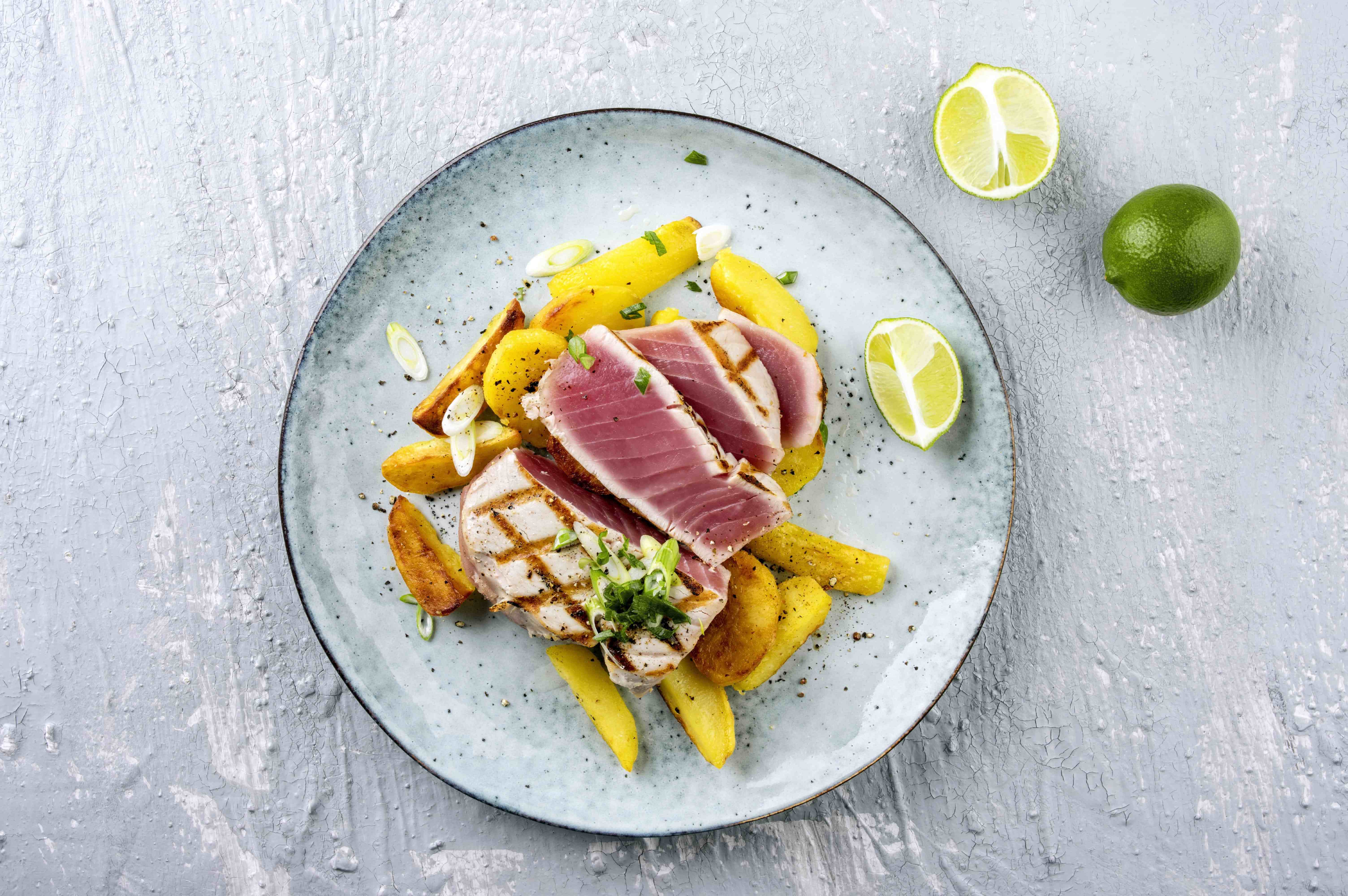 Ingredients for 4 people
Tuna fillets, 4
Twister variety potatoes, 6
Limes, 5
Extra virgin olive oil, to taste
Peanut oil for frying, 1 l
Black pepper, to taste
Parsley, to taste
Spring onions, 2
Salt, to taste
Preparation
Start by preparing the tuna. Make a marinade with the juice of 3 limes and some extra virgin olive oil. Put the tuna fillets in the marinade, turn them to soak both sides and leave them to marinate in the fridge in a covered container for about 30 minutes. The marinade will allow the fillets to soak up the flavour and will also keep them soft during cooking.
In the meantime, wash, peel and cut the potatoes into wedges. Soak them in cold water, possibly for about two hours in the fridge. This step will help remove any excess starch and make crispy chips. Once this time is up, drain the potatoes, dry them thoroughly and fry them in a non-stick pan in plenty of boiling peanut oil until they reach the desired golden brown colour and texture.
Drain the tuna from the marinade and cook it on a very hot griddle pan over a medium-high heat for about 5 minutes on each side. Times may vary depending on the thickness of the fillet and the desired degree of cooking. If you prefer just to sear it lightly, it's a good idea to make sure that the fish has been blast-chilled. Now plate it up. Place the fish and chips on a plate, add a few thin round slices of spring onion, a pinch of salt and pepper to taste, a drizzle of extra virgin olive oil and finish with some chopped parsley and a few slices of lime.
Image by hlphoto from Shutterstock