25 October is World Pasta Day. Here are four recipes that celebrate the combination of two of the most versatile and loved foods in the world, pasta and… potatoes, of course!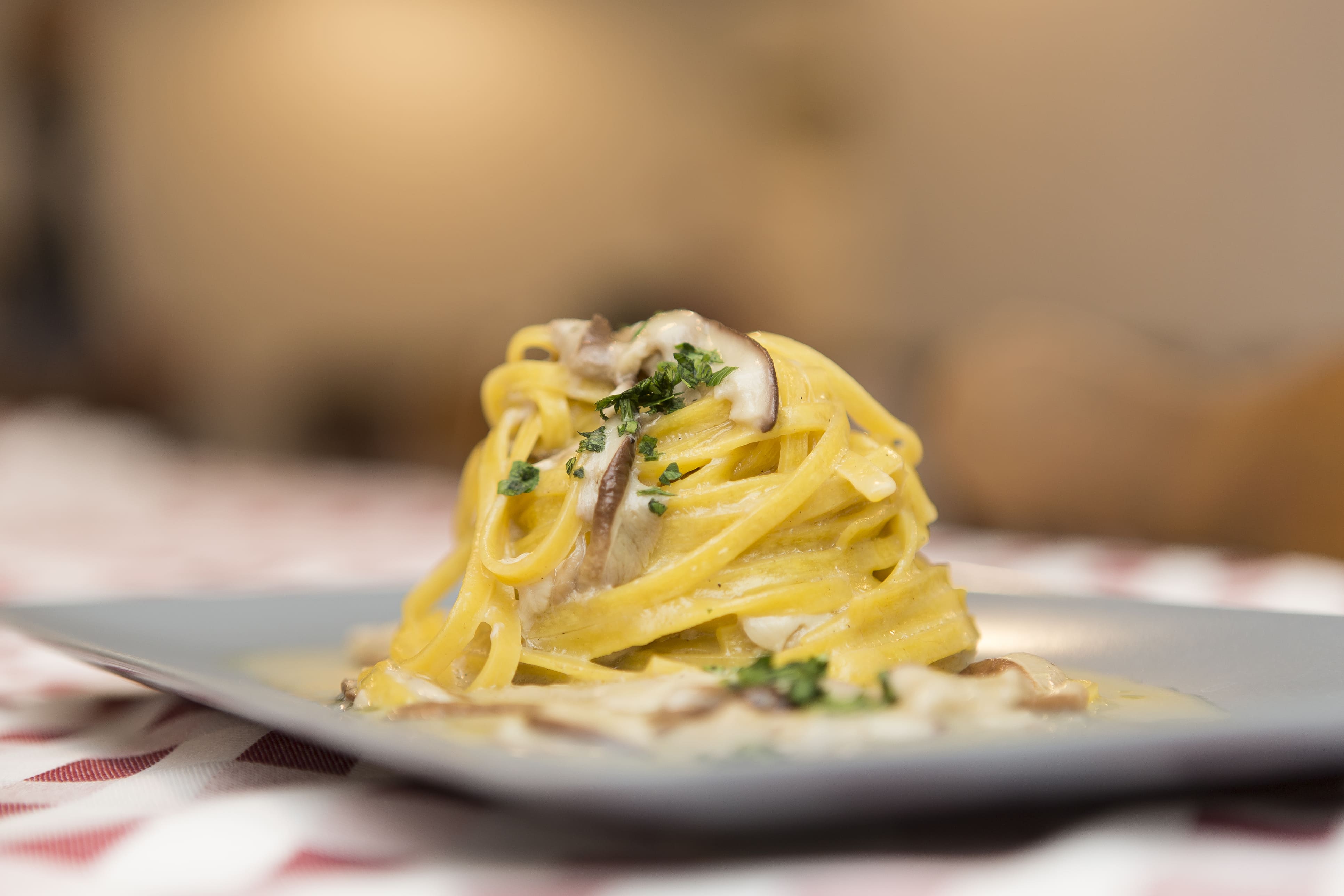 Now in its 23rd year, World Pasta Day was created by the Italian Food Union and the IPO (International Pasta Organisation) to consecrate, including on the calendar, one of the most eaten and enjoyed foods in the world. Just think that, in ten years, global consumption of pasta has doubled, increasing from almost 9 million tonnes in 2010 to about 17 million in 2020 (source: Italian Food Union).
To mark this occasion, we have decided to celebrate pasta together with another star of world cuisine: potatoes. Whether used as a condiment or a filling, potatoes will add a soft, captivating touch to your dish. Here are four of our favourite pasta and potato recipes.
Tagliatelle pasta with creamy potatoes and porcini mushrooms
This is the perfect autumn dish, where the classic tagliatelle with porcini mushrooms recipe meets the creaminess and delicate flavour of the creamy sauce made with our Colomba-variety potatoes, with their yellow flesh and bright skin. Discover the recipe here.
Fan-shaped pasta parcels with potatoes and ricotta
Our Constance-variety potatoes, with their semi-firm flesh, are combined here with ricotta for an incredibly soft filling. These fan-shaped fresh pasta parcels, to be sautéed in the pan with butter and sage, are incredibly easy to make, yet very satisfying. Discover how to make them here.
Spaghetti carbonara revisited with creamed potatoes and speck ham
The risk of making your carbonara too dry is averted with this original version of one of the most loved dishes in Italian cuisine. The creamy sauce made with our Monique-variety potatoes will give your carbonara the perfect texture, while speck ham will add a Nordic touch to this classic from Lazio cuisine. Discover how to make it here.
Orecchiette pasta with potatoes and mussels
This recipe is the perfect combination between the sea and the land, thanks to the softness and delicateness of our Levante-variety potatoes and the tasty flavour of mussels, served with the essential aromas of parsley, white wine and garlic. Discover how to make it here.
Image by Cesare Ferrari from iStock