Today came the announcement of the eleventh edition of Festival Francescano, which will be held in Bologna from 27th to 29th September 2019.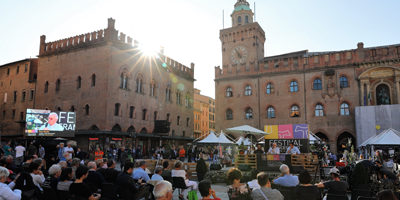 With more than 150 free events, including conferences, performances, workshops and displays, the Festival will reflect on our need to establish a dialogue between different worlds and opinions. Romagnoli F.lli S.p.A. will be supporting the 11th edition of the Festival - an event inspired by the extraordinary meeting between Francis of Assisi and the Sultan of Egypt in 1219. This year, its chosen topic is "Through Words. Attempting Dialogue", through which we will focus on how crucial it is to combat prejudice, fear, and exclusion; some of the greatest ills of this century.
Organised by the Franciscan Movement of Emilia-Romagna in collaboration with the Municipality and the Church of Bologna, the Festival's mission is to reconcile different ideas and to look for pathways and possible routes towards building the future. The initiative is also being sponsored by the City of Bologna, the Region of Emilia-Romagna and the IEC (Italian Episcopal Conference).
The scheduled debates will deal with different topics, like work, with economist Stefano Zamagni, and poverty, with UNHCR spokeswoman Carlotta Sami and the president of Opera San Francesco per i Poveri (St. Francis's Charity for the Poor), Marcello Longhi. Another debate will discuss the relationship between the West and China, with former Italian prime minister Romano Prodi and Jesuit priest and journalist Father Antonio Spadaro. In the presence of Monsignor Matteo Maria Zuppi, Archbishop of Bologna, Agnese Moro (daughter of Aldo Moro, Italian statesman assassinated by the Red Brigades) and Adriana Faranda (former member of the Red Brigades) will be talking about their journeys of 'restorative justice'. Amongst the Festival's many hosts will be anthropologist Marco Aime, writer Eraldo Affinati, sociologist Stefano Allievi, psychoanalyst Luigi Ballerini, journalist Mario Calabresi, the president of Forum Famiglie (Italian Forum of Family Associations) Gigi De Palo, philologist Ivano Dionigi, and Dominican friar Timothy Radcliffe. One of the events will also feature singer and songwriter Simone Cristicchi, who will be performing with the Collegium Musicum Almae Matris Orchestra as a part of his tour 'Abbi cura di me (Take Care of Me)'.
The full programme is available at www.festivalfrancescano.it