From the north to the south of Italy, lentils are a real staple of New Year's dinner tables. But who says you have to eat them with a cotechino pork sausage? Here, we offer them as an ingredient in a delicious recipe for a happy New Year!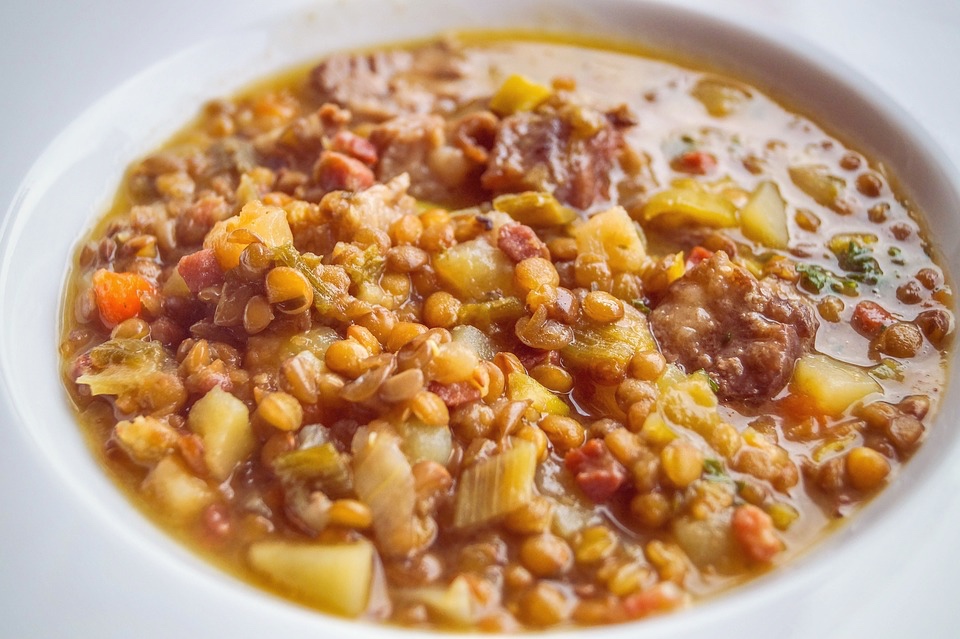 Ingredients
Potatoes, 300 g
Lentils, 200 g
Fresh sausage, 300 g
Soft cheese, 200 g (something like scamorza)
Tomato purée, 200 ml
Meat stock, 300 ml
Onion, 1/2
Celery, 1 stalk
Carrots, 2
Salt, to taste
Water, to taste
Extra virgin olive oil, to taste
Preparation
Fry the onion, celery and carrots, add plenty of water and boil the lentils for at least 30 minutes (if you want to reduce the cooking time, we suggest leaving the lentils to soak for at least 12 hours before cooking them).
Wash the potatoes, peel them, cut them into very small cubes and mix them with the lentils. Add the meat stock and the tomato purée, then continue cooking everything over a low heat for another 30 minutes.
In the meantime, make the mini meatballs. Cut the pre-skinned sausage and cheese into little pieces, and mix them with a hand-held blender. Make the mini meatballs with the mixture you've made, and brown them for a few minutes in a well-oiled pan.
When the soup cooking water has dried off, add the mini meatballs.
Mix and serve the soup piping hot.
Buon appetito, but above all happy 2019.