A starter, a side, a mid-day snack and even a full meal: the savoury pie is truly a jack of all trades, and countless tasty variants are possible. The recipe provided here is for the classic potato and bacon version.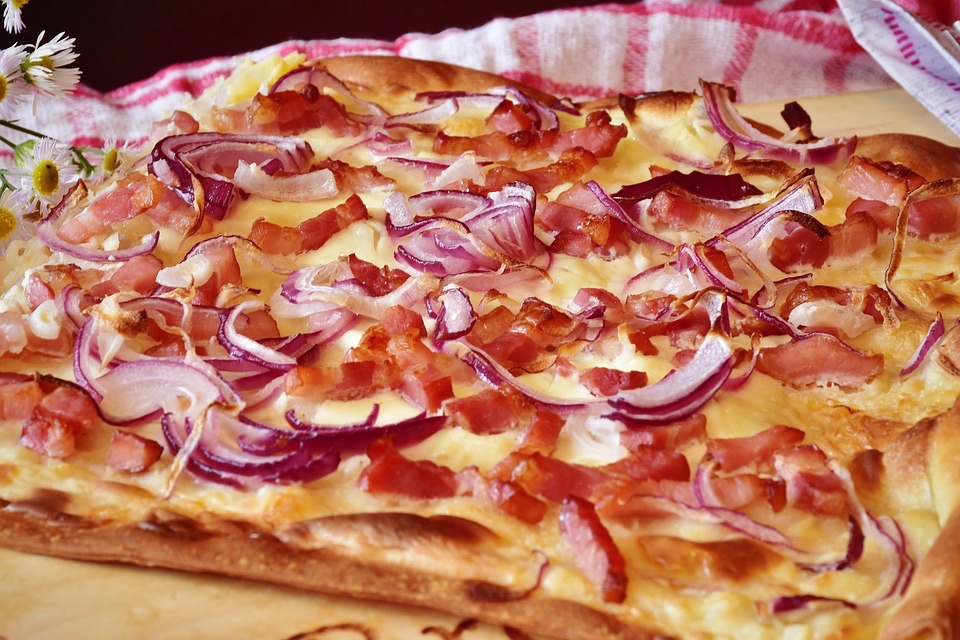 Ingredients for one pie 28 cm in diameter
Potatoes, 600 g
Shortcrust pastry, one 250 g roll
Smoked pancetta cubes (Italian bacon), 200 g
Prosciutto cotto ham, 100 g
Italian salami, 100 g
Soft cheese, 200 g
Onion, 1 (medium-sized)
Salt and pepper, to taste
Extra virgin olive oil, to taste
Preparation
Finely chop the onion and brown it in plenty of extra virgin olive oil, using a large non-stick pan. Once it's golden in colour, add the smoked pancetta cubes and brown them for a few minutes on a low flame.
In the meantime, prepare the potatoes: wash them, peel them, dice them finely into cubes no more than 2 cm long, then add them to your sauté. After 5 minutes on a low flame, add one glass of warm water, cover the pan and let everything cook on a low flame for 15 more minutes, gently stirring every now and then. Once the potatoes have gotten soft, add a bit of salt (not too much, as pancetta is already very tasty), turn off the flame and cool. Chop up the salami and ham (of course, feel free to use whatever cold cuts you like best), dice the cheese, and add everything to the potato base, mixing well.
Lay out the shortcrust pastry onto a buttered pie dish 28 cm in diameter, making sure the dough adheres nicely to the sides of the dish (there's no need to butter the tray if you use parchment paper). Pour your mixture into the crust, even it out, and bake at 200° for 25 minutes in a conventional oven.
If you wish, you may add thin onion slices at the top for the last five minutes in the oven. Let the pie cool, then slice it and serve.
Buon appetito!