This Valentine's Day, skip the usual chocolates and amaze your partner with these irresistible biscuits with potato shortcrust pastry filled with hazelnut cream.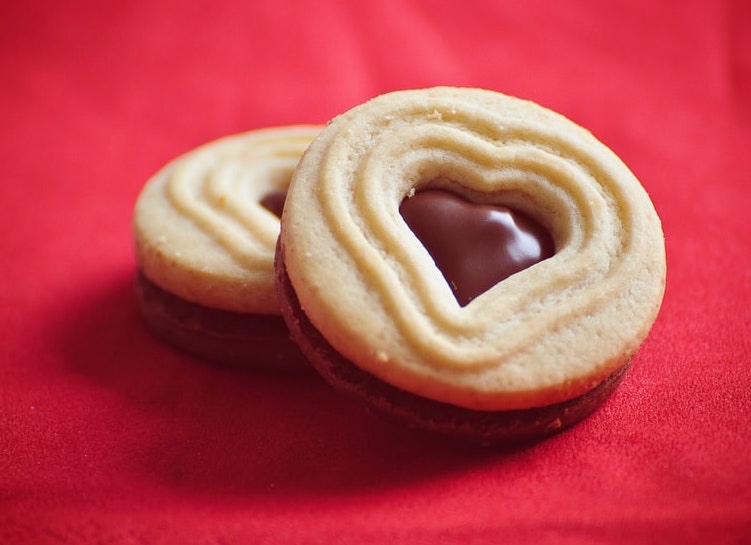 Ingredients for about 40 biscuits:
Potatoes, 500 g
Ultra-fine flour ("00" type), 300 g

Sugar, 100 g
Butter, 50 g
Eggs, 2
Lemon, 1
Cocoa powder, 50 g
Baking powder, 8 g
Hazelnut cream, 180 g
Preparation
Wash the potatoes, peel them and boil them for 30 minutes in lightly salted water. Drain them, leave them to cool, and then mash them with a potato masher. Melt the butter over a low heat, mix it with the potatoes and add the eggs, grated lemon peel, sugar and sieved flour with the baking powder. Knead together until you get a compact ball of dough and divide it into two equal portions. Add the cocoa powder into one of the two halves and knead again. Wrap the two dough balls separately in cling film and leave them to rest in the fridge for an hour.
Roll out the cocoa shortcrust pastry on a pastry board and make the biscuit base with a round mould. Roll out the second ball of shortcrust pastry, then use the same mould to make the biscuits and cut out a little heart in the centre. Bake at 180°C for 15 minutes, take out of the oven and leave them to cool down. Fill the cocoa shortcrust pastry base with the hazelnut cream and place the second biscuit on top, pressing down lightly to stick the two parts firmly together.