This is a meal on its own, bursting with colour and flavour, made from potatoes, broccoli and red onion. It's great to eat just out of the oven to make those first autumnal evenings a little milder.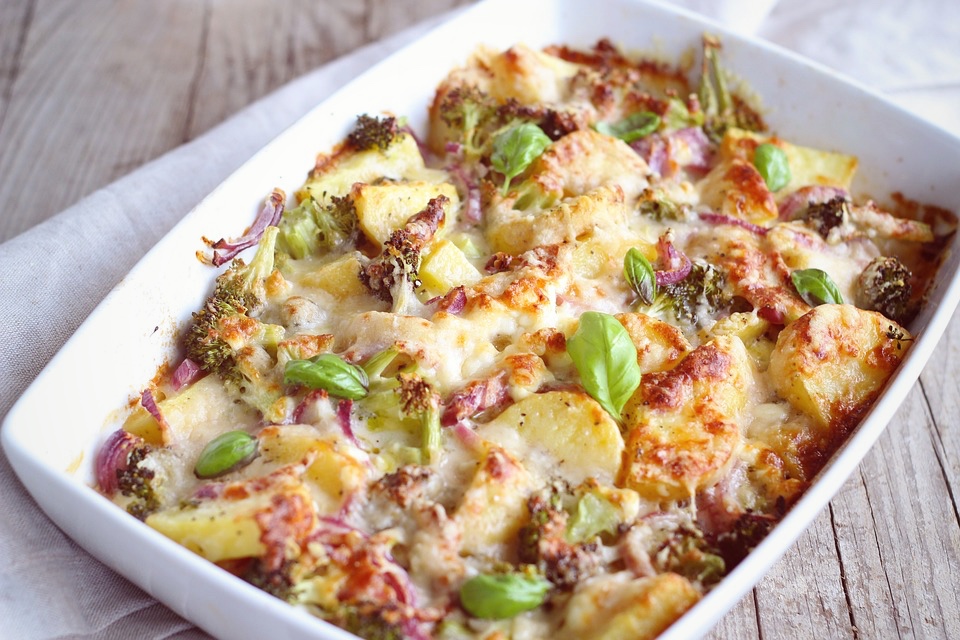 Ingredients for 4 people
Yellow potatoes, 400 g
Broccoli, 400 g
Red onion, 100 g
Grated cheese, 60 g
Mozzarella, 100 g
Salt, to taste
Pepper, to taste
Extra virgin olive oil, to taste
Basil, a few small leaves for decoration

Preparation
Thoroughly wash the potatoes, then peel and cut them into thin slices just under 1 centimetre thick. Boil them in a little salted water for about ten minutes so they become softer, but not so much that they lose their compact texture. Drain them and leave them to cool.
Wash the broccoli, get rid of the leaves and the bigger stalks and cut the individual florets. Thinly slice the onion and brown it over a low heat in a drizzle of extra virgin olive oil. When it's golden brown, mix in the broccoli. Cook with the lid on for 20 minutes, stirring it from time to time. Once the cooking time is up, turn the hob off and mix in the potatoes, diced mozzarella and grated cheese. Season with salt, pepper and a drizzle of extra virgin olive oil. Mix the ingredients thoroughly and put them in a well-oiled ovenproof dish. Bake in a preheated conventional oven at 180° for 30 minutes. Take out of the oven and serve by decorating with a few small leaves of basil.