Whether they're round or rectangular, filled with meat, vegetables, or fish, there's a type of ravioli for everyone! In this recipe, we'll show you how to make them with a potato and bacon filling.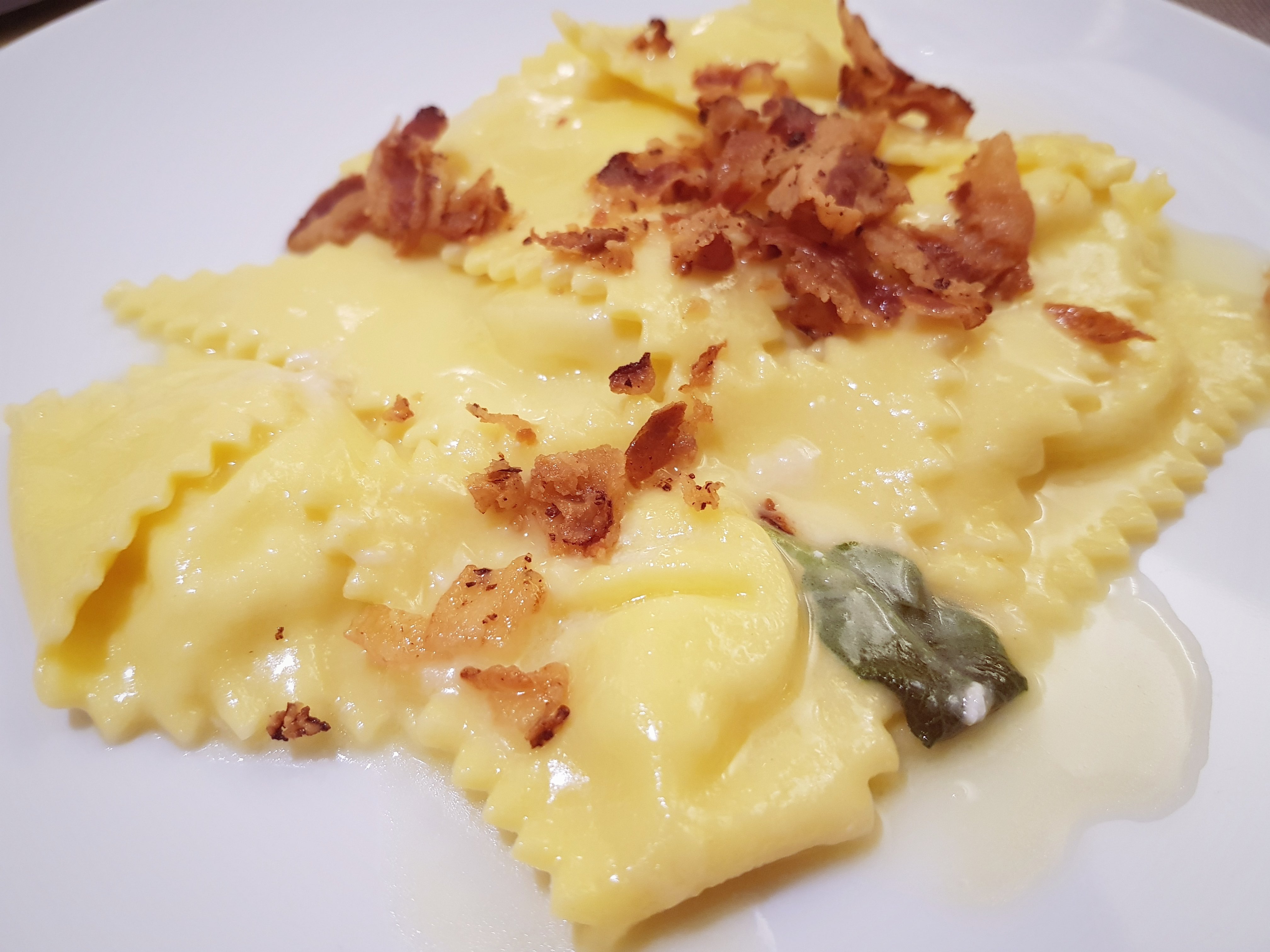 Ingredients for 4 people
00-grade flour, 300 g
Eggs, 4
Potatoes, 400 g
Thin strips of bacon, 200 g
Grated cheese, 50 g
Mint, 10 g
Chives, 10 g
Parsley, 10 g
Butter, 50 g
Extra virgin olive oil, to taste
Salt, to taste

Preparation
Start by preparing the egg pasta. Sieve the flour and add the eggs, then knead vigorously until you get a compact ball of dough. Wrap it up in cling film and leave it to rest in the fridge for a couple of hours.
In the meantime, move on to the filling. Carefully wash the potatoes, peel them, and then boil them for 20 minutes. Drain them and leave them to cool down. While they're cooling, sauté some extra virgin olive oil and garlic, and brown the bacon. Remove the garlic and put ¼ of the bacon to one side once it is ready. Use a hand-held blender to blend ¾ of the bacon with the mint, chives, and parsley. Add a sprinkle of grated cheese and mix well.
Roll out the pasta dough into two sheets, and then place one of them on top of a ravioli mould tray. Put some of the filling into each of the mould's holes (be careful not to put too much, so that it doesn't spill out during cooking). Cover with the second sheet of pasta dough, press down along the edges to seal the two layers, and then finish creating their shape using a dough cutter. Boil the ravioli in salted water for a couple of minutes. Drain them and then finish them off with some melted butter and the remaining bacon that wasn't used for the filling. If you fancy it, add a few sage leaves. Serve piping hot.