Fancy a homemade pizza? We've got the perfect recipe for you! Simple yet delicious ingredients make this deep dish pizza irresistible.
We've enriched it with a little chilli pepper for an even bolder flavour, but if you prefer, you can swap this ingredient with oregano or rosemary.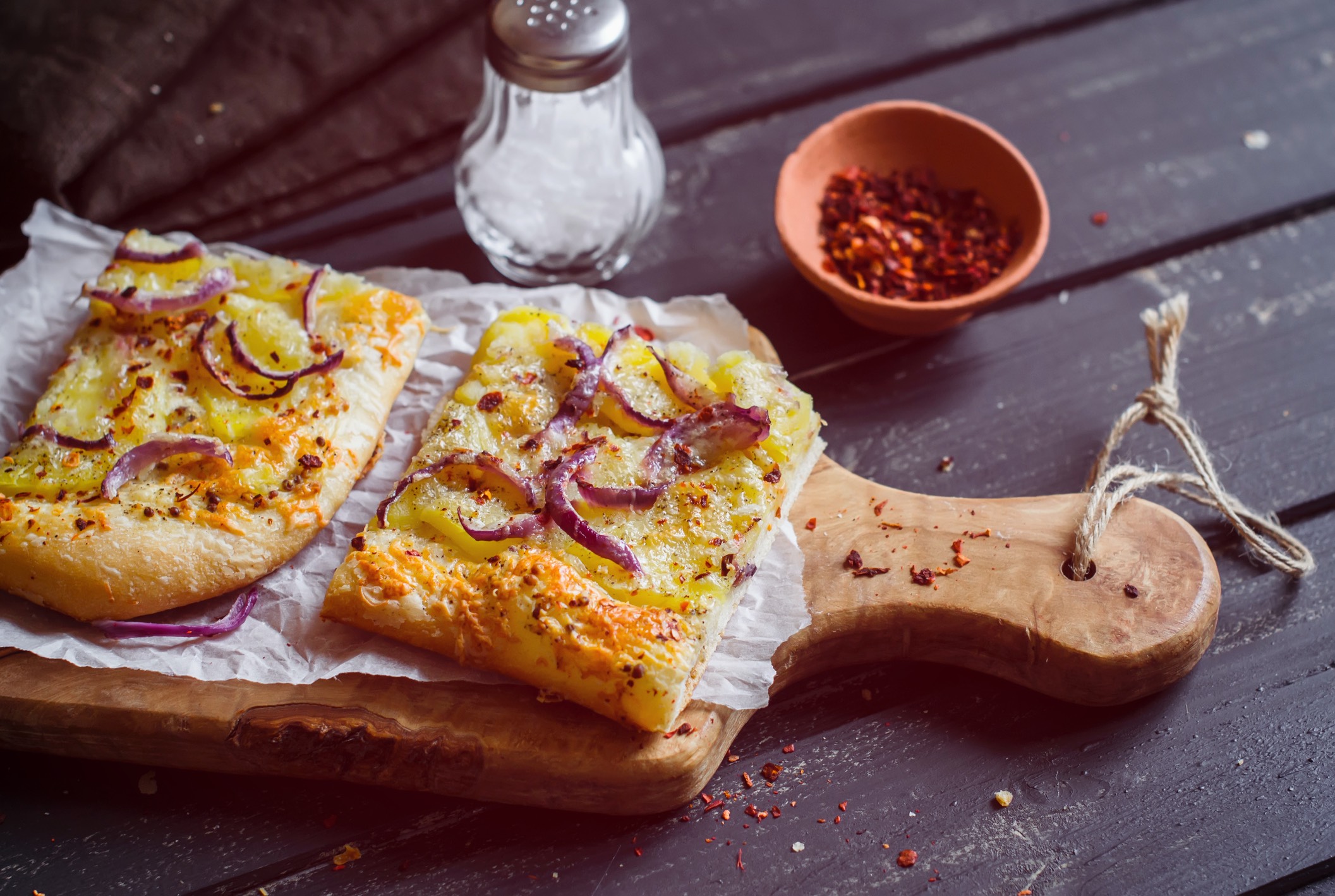 Ingredients for a 40x30 cm dish
Ultra-fine "00" flour, 300 g
Manitoba flour, 200 g
Fresh brewer's yeast, 7 g
Room temperature water, 300 ml
Yellow potatoes, 400 g
Red onions, 100 g
Mozzarella, 250 g
Extra virgin olive oil, 3-4 tablespoons
Salt, ½ teaspoon
Chilli pepper, to taste
Preparation
Make a well with the flour on a pastry board. Dissolve the brewer's yeast in warm water and add it a little at a time to the flour, kneading it as you go. Add the salt and work the mixture until you get a compact ball of dough. Pour in the oil a little at a time and keep kneading until it absorbs all of it. Transfer the dough into a fairly large bowl lightly oiled on the inside, cover it with a damp cloth or cling film and leave it to rise for at least 2 hours.
The ball of dough will have doubled in volume by now. Stretch it out on a pre-oiled baking tray, covering its entire surface, and leave it to rest for another hour. In the meantime, wash, peel and boil the potatoes for 15 minutes, then cut them into thin slices. Slice the onions too. Put the potatoes and onions onto the pizza base, add the diced mozzarella and then season with a pinch of salt, chilli pepper and a drizzle of extra virgin olive oil. Bake at 250°C for 20-30 minutes, take it out of the oven and then serve.
Image by OksanaKiian from iStockPhoto