Some people like it crispy, some softer; while some prefer it deep-dish and others with a thinner base. There are many different variations for a dish that everyone can agree on: pizza.
We are celebrating Worldwide Italian Cuisine Week with one of the icons of Italian culinary tradition, offering you a delicious version with potatoes, mozzarella and rosemary.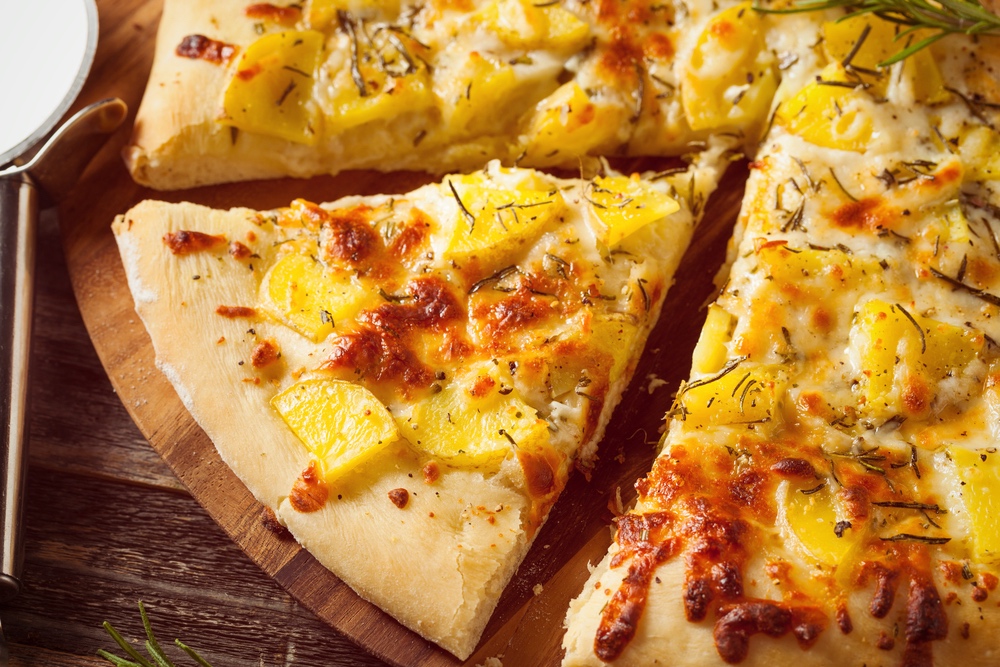 Ingredients for 4 people
Fine type "0" flour, 500 g
Brewer's yeast, 20 g
Potatoes, 400 g
Rosemary, 2 sprigs
Mozzarella, 125 g
Extra virgin olive oil, to taste
Salt, to taste.
Mineral water, to taste
Preparation
To start with, make the pizza dough. Dissolve the brewer's yeast in lukewarm water. Make a well with the flour on a pastry board, add the water and yeast solution a little at a time and knead the dough until you get a compact mixture. Add half a teaspoon of salt, two tablespoons of extra virgin olive oil and keep kneading the dough.
Leave the dough to rest for 30 minutes in a floured container. Knead it again by hand and leave it to rise for 6 hours in a warm spot. We recommend covering the container with a cloth and leaving the dough to rise in a switched-off oven with the light on (the oven light is enough to create a warm temperature).
Now prepare the topping. Peel the potatoes, dice them and boil them in salted water for 5-10 minutes. In the meantime, dice the mozzarella and leave it to drain in a strainer.
When the dough has doubled in size, stretch it out on an oiled baking tray and top it with the potatoes. Cook in a preheated conventional oven at 220° for 15 minutes. Add the mozzarella and oregano leaves, and leave to cook for another 15 minutes.
Leave it to cool, cut into slices and (if you can resist) serve the pizza to your friends!