This is the best-known dish in the local cuisine of Ogliastra, a region in the eastern-central part of Sardinia.
"Culurgiònes", or "culurgiònis", were born as a peasant dish rooted in the area's agropastoral tradition, only to become a revered delicacy throughout all of Sardinia and Italy. Similar to ravioli, but shaped like ears of wheat, these dumplings are made with simple but very tasty ingredients.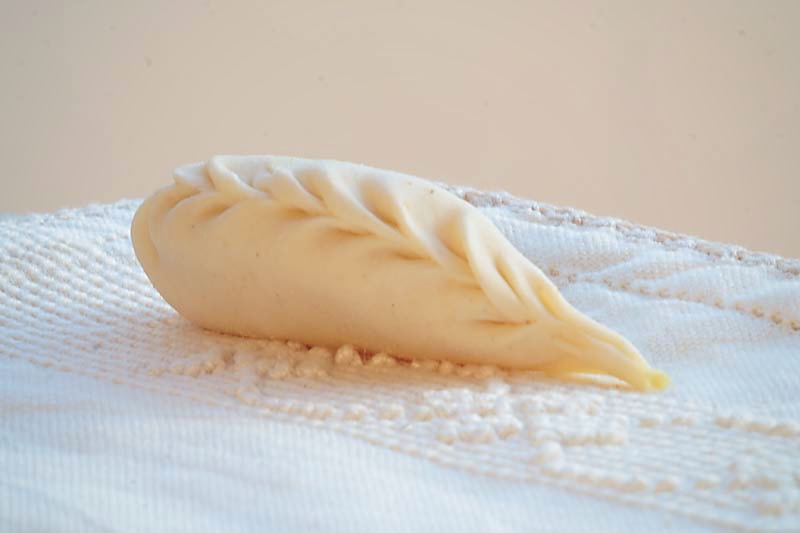 Ingredients for 6 people
For the dough
Semolina flour, 300 g
00 Flour (ultra-fine), 200 g
Water, 300 ml
Extra virgin olive oil, about 2 table spoons
Salt, to taste

For the stuffing
Yellow-flesh potatoes, 1 kg
Seasoned Pecorino cheese, 100 g
Fresh Pecorino cheese, 100 g
Mint, 10 leaves
Garlic, 1 clove
Extra virgin olive oil, about 4 table spoons
Salt, to taste
Pepper, to taste (optional)
For the sauce
Tomato purée, 500 ml
Extra virgin olive oil, about 3 table spoons
Garlic, 1 clove for the soffritto (sauté)
Salt, to taste
Basil, to taste
Grated cheese (type and amount may vary)
Preparation
To begin, prepare the stuffing: boil the potatoes, peel them (when still hot) and mash them well. Place them in a container to cool. Add the two grated cheeses (you may use only fresh Pecorino if you prefer a more delicate taste), the minced mint leaves, oil and garlic (depending on your tastes, you may mash the clove and mix it into the blend, leave it in the cold oil overnight to flavour it, or fry it in the olive oil you use for the stuffing). Cover the blend and refrigerate it.
To make the dough, mix the two types of flour in a large bowl, then add the oil and water at room temperature, quickly blending everything with a wooden spoon. Pour the mix onto a pastry board and knead it by hand until it is smooth, even and elastic. With a rolling pin or pasta roller, roll the dough until it is sufficiently thin, then create disks with a diameter between 6 and 9 cm, using a round cookie-cutter or a glass.
Place a spoonful of stuffing onto each disk, then close them by holding the dough in your left hand and joining the disk's two edges with your right thumb and index, pinching them with your fingers to create a hem similar to an ear of wheat.
To make the sauce, place a peeled garlic clove in a pan with hot olive oil. After a few minutes add the tomato purée, salt, pepper and basil. After cooking for about 30 minutes, set the sauce aside.
Cook the culurgiònes in salted boiling water. Place them in the water one by one to prevent them from sticking to each other. Once they rise to the top, drain them with a strainer (cooking time is about 5-6 minutes).
Stir in the sauce and serve. Alternatively, culurgiònes can also be served just with olive oil and grated cheese.
Buon appetito!