This simple, versatile Spanish dish literally means wild potatoes. There are various versions of patatas bravas, but we are offering them here with our Twister variety potatoes, with their semi-firm flesh and intense flavour.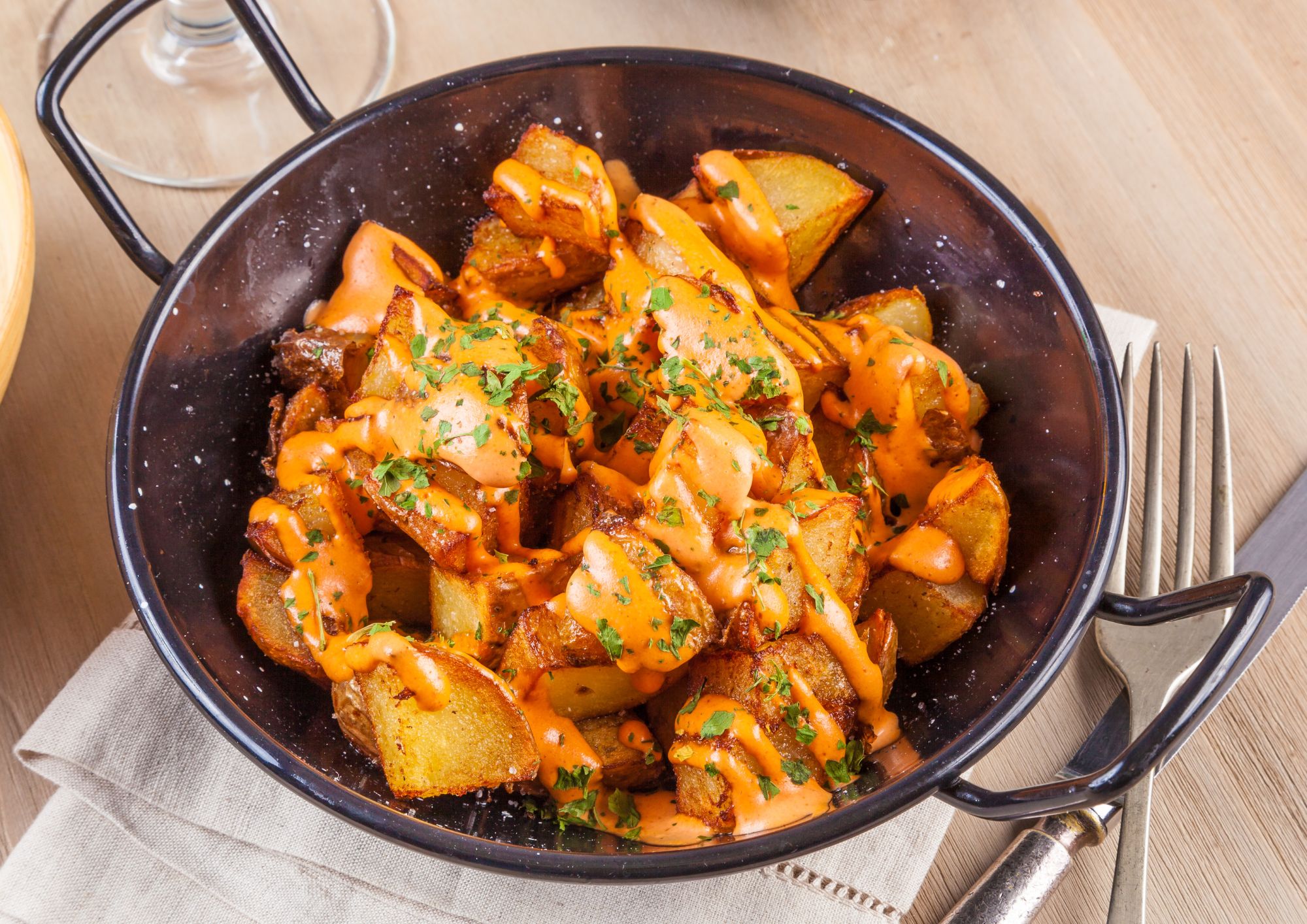 Ingredients for 4 people
• For the patatas bravas
Twister potatoes, 1kg
Tomato passata, 2 tablespoons
Sweet paprika, 10g
Red wine vinegar, 2 tablespoons
Extra virgin olive oil, as required
Table salt, to taste
Pepper, to taste
Parsley, to taste
• For the paprika mayonnaise
Mayonnaise, 100g
Garlic, 2 cloves
Tomato paste, 1 teaspoon
Red wine vinegar, 2 teaspoons
Paprika, ½ teaspoon
Chipotle, ½ teaspoon
Table salt, to taste
Cayenne pepper, to taste
Preparation
• For the patatas bravas
Wash the potatoes thoroughly and cut them into small pieces after you have peeled them, then put them to one side. Pour the tomato passata into a small bowl together with the red wine vinegar, then stir and leave it to rest. You will need it later on to season the potatoes. Get a fairly large saucepan and add a generous helping of extra virgin olive oil, then add the diced potatoes, season them with salt and pepper and fry them for about 5 minutes. Then put a lid on and cook the potatoes over a low heat for about 20 minutes, checking on them every now and then. Stir from time to time, making sure you do not break them. Once the time required is up, sprinkle a little paprika on top to give them some aroma and turn the hob back on. Finally, add the sauce that you left to rest and cook for about 3 minutes so they can mix together.
• For the paprika mayonnaise
Put the garlic, chipotle, cayenne pepper, paprika and tomato paste into a mixer and then blend. Add the mayonnaise and red wine vinegar and then blend everything again. The end result should be a smooth, even mixture.
At this point, put the patatas bravas in a dish, season them with the mayonnaise and finish with some chopped parsley.
Image: Canva