Tuna buzzonaglia is combined with our Twister variety potatoes, with their light yellow flesh and intense flavour, in this 'Passiflora' baked potato. This taste of the Mediterranean stems from the creativity of our friends at Serramare Garden.
Made from parts of the fillet that are in contact with the central bone of the tuna, with its particularly bold flavour, buzzonaglia is preserved in oil and is a typical product from various regions with a strong seafaring tradition, like Sicily. For a more delicate flavour, you can swap buzzonaglia with tinned tuna.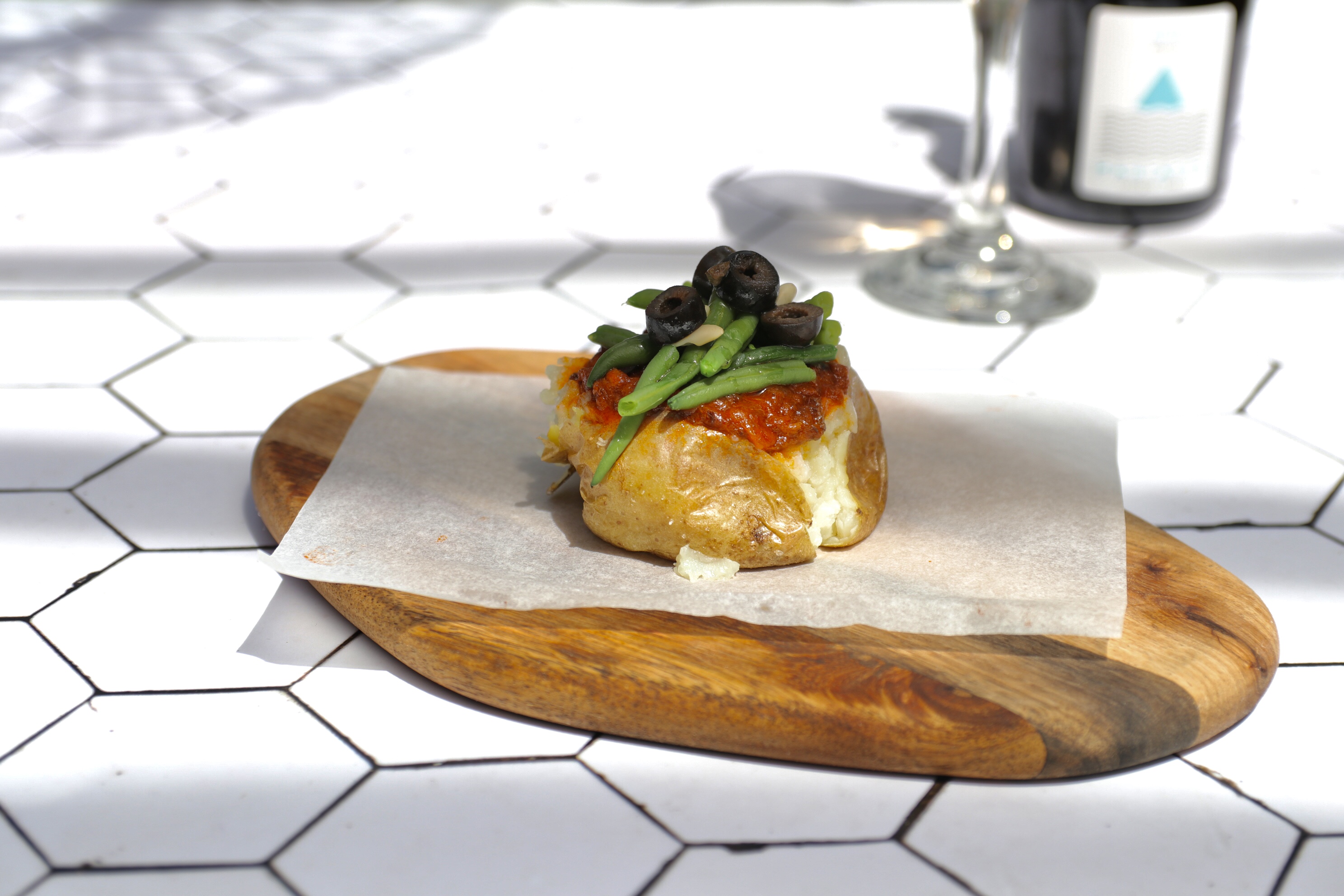 Ingredients for 4 people
Large Twister variety potatoes, 4
Tropea red onion, 1
Tomato passata, 1l
Tuna buzzonaglia, 350 g
Green beans, to taste
Pine nuts, to taste
Pitted black olives, to taste
Extra virgin olive oil, 4 tablespoons
Salt, to taste
Preparation
Wash the potatoes and carefully dry them, coat them evenly in extra virgin olive oil using a pastry brush, add a pinch of salt, and put them in a preheated oven at 180°C for about 60 minutes.
In the meantime, start preparing the filling. Heat up some extra virgin olive oil in a non-stick pan and fry the chopped onion. When it's clear, add the tomato passata and cook for about 20 minutes. Drain the tuna buzzonaglia from the oil, add it to the sauce and cook for 5 minutes. Prepare the other ingredients starting with the green beans: wash them, cut off the ends and blanch them for about ten minutes. Once this time is up, drain them and put them to one side. Toast the pine nuts in a non-stick pan and cut the olives into round slices.
When the potatoes start to turn golden brown, take them out of the oven, cut them in half down the longest side, and then place them on a deep plate. Add salt to taste. Once seasoned, create an opening on each potato and add two tablespoons of buzzonaglia sauce, the green beans, the olives and finish with the pine nuts.
Image by Serramare Garden