The typical seafood flavour of mussels is joined by all the lovely creaminess and taste of our Levante variety potatoes in a first course that combines 'land and sea' to perfection.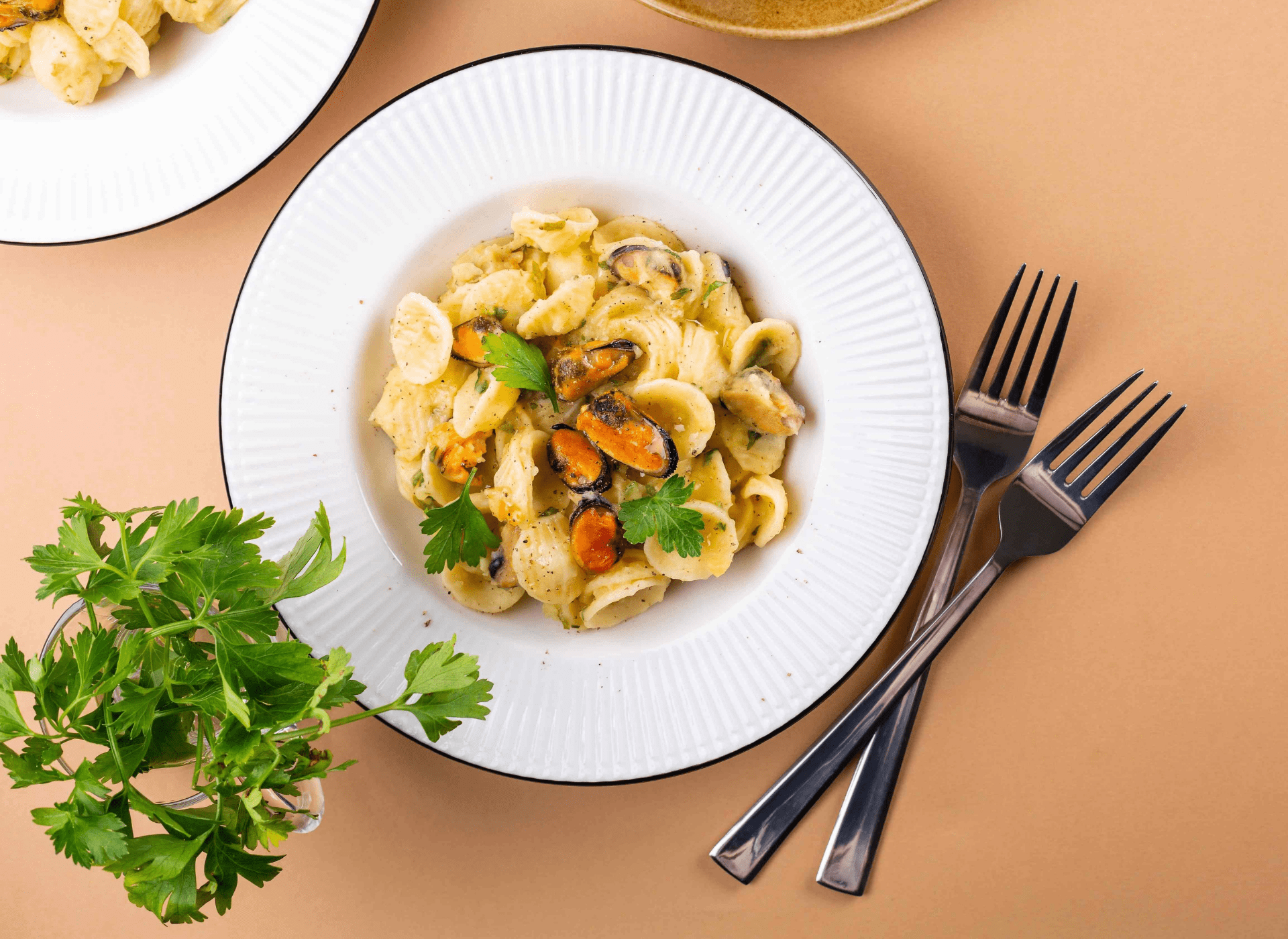 Ingredients for 4 people
Mussels, 700 g
Fresh orecchiette, 400 g
Levante variety potatoes, 4
Extra virgin olive oil, to taste
Garlic, 2 cloves
White wine, ½ glass
Parsley, to taste
Salt, to taste
Black pepper, to taste
Preparation
Having thoroughly cleaned the mussels, cook them until they open over a high heat in a large saucepan with a lid together with a clove of garlic, a couple of tablespoons of oil, a glass of water and half a glass of white wine. In the meantime, peel the potatoes, dice them and cook them for about 5 minutes in a pan with extra virgin olive oil and a clove of garlic. While the potatoes are cooking, shell the mussels and put them to one side; after you've filtered them with a sieve, add their cooking liquid into the pan with the potatoes. Remove the clove of garlic, then add about two tumblers of water and a pinch of salt. Leave it to cook for about another 10 minutes over a medium-low heat, until the potatoes are soft. Now add the orecchiette and leave them to cook with the potatoes, adding some more water if necessary. Depending on the flavour of the mussels, you might not need to add any more salt, but if you do, adjust the flavour to your taste. Towards the end of cooking, add the shelled mussels into the pan and cook everything until it's creamy. Finally, finish with a pinch of pepper and some chopped parsley and stir. Plate up by garnishing with a few whole leaves of parsley. If you like, you can keep a few mussels with the shell to give the dish an even more spectacular effect.
Image by OlgaBombologna from Shutterstock