Originally from North Africa, cous cous is now part of Italian culinary culture and particularly so in Sicily, where it is also known as "cuscus".
We use it in this recipe to make mini jars with vegetables served with feta, a traditional Greek cheese made with sheep's milk.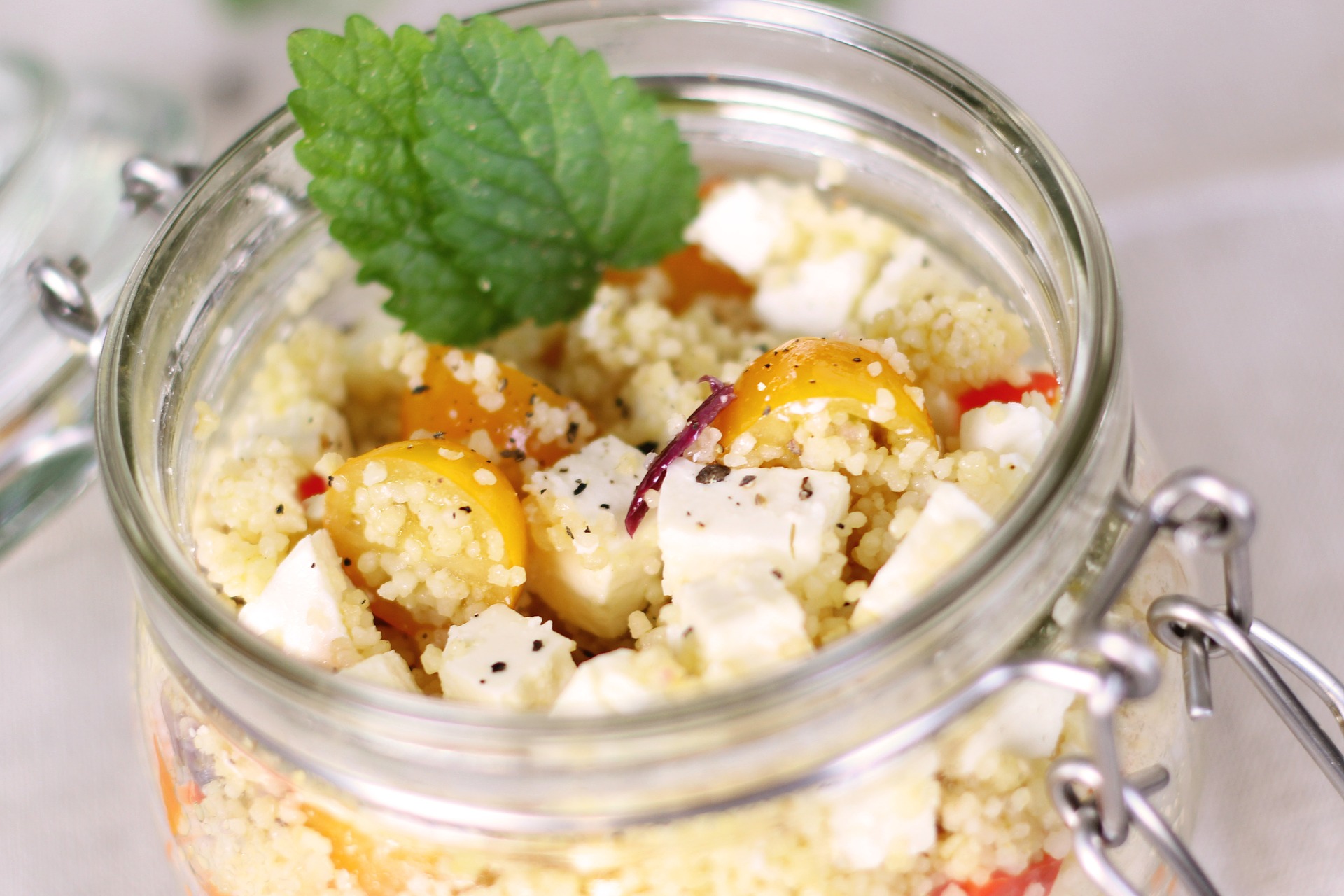 Ingredients for 4 people
Cous cous, 300 g
Potatoes, 150 g
Peppers, 200 g
Yellow cherry tomatoes, 100 g
Feta, 150 g
Extra virgin olive oil, 4 tablespoons
Water, 350 ml
Salt, to taste
Pepper, to taste
Mint, for decoration

Preparation
Start by preparing the vegetables. Wash the potatoes, peel them and dice them, and also wash the peppers and then cut them into thin slices. Cook the vegetables for about twenty minutes in a non-stick pan with a drizzle of extra virgin olive oil and a pinch of salt, adding a little water from time to time if needs be.
In the meantime, cook the cous cous. Heat the water in a fairly large saucepan, add some salt and, as soon as it is hot – but not boiling – turn off the hob, sprinkle in the cous cous and cover it with a lid. After 5-7 minutes (check the recommended cooking time on the pack) remove the lid, add a drizzle of extra virgin olive oil, loosen the cous cous with a fork and add it to the vegetables. Add the cherry tomatoes cut in half to the cous cous, as well as the cubes of feta, two tablespoons of extra virgin olive oil and the pepper, then season with salt and stir gently to mix the ingredients together. Put your cous cous into mini jars, decorate them with a few leaves of mint and keep them in the fridge until you want to serve them.
Image by Bernadette Wurzinger da Pixabay