An Easter recipe, these lamb chops are served with èVita la Novella Siciliana roast potatoes using the Arizona variety, with its delicate flesh and thin skin.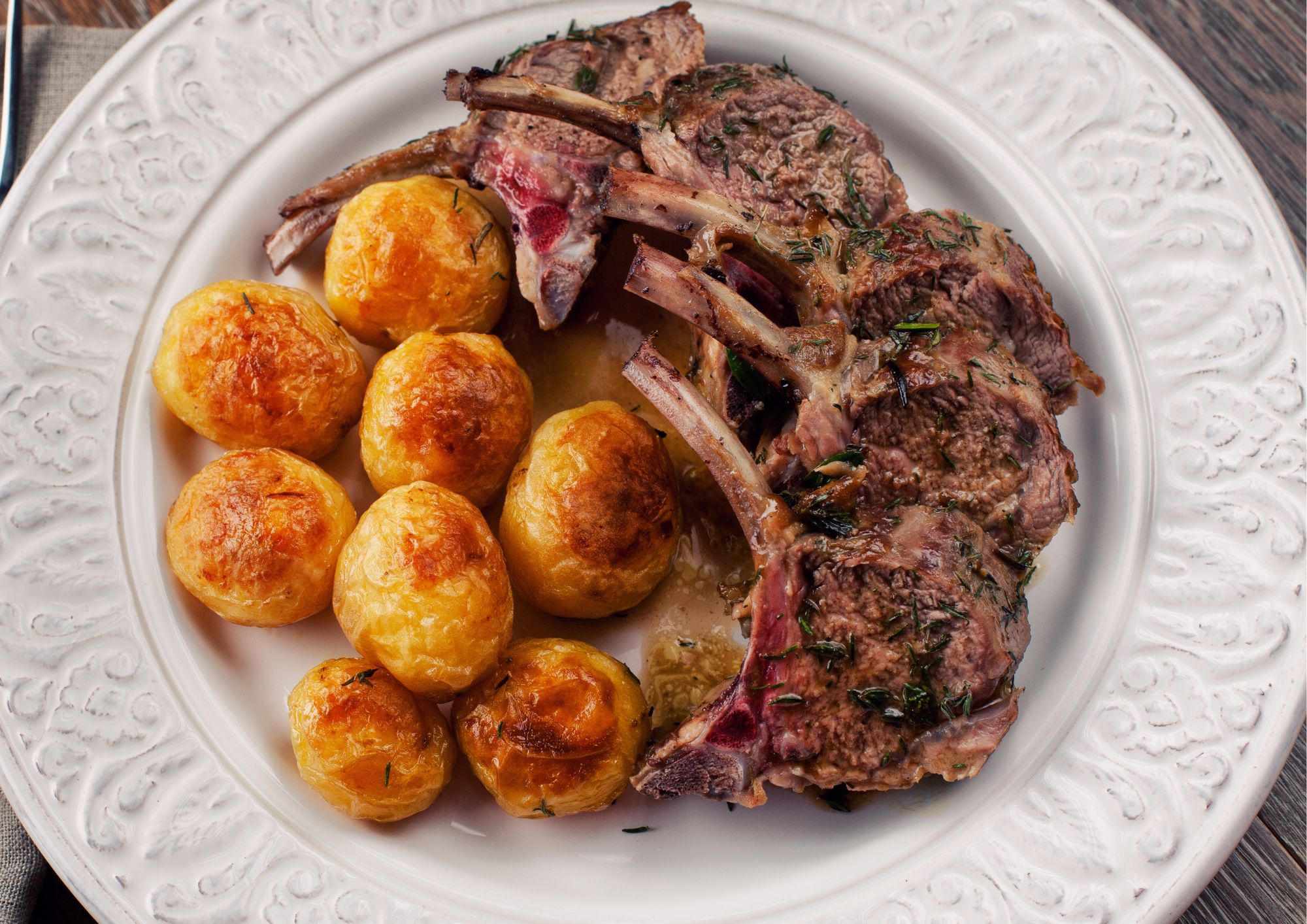 Ingredients for 4 people
Lamb chops, 800g
èVita la Novella Siciliana potatoes, 1kg
Thyme, 2 sprigs
Rosemary, 3 sprigs
Garlic, 2 cloves
Lemon peel, 1
Table salt, to taste
Black peppercorns, to taste
Extra virgin olive oil, 40ml
Preparation
First of all, trim off any excess fat from the cut of meat, then use a knife to cut between one chop and the other. Next, use your fingers to press the meat down in order to clean the small bone as much as possible. Put the chops in an ovenproof dish and season with salt and pepper to taste. Add two sprigs of rosemary, the thyme and the peppercorns as well. Now, once you have poured in about 10 ml of extra virgin olive oil, add the grated lemon peel, making sure you sprinkle it over all of the meat. Before covering with cling film, add a clove of garlic cut in half, then marinate everything for about two hours in the fridge.

In the meantime, thoroughly wash the potatoes and put them in a bowl. Season with a crushed clove of garlic and a few leaves of rosemary. Finally, add the salt and pour in about 20 ml of extra virgin olive oil, then mix everything together well. Take the chops out of the fridge and transfer them into an ovenproof dish lightly greased with the remaining oil, then place the potatoes around them. Completely cover the small bones with aluminium foil, so they do not burn during cooking. Cook in a preheated conventional oven at 200°C for 50 minutes (we do not recommend using the fan setting because the chops could dry out too much). Once cooked as you like, take them out of the oven and leave them to cool down. To plate up, we recommend adding a little of the cooking juices and some herbs to the meat. Happy Easter!
Image: Canva