Its name may be a little misleading. Along with Russia, Italy, Poland, and France are all contenders for being the birthplace of this delicious dish.
Russian salads can be prepared in so many ways, and they're usually served as a starter or as a cold side dish.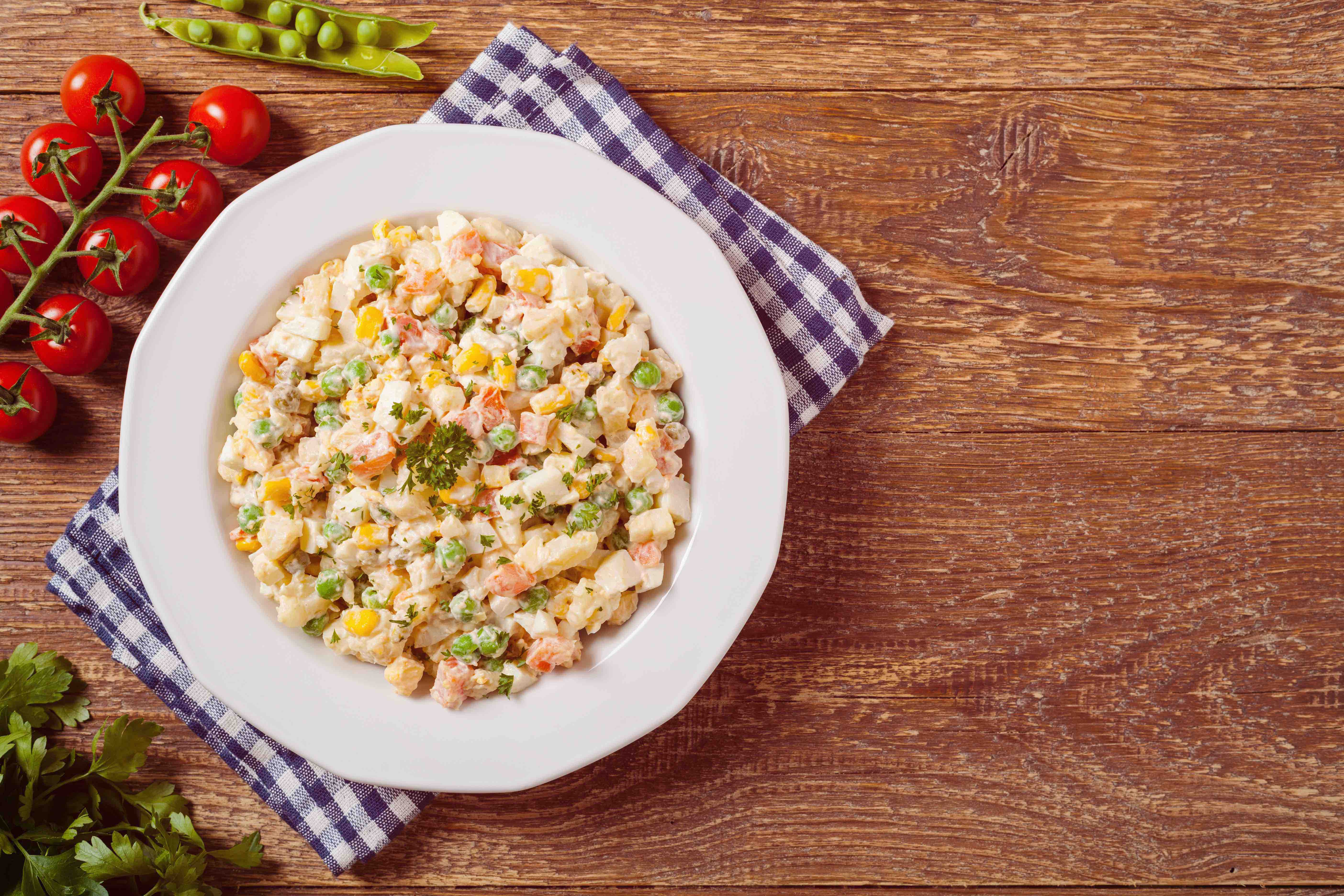 Ingredients for 4 people
Carrots, 300 g
Frozen peas, 400 g
Potatoes, 400 g
Sweetcorn, 300 g
Apple cider vinegar, as needed
Eggs, 2
Mayonnaise, 250 g
Salt and black pepper, as needed

Preparation
Carefully wash the carrots and potatoes, peel them, and then dice them into cubes that are no wider than 5 millimetres. Heat up some salted water and, once it has boiled, pour the potatoes and carrots into it and cook for 10 minutes. Drain them and then place them onto a tray, making sure that the diced pieces are as far from one another as possible. This will allow the vegetables to cool down without getting too soft from the steam. In another saucepan, boil the peas for 15 minutes and then leave them to cool down in the same way. Boil the eggs, cut them into very small pieces, and then add two spoonfuls of apple cider vinegar. Mix well to mix up the yolk, egg white, and vinegar.
Put the carrots, peas, potatoes, and sweetcorn into a casserole dish, and then add the eggs, a pinch of salt, and a sprinkling of black pepper. Pour in the mayonnaise and carefully mix it in until it becomes evenly distributed throughout the mixture. Leave it to cool in the fridge for a few hours and then serve.