You can't say "Carnival" without thinking about fritters! Whether they're chiacchiere fritters, graffe doughnuts, or castagnole ones, to name but a few, fritters are one of the delicacies served throughout the whole of Italy at carnival time.
This tradition originated in Venice in the 13th century, thanks to Giambonino da Cremona – a doctor devoted to the study of Arabic texts – and derived from the zalabia, a typical Middle Eastern sweet delicacy. The zalabia, renamed as frìtola, is a fried, double-risen sweet delicacy, whose core ingredient is a spice widely used in Middle Eastern cooking: saffron. The frìtola first spread across the north of Italy, before then going on to infiltrate every corner of the peninsula, in a number of varieties. Let's now take a look at a version of fritters made from potatoes.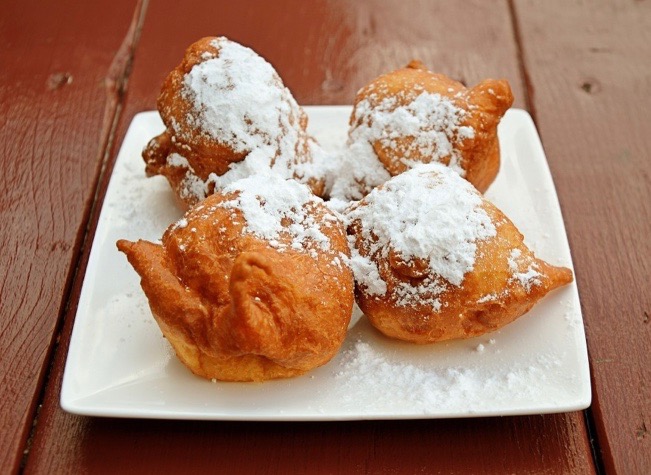 Ingredients for 4 people
00-grade flour, 500 g
Eggs, 3
Potatoes, 500 g
Yeast for desserts, ½ bag
Sugar, 100 g
Butter, 100 g
Lemon peel, 1
Icing sugar, as needed
Oil for frying, 500 ml
Preparation
Wash the potatoes carefully, peel them, and then boil them in lightly salted water for 20 minutes. When they're cooked, use a potato masher to mash them and then leave it to cool down. Add the beaten eggs.
Into a separate bowl, sieve the flour and the yeast. Add the potatoes, the lemon peel, and the sugar. Melt the butter in a bain-marie and then pour it little by little into the mixture.
Knead vigorously until you get a compact and stretchy dough. If its consistency is too liquid, add a few spoonfuls of 00-grade flour.
Make the dough into a spherical shape and then leave it to rise in a flour-coated bowl for 3 hours. Then cover it with a tea towel and leave it to rise again in an oven that is turned off but has the light turned on (the light in the oven is enough to produce a warm temperature).
Once the time required for rising has passed, take small amounts of the mixture, give them a rounded shape, and then leave them to rest on a baking tray (or in a pan) for 1 hour. Fry these resulting "balls" – which in the meantime will have doubled in size – in very hot frying oil. When they are perfectly golden, drain then, use a skimmer to remove them, and then place them onto a paper towel. Before serving, decorate them with a sprinkling of icing sugar.
You're now ready to celebrate the carnival season!