After the gnocchi we recommended a few weeks ago, we are again combining potatoes with the delicate flavour of squash to create an incredibly original baked potato with creamy cheese sauce, leeks and chopped hazelnuts made by the Gialle&Co chefs.
Here's our "Fuori di Zucca" recipe! To find out more on our partnership with this restaurant in Milan, please see: Romagnoli F.lli and Gialle & Co.: a partnership all about flavour.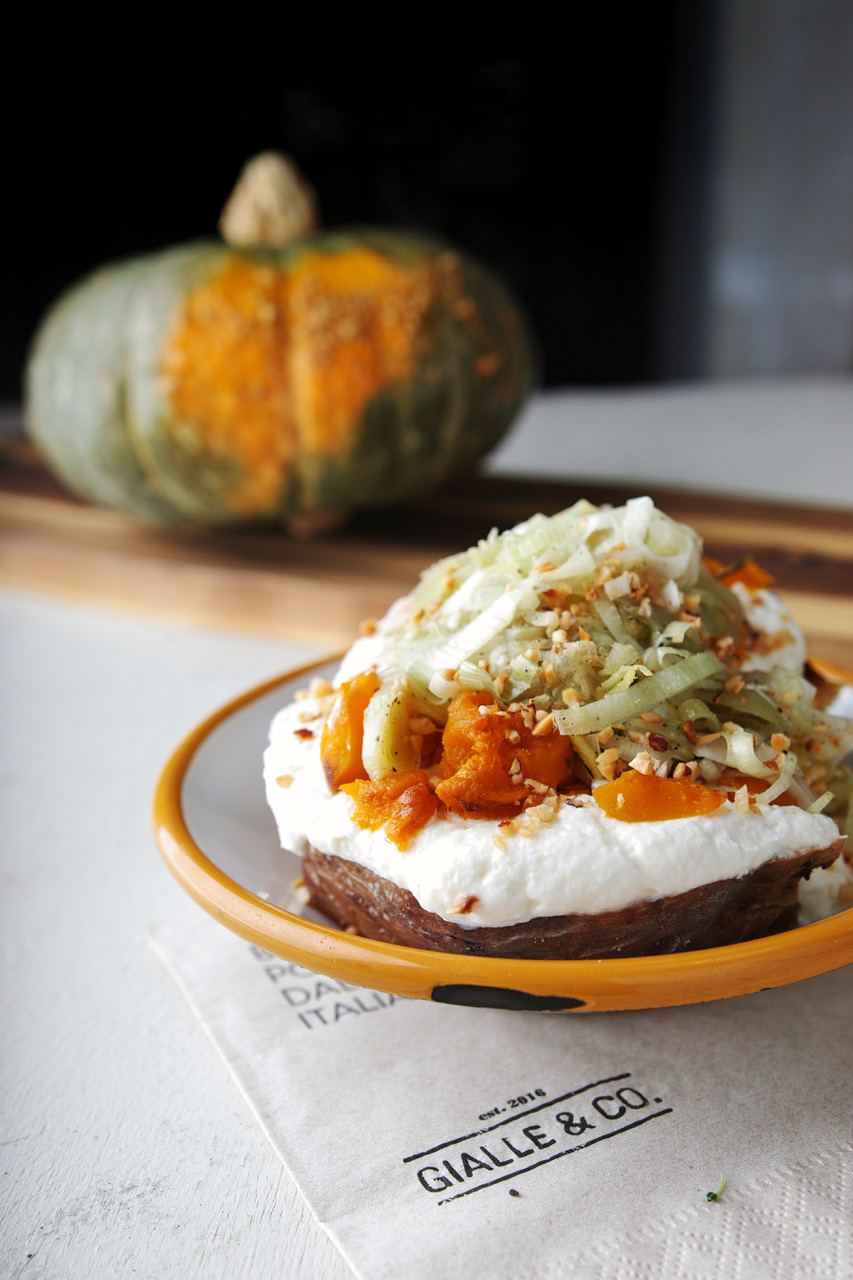 Ingredients for 4 people
Large yellow potatoes, 4
Squash flesh, about 500 g
Cream, 50 ml
Milk, 50 ml
Gorgonzola, 50 g
Taleggio, 25 g
Fontina, 25 g
Fresh spreadable cheese, 200 g
Leeks, 3
Chopped hazelnuts, a couple of tablespoons
Extra virgin olive oil, to taste
Salt, to taste
Preparation
Let's start by making the creamy cheese sauce. Pour the milk and cream into a fairly large saucepan and almost bring them to the boil. Dice the gorgonzola, taleggio and fontina cheeses and add them to the other ingredients, melting them over a low heat. Transfer the creamy sauce into a container, leave it to cool down and add the fresh spreadable cheese and a pinch of salt.
Now let's focus on the potatoes. Wash them thoroughly, dry them and coat them evenly in extra virgin olive oil and salt using a pastry brush. Bake them at 180°C for 45 minutes, then add the pre-oiled and salted diced squash and leave them to cook for another 25 minutes. In the meantime, clean the leeks and slice them thinly, then sauté them in a pan with two tablespoons of extra virgin olive oil and a pinch of salt until you make them sweat. Take the potatoes and diced squash out of the oven, cut the potatoes in half down the longest side, place them on a deep plate, add some oil and salt and then mix the inside of the potatoes using a fork. Place a few tablespoons of the creamy cheese sauce, the diced squash and the leeks on each potato. Decorate with a sprinkling of chopped hazelnuts and serve.