Did you know that potatoes can be a great alternative to butter when making a whole variety of desserts?
Let's find out how to make a delicious tart with a potato-based pastry base and an apricot and almond filling.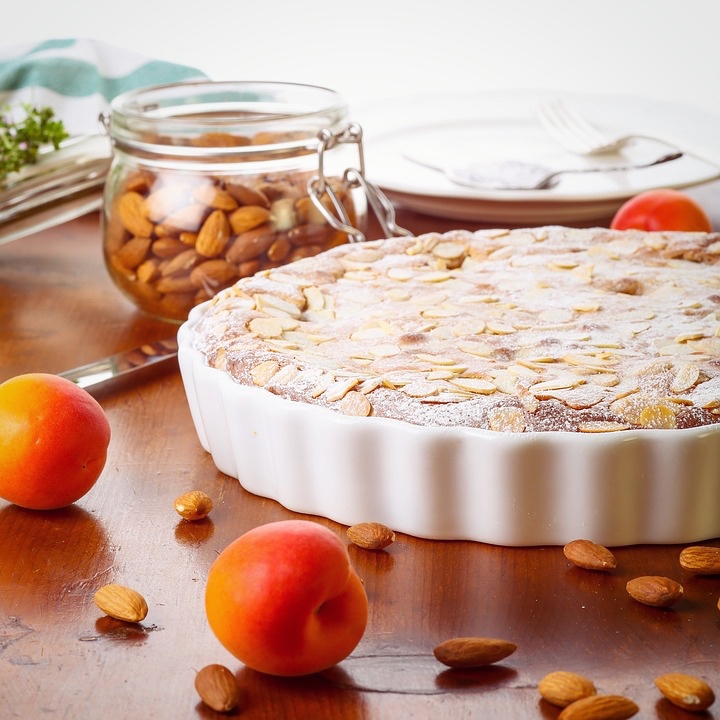 Ingredients
00-grade flour, 300 g
Potatoes, 200 g
Butter, 50 g
Eggs, 4
Peel from 1 lemon
Vanilla essence, 2 ml
Baking powder for desserts, 15 g
Sugar, 200 g
Apricots, 10
Almond flakes, 30 g
Salt, as needed

Preparation
Start by making the shortcrust pastry. Wash and peel the potatoes, and then boil them in lightly salted water for 25-30 minutes. Drain them and then mash them using a potato masher. Once they have cooled down, cut the butter into pieces and add them together with an egg, the lemon peel, 50 g of sugar, and a pinch of salt. Sift the flour together with the baking powder and add to the mixture. Mix them together vigorously until you get a compact consistency. Wrap it in clingfilm and then leave it to rest in the fridge for about 1 hour.
Roll out the dough with a rolling pin and then use it to line a buttered mould with a 20-cm diameter.
Now move on to the filling. Mix the three remaining eggs, 150 g of sugar, a pot of plain yoghurt, and the vanilla essence. Blend vigorously together.
Pour a first layer of your mixture onto the shortcrust dough that was placed inside the mould, then put a layer of destoned sliced apricots, followed by a final layer of cream. Pre-heat a static oven to 170°C and bake for 30 minutes, then sprinkle some almonds on top and put it back in the oven for another 10 minutes. Remove it from the oven and leave it to cool down.