A great classic of North African cuisine, cous cous with vegetables is a vegetarian #zerowaste recipe featuring eastern spices with their unmistakable flavours!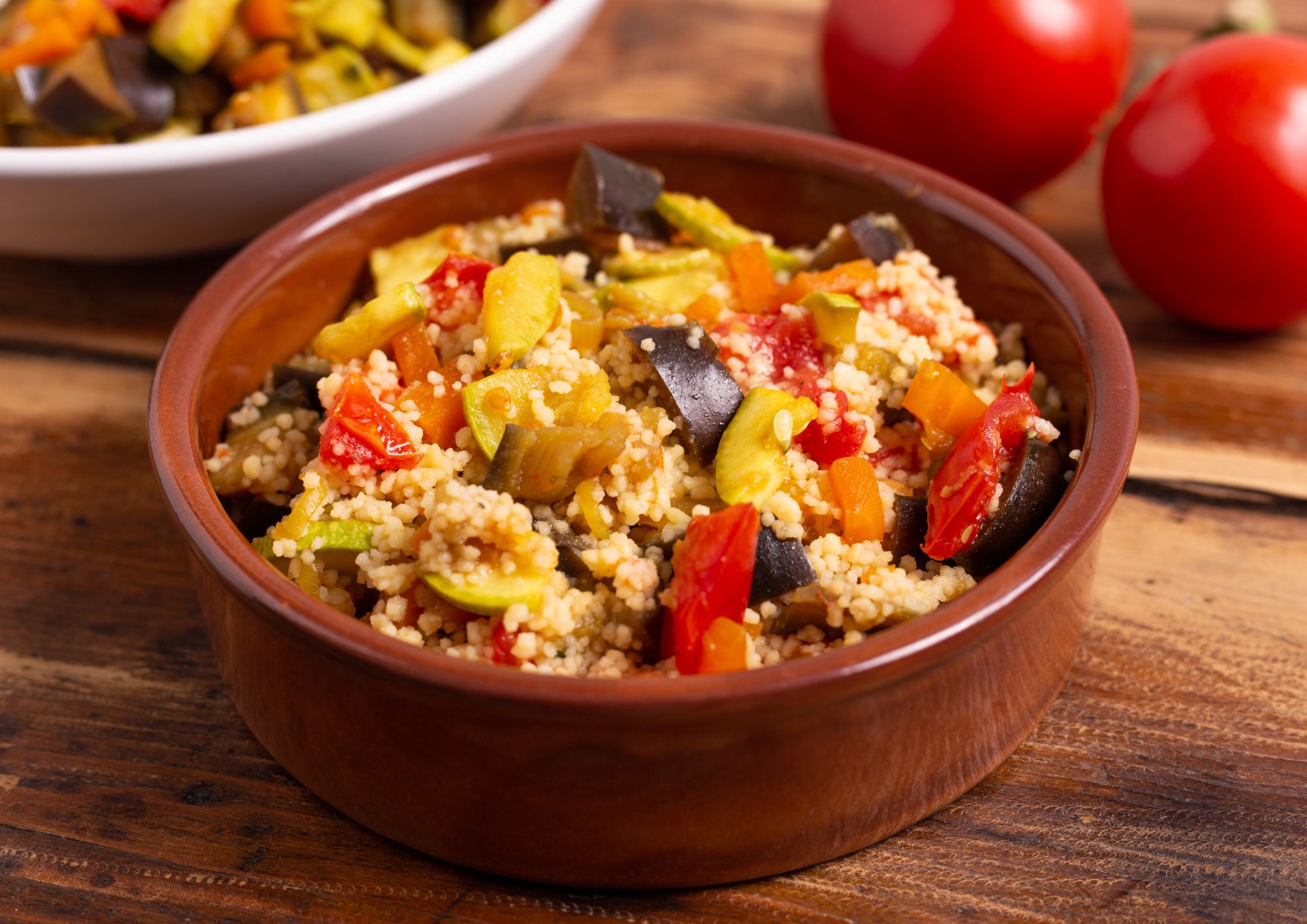 Ingredients for 4 people
Precooked cous cous, 200g
Hot vegetable stock, 400g
Aubergines, 150g
Courgettes, 150g
Carrots, 150g
Red peppers, 150g
Tomatoes, 100g
Fresh chilli pepper, ½
Garlic, 1 clove
Turmeric powder, to taste
Ginger powder, to taste
Curry powder, to taste
Extra virgin olive oil, as required
Table salt, to taste

Preparation
First of all, make the vegetable stock (alternatively you can use the same amount of boiling water). Next, thoroughly wash the vegetables, remove the inedible parts, then cut them into cubes.

Heat up a drizzle of oil in a large pan, then add the aubergines and cook them over a medium-high heat for 5 minutes, adding salt halfway through cooking. Once golden brown, remove them from the pan and put them to one side. Using the same pan, heat up a little more oil and put in the clove of garlic and the finely chopped chilli pepper. Add the carrots, peppers and salt and then cook for about 6 minutes. The vegetables should stay colourful and crunchy.

Once the time required is up, add the courgettes and keep cooking for another 3-4 minutes. At this point, remove the garlic, then add the tomatoes and aubergines. Season with salt and sauté the vegetables for a couple of minutes. When they are ready, remove them from the hob, stir well and leave them to rest.

In the meantime, pour the cous cous into a large bowl and season with salt, oil, turmeric, ginger and curry powder. Cover the cous cous with stock or boiling water, stir and leave it to rest with the lid on for 5 minutes. When the liquid has been absorbed, break up the cous cous with a fork and add it to the vegetables in the pan. Mix everything together and serve your #zerowaste cous cous with vegetables!
Image: Canva