Delicious veggie first course, these Colomba potato gnocchi, rich in starch and low in water, are stuffed with radicchio and ricotta for an extra-creamy lunch!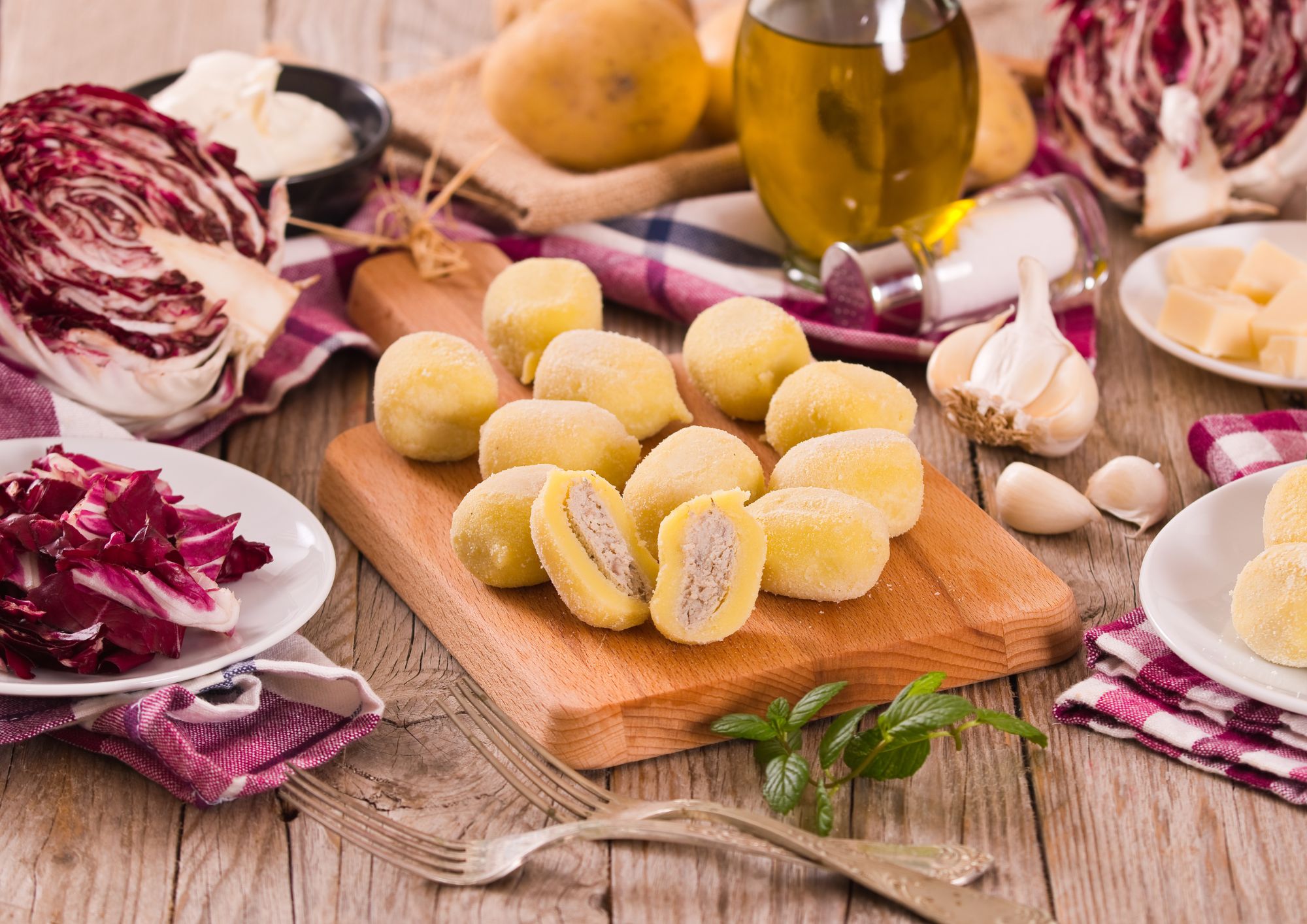 Ingredients for 4 people:
Colomba potatoes, 1kg
Fine flour (type "0"), 300g
Egg, 1
Radicchio, 1 tuft
Ricotta, 250g
Grana Padano, 50g
Onion, 1/2
Extra virgin olive oil, as required
Salt, to taste
Black pepper, to taste
Nutmeg, to taste
Preparation
For the gnocchi: thoroughly wash the potatoes and boil them in plenty of boiling water for about 25 minutes, or until they are soft enough. Drain the potatoes, wait for them to cool down, then peel them and mash them with a potato masher. Next add them to the flour, along with the egg, salt and black pepper in a bowl; then knead until you get a smooth, even mixture. Put it to one side.

For the filling: finely chop the onion and brown it in a pan with a drizzle of extra virgin olive oil, then add the pre-washed radicchio cut into thin strips. Season with salt and pepper and leave it to cook for about 10 minutes, then blend everything with a hand-held blender and transfer it into a bowl. You can now also add the ricotta, Grana Padano cheese, salt, pepper and nutmeg and mix everything together well.

Take the dough, shape it into little rolls and cut large pieces of dough which, once rolled between your hands, you then press with one finger to make a hole for the filling. Put a little of the filling in the middle and finally seal the gnocchi. Keep going until you have finished all the ingredients. Cook the stuffed gnocchi in plenty of salted water and, when they float to the surface, drain them thoroughly and season them to taste.
Image: Canva