With the right bread and the right toppings, even just some bruschetta can become a gourmet dish! There are so many varieties, but today we're going to show you how to make a vegetarian one made with potatoes and grilled vegetables.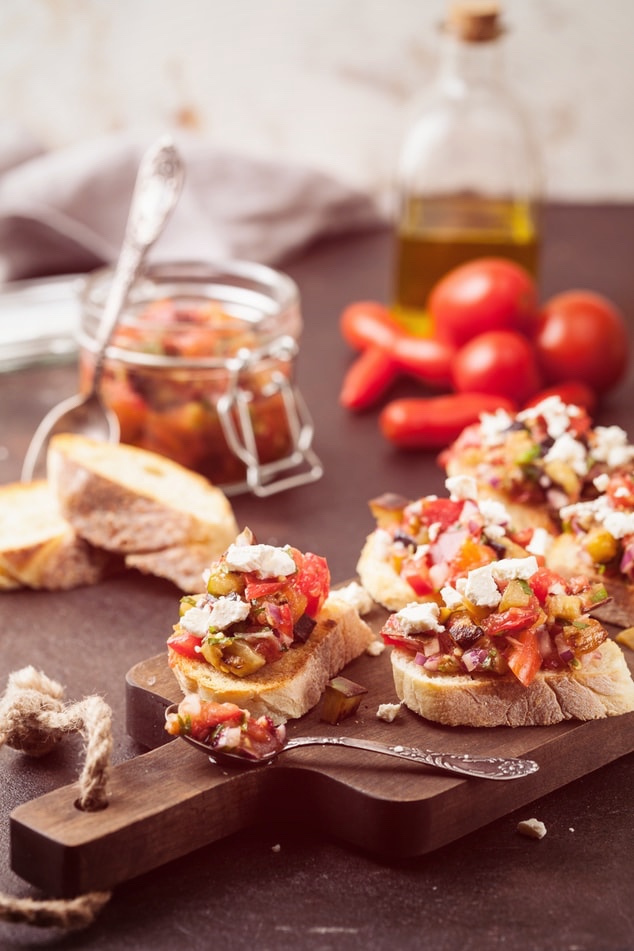 Ingredients for 4 people
Homemade bread, 8 slices
Aubergines, 200 g
Courgettes, 200 g
Peppers, 200 g
Potatoes, 200 g
Red spring onions, 1
Tomatoes, 300 g
Extra-virgin olive oil, as needed
Goat's cheese or robiola cheese, 100 g
Preparation
Toast the slices of bread on a hot grill for a couple of minutes on each side. Or instead of a grill, you can toast them in the oven using the grill option or in a pan. Rub a clove of garlic over the slices of bread to give them some flavour.
Now move on to the topping. Carefully wash the courgettes and cut them lengthways into thin slices. Heat up a grill (electric or a barbecue one), and cook them for about 4 minutes on each side. Wash the peppers, remove their seeds and the white bits inside, and then grill them for about 5 minutes on each side. Do the same with the aubergines. Peel the potatoes, cut them into thin slices, and then cook them in the same way for 5-7 minutes on each side.
When all of the vegetables are cooked, leave them to cool down and then cut them into pieces. Chop up the spring onion; after removing their seeds, dice the tomatoes too and then add everything to the vegetables. Pour everything into a casserole dish and season it with a drizzle of extra-virgin olive oil and a pinch of salt.
Place the vegetables onto the toasted slices of bread and finish by adding some pieces of goat's cheese or robiola cheese.
Bon appétit!