The company is unveiling the results of the trials that helped establish a potato-growing model with the lowest use of pesticides and by adopting tolerant varieties.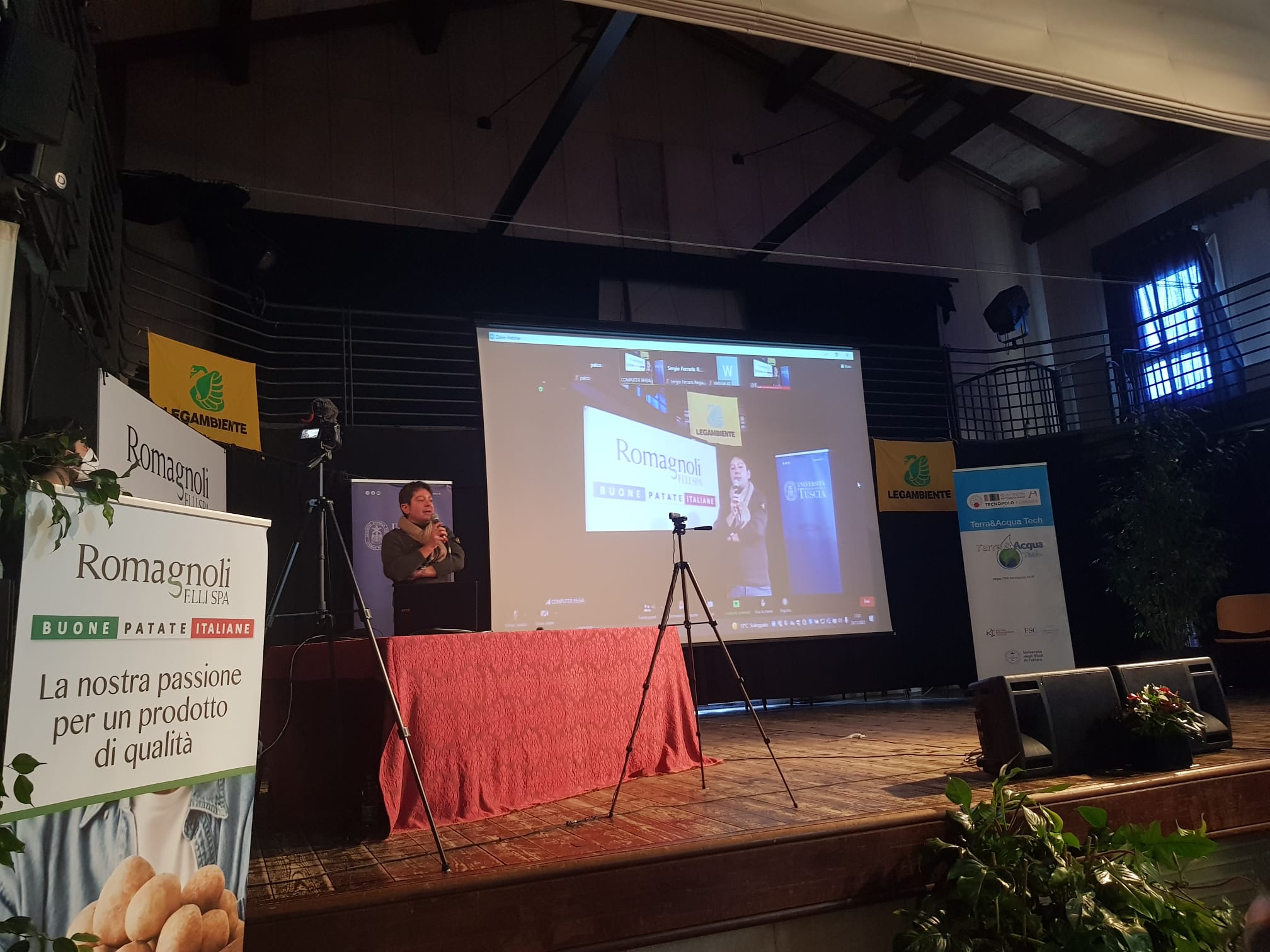 As part of the Residue-Free project, which received a special mention at the 2020 Responsible Innovators Awards of the Region of Emilia-Romagna, Romagnoli F.lli S.p.A. is pursuing its commitment to sustainable potato-growing, a commitment that includes sharing information on this topic, and is continuing its collaborations with the world of research, the results of which were presented at an informative meeting held today in Molinella (Bologna). This event was attended by: Roberto Chiesa, the sales manager of Romagnoli F.lli S.p.A.; Nicola Benatti, from the Region of Emilia-Romagna; Guglielmo Donadello, Legambiente; Gabriele Chilosi, Tuscia University; Luisa Pasti and Silvia Rita Stazi, T&A Tech Laboratory, University of Ferrara; and Giulio Romagnoli, the CEO of Romagnoli F.lli S.p.A.
The residue-free model combines economic, environmental and social sustainability thanks to the application of a technical crop protection line that produces a product free from any pesticide residues and grown using coded and repeatable farming practices in all areas of Italy, along with the use of potato varieties naturally tolerant to downy mildew. Following this research, conducted with the scientific guidance of the Department of Innovation in Biology, Agri-food and Forest Systems (DIBAF) at Tuscia University together with Legambiente, Romagnoli F.lli S.p.A. continued its trials aimed at reducing the use of chemicals and protecting soil fertility and biodiversity, testing out the use of Sudan grass as a biofumigant.
Alongside the Department of Innovation in Biology, Agri-food and Forest Systems (DIBAF) at Tuscia University and Legambiente, this new trial phase also involved the Department of Chemical, Pharmaceutical and Agricultural Sciences (DOCPAS) at the University of Ferrara. The evidence from the trials proves that Sudan grass, thanks to the presence of a cyanogenic glycoside, dhurrin, which breaks down into hydrogen cyanide, a toxic substance for nematodes and other insects, can act as a biofumigant and can therefore be effectively used in combating Agriotes litigiosus (click beetles). Furthermore, the study showed that this agricultural practice can also have positive effects on soil fertility.
"We're delighted to share these results and we're proud to do it in our region, where potato-growing has deep roots and represents one of its outstanding products", explained Giulio Romagnoli, the CEO of Romagnoli F.lli S.p.A. "These results pave the way not just for more sustainable potato-growing, but also for the effective use of Sudan grass in green manure for other crops, with a view to promoting the roll-out of farming practices that can reduce the impact on the environment. We're pursuing our commitment in terms of experimentation partly thanks to support from partners who share our responsibility towards the environment, which has always been part of our mission".