Romagnoli F.lli S.p.A. is continuing its path of research and innovation into sustainability for the entire potato supply chain, where the company works from sowing to marketing, and is announcing its commitment to a new experiment.
The goal is to grow potatoes in complete harmony with the environment, i.e. without using any copper or synthetic chemical plant protection products.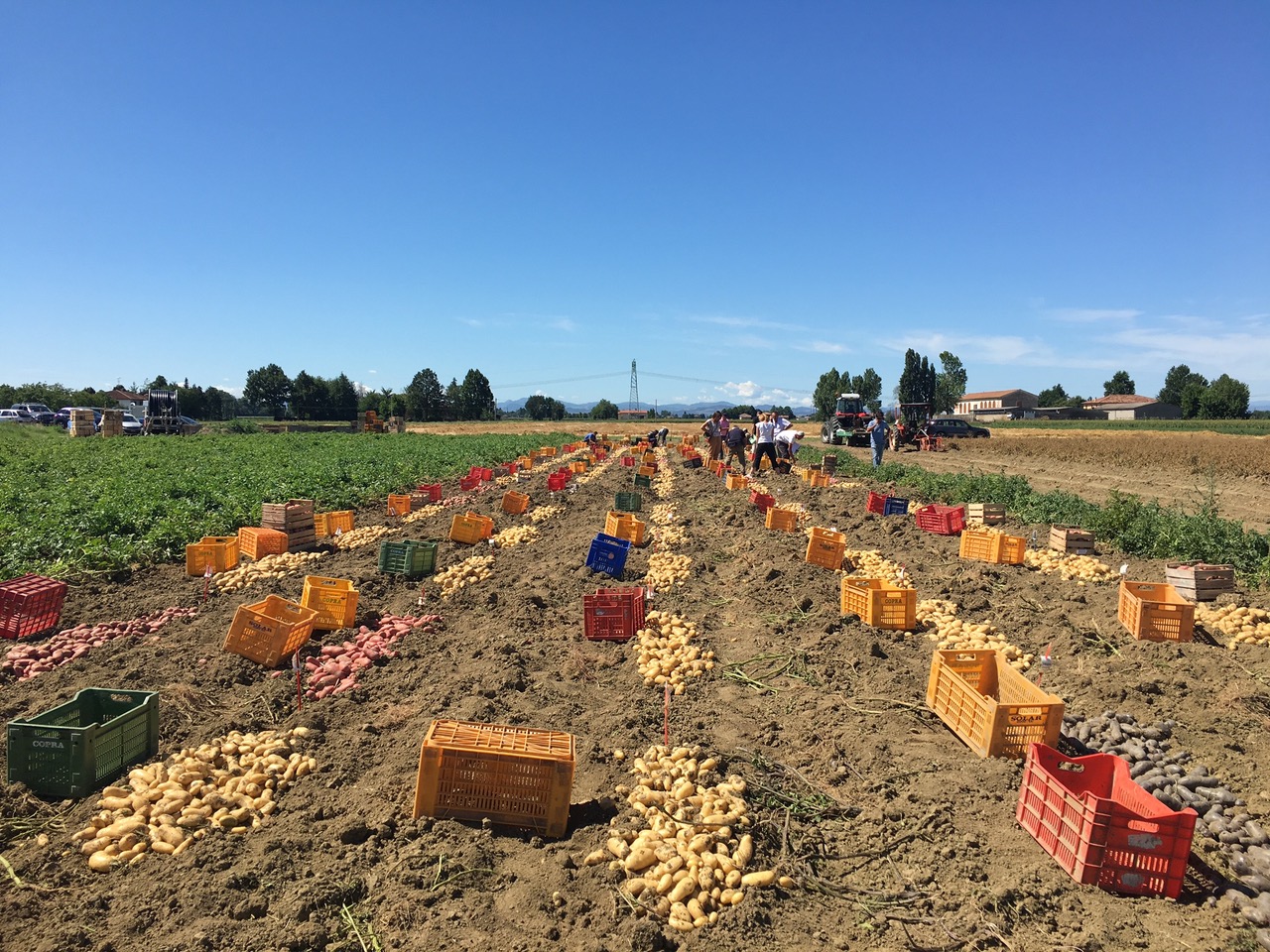 This new experiment is being conducted by growing pre-tested tolerant varieties: Levante, Twister, Alouette, as well as Constance, a variety that also has agronomic characteristics which make it particularly tolerant to downy mildew.
Once again, our partners are Tuscia University, DIBAF and Legambiente, a company with whom we have run projects that have allowed us to test out a new generation of potato varieties that are naturally tolerant to the main diseases – primarily downy mildew – and to produce "Residue-Free" crop protection guidelines, anticipating the future goals of the European Green Deal, and which have allowed us to be the first ones in Italy to be awarded Check Fruit Residue-Free certification for growing potatoes.
"We are conducting research and creating increasingly sustainable crop protection models", explained our CEO, Giulio Romagnoli, "to contribute to environmental protection and to meet the needs of consumers who also focus on the value of sustainability for the products they buy. This commitment comes from our desire to support our farms in adopting sustainable production models, reducing the use of copper or synthetic plant protection products and supporting them in transposing increasingly strict European regulations in the field of plant protection through the constant support offered by our technical agronomic service".
Interest in choosing environmentally friendly products is a trend that has long been on the rise on the Italian consumer scene. Two out of three Italians prefer to shop in stores that run environmental sustainability initiatives, while seven out of ten are willing to change the shop where they do their food shopping in favour of stores that offer products with sustainable packaging. This trend seems to be speeding up even more in the current climate: compared with pre-COVID life, 27% of Italians say they have increased how many sustainable and eco-friendly products they buy, while 23% buy more products with safe packs, and one in five prefer to shop at stores that promote sustainable products (source: Consumer Product Packaging Observatory, set up by Nomisma together with SpinLife).
"Nowadays, companies need to promote development models that are responsible for the environment and consumers' food safety", continued Giulio Romagnoli. "However, this necessarily calls upon everyone involved in the supply chain to guarantee a truly fully sustainable product from an environmental, social and economic point of view. We believe it is of the utmost importance to protect the economic sustainability of every link in the supply chain: if the consumer is willing to pay more for sustainable products, we need these margins to be equally spread among everyone in the supply chain, starting from the world of production. We hope", concluded Mr. Romagnoli, "that the pioneering research projects we are involved in with our partners can become coded production models that can be extended to all potato-growing areas in Italy".
Our research and development involves all phases of the potato supply chain, including packaging. In fact, we have long been committed to choosing eco-friendly packaging for our products and, after adopting the Sormapeel vertbag (which helps cut our use of plastic by 25% compared with the traditional packs in use), we have implemented the brand-new PaperVertbag. This solution, developed by Sorma Group, made from 100% recyclable paper certified by the FSC™ (Forest Stewardship Council™) and fitted with a cellulose mesh "window", allows the product to breathe, increasing its shelf-life, and lets consumers see the product they are buying. This innovative packaging will soon be adopted for èVita Residue-Free* potatoes certified by Check Fruit.
*Chemical residues legally permitted under the limits of analytical determination (0.01 ppm) and residues of plant protection substances authorised for use in organic farming (pursuant to Annex II of EC Reg. 889/2008), up to a maximum of 50% of the Maximum Residue Limit.