Romagnoli F.lli Spa èVita Residue-Free potatoes* have won the Brands Award 2020 New Entry prize for the "other foods" category.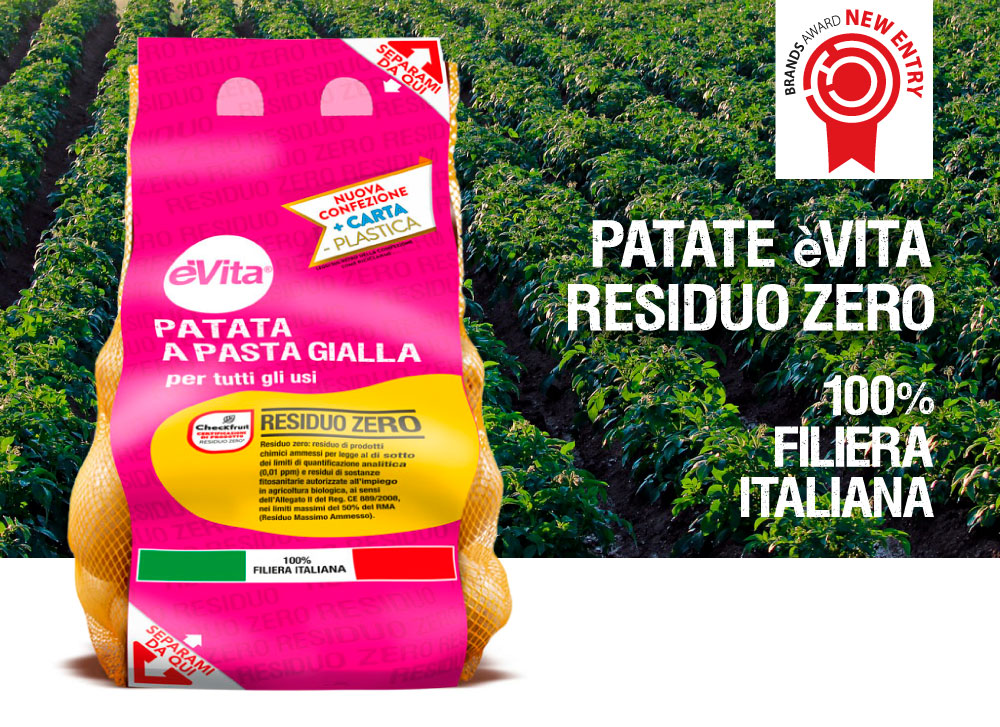 New Entry is the special Brands Award section – an initiative promoted by Gdoweek which rewards the best annual brand "performances" in fast-moving consumer goods – for products launched in supermarkets and retail group stores from 1st January to 25th September 2020. The candidate products received votes through a web survey open to industry and retail managers.
"We are proud to receive this recognition for an innovative product, which is the result of a research path we have believed and invested in, conducted with the scientific guidance of Tuscia University-Department of Innovation in Biology, Agri-food and Forest Systems (DIBAF) together with Legambiente", explained Giulio Romagnoli, our CEO. With èVita Residue-Free potatoes, we are meeting the needs of informed consumers who also focus on the value of sustainability when choosing their food. This product improves the fruit and vegetable section thanks to the advantage of innovation, from the growing methods to packaging, while at the same time guaranteeing taste, quality and food safety".
èVita Residue-Free potatoes are Check Fruit certified, produced from a 100% Italian supply chain and available in Sormapeel vertbags, a pack made from paper and polypropylene, materials that are easy to separate and recycle in paper and plastic waste collection respectively, which helps cut plastic by 25% compared with other packs currently in use.
"We hope and predict that the range of Residue-Free products keeps growing, not just in terms of seasonal products, but also for year-round products", underlined Mr Romagnoli, "such as carrots and onions, to name but a few. This will lead to greater attention on the fruit and vegetable section, letting consumers recognise them and appreciate their value. Residue-Free is a growing model that combines sustainability for the environment and the consumer".
*Chemical residues legally permitted under the limits of analytical determination (0.01 ppm) and residues of plant protection substances authorised for use in organic farming (pursuant to Annex II of EC Reg. 889/2008), up to a maximum of 50% of the Maximum Residue Limit.