èVita Residue-Free potatoes will be coming soon to supermarket fruit and vegetable aisles, a new variety resulting from the research led by Romagnoli F.lli Spa together with Legambiente and Tuscia University, which is already available at certain major supermarket chains in northern and central Italy.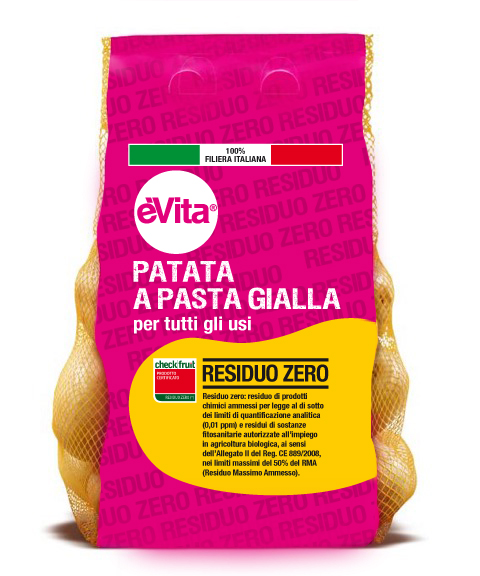 èVita Residue-Free potatoes are 100% Italian and exclusively grown by GLOBALG.A.P. certified farms. They're free from any chemical residues legally permitted under the limits of analytical determination (0.01 ppm) and from any residues of plant protection substances authorised for use in organic farming (pursuant to Annex II of EC Reg. 889/2008) up to a maximum of 50% of the Maximum Residue Limit, thanks to the use of farming practices that follow a specific set of production rules, whereby the use of very low-residue chemical molecules is permitted. By establishing coded and repeatable activities, the project's goal is to promote a new model of sustainable potato-growing.
This new variety created by Romagnoli F.lli Spa and certified by the Check Fruit body is an innovation that will revitalise and improve fruit and vegetable aisles across the land. èVita Residue-Free potatoes have been created by three years of tests and by constantly listening to consumers, who are now increasingly looking for tasty, delicious products that are also healthy, safe and environmentally sustainable. This innovative product helps characterise the margin produced by potatoes, which is one of the most important categories in the fruit and vegetable section, but is still tied to a traditional segmented approach.
èVita Residue-Free potatoes are also an innovative product in terms of their packaging using visual markers that make it stand out more in the aisle. They're available in handy 1 kg packs, so as to better meet the demands of the modern consumer and avoid any waste.
The path towards the "Residue-Free" certification began in 2016, starting from the important work carried out by Romagnoli F.lli Spa's technical and agricultural staff by identifying the most suitable production areas and by selecting the Italian farms most concerned with issues involving environmental protection. It also took shape thanks to the collaboration with Legambiente and Tuscia University. The research was led by a team also involving Agrico – a world-class Dutch company in the selection and propagation of tuber seed varieties, which provided certified tuber seeds – as well as the IBIMET Research Institute of the CNR in Bologna, which was entrusted with conducting the test panel for the varieties.