Working together with the University of Ferrara, Tuscia University and Legambiente to test the effects of green manure with Sudan grass as a biofumigant and on soil fertility.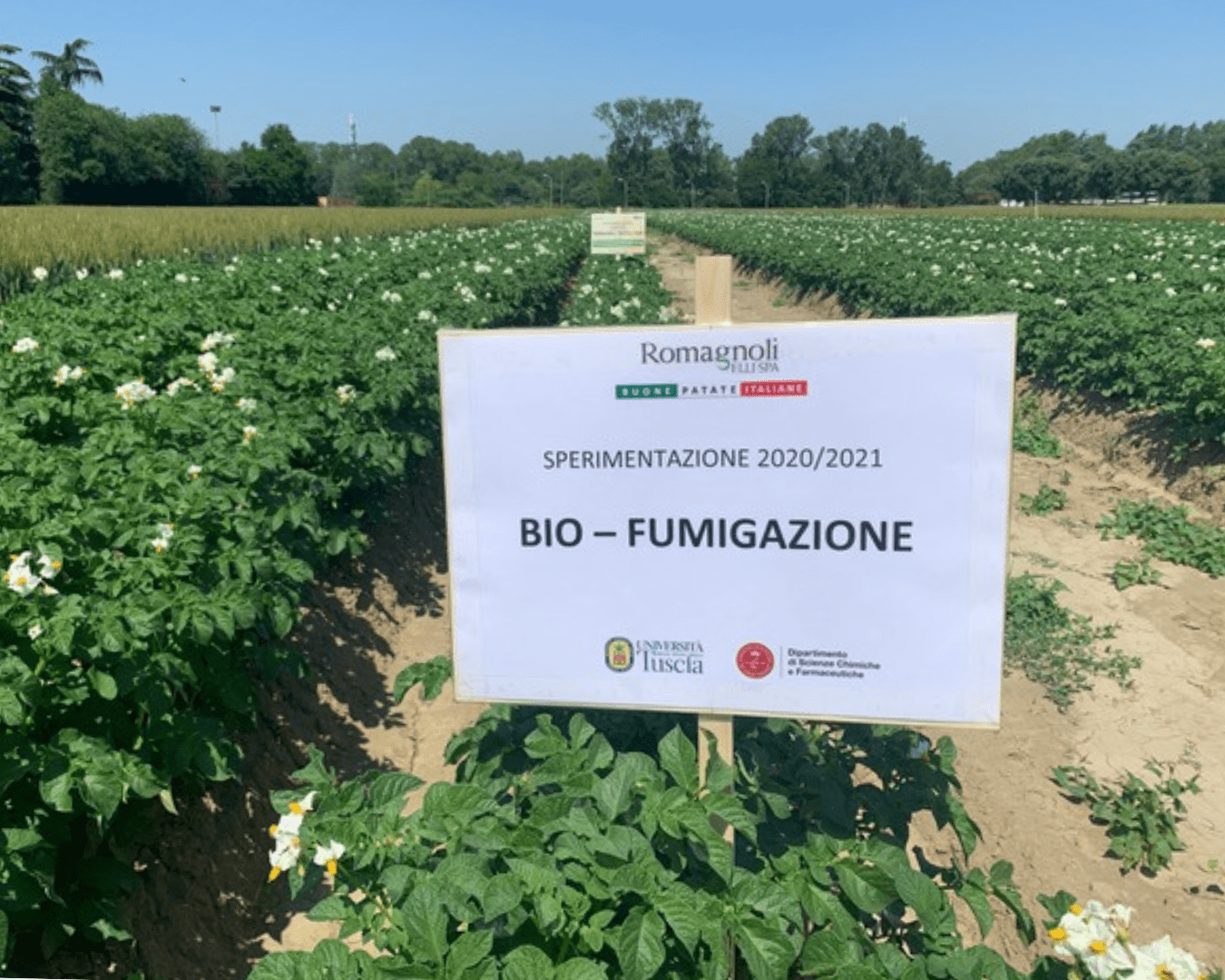 Romagnoli F.lli S.p.A.'s collaboration with the world of research is continuing as part of the larger 'Residue-Free' project, in order to encourage the roll-out of increasingly sustainable potato-growing, using fewer chemicals and protecting soil fertility, natural resources and biodiversity.
The new pilot scheme, launched in 2020 and still running today, is being run with the Department of Chemical, Pharmaceutical and Agricultural Sciences (DOCPAS) at the University of Ferrara, the Department for Innovation in Biological, Agri-Food and Forest Systems (DIBAF) at Tuscia University and Legambiente. This research is based on the use of Sudan grass, a special type of sorghum that can act as a biofumigant thanks to the presence of a cyanogenic glycoside, dhurrin, which breaks down into hydrogen cyanide, a toxic substance for nematodes and other insects. In addition to assessing how effective this agricultural practice is in preventing particularly problematic pests and diseases for growing potatoes, such as elateridae, this study aims to assess its effects on soil fertility. The amount of humic substances has therefore been determined at three different points: before using green manure with sorghum, before sowing potatoes, and after harvesting potatoes. According to the first results, this activity has a positive effect on soil fertility, in particular, on three aspects: the production of humus, better air and water circulation in soil and a better soil structure.
"The prevention of dangerous pests and diseases, such as elateridae, through biofumigation, alongside the use of resistant potato varieties, helps establish 'residue-free' oriented cultivation protocols", explained Romagnoli F.lli S.p.A. CEO Giulio Romagnoli. "These protocols can be repeated in any production area, so they're effective ways of rolling out cultivation practices that can reduce farming's impact on the environment, guarantee healthy crops, and use natural resources more responsibly, protecting limited assets such as soil and water. Our company has long been committed to research, and I would like to thank our partners for their support in achieving our mission", continued Mr. Romagnoli, "which is to promote sustainable potato-growing for the benefit of the entire national supply chain".
In line with the ambitious 2030 strategic goals set by the European Green Deal, including reducing the use of chemical pesticides by 50% and cutting nutrient loss by 50% to help soil fertility recover, this new pilot scheme continues the work of the 'Residue-Free' and 'Patata di Campo-Amica dell'Ambiente' projects and opens up the effective use of Sudan grass in green manure to other crops as well.