Having decided to use it for All-uses èVita and èVita New ware potatoes, Romagnoli S.p.A. is rolling out the innovative Sormapeel packaging to èVita Residue-Free* potatoes which are Check Fruit-certified, 100% Italian and exclusively made by GLOBALG.A.P certified farms.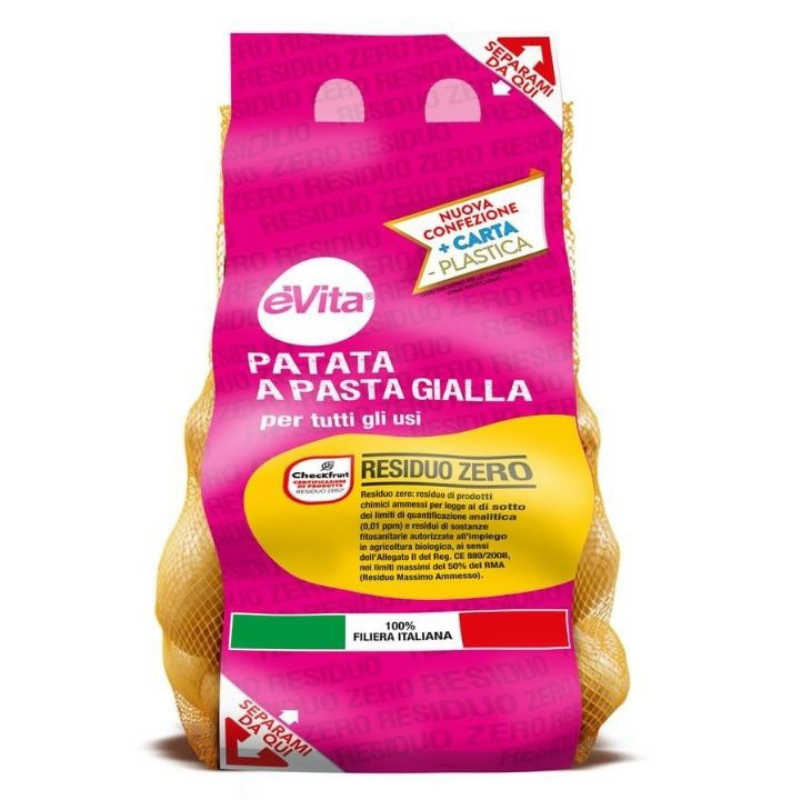 The new Sormapeel vertbag, made from two materials – paper and polypropylene – which are easy to separate and recycle in paper and plastic waste collection respectively, helps cut plastic by 25% compared with the packs currently in use.
"We look to innovation as a series of synergistic actions, the goal of which lies in a desire to help make the entire supply chain increasingly more sustainable", underlined our CEO, Giulio Romagnoli.
"This is the reason why we started conducting research, which has allowed us to produce the new èVita Residue-Free* potatoes, now also with innovative packaging. We hope this product will increasingly meet the preferences of the entire value chain, from producers to consumers and including distribution".
Choosing this new pack is only one of the ways we are showing our commitment to the environment, which not only involves using sustainable packs for our products, but also lies in process innovations that protect natural resources and in promoting production models – like "Residue-Free" – that respect the ecosystem and can offer value to everyone in the supply chain.
*"Residue Free": residues from chemical products permitted by law whose levels fall below the limits of analytical determination (0.01 ppm) and, when used, residues from phytosanitary substances that are authorised for use in organic farming, pursuant to Annex II of Reg. EC 889/2008, up to a maximum of 50% of the MRL (Maximum Residue Limit).