Who ever said that soups are only a winter dish? Vichyssoise, a creamy cold soup made from potatoes, onions, leeks and cream, invented in 1917 by chef Louis Diat, works perfectly in the hot weather, giving summer menus a dash of sophistication.
Let's see how you can make the perfect vichyssoise using our Colomba-variety potatoes with their yellow flesh, bright yellow skin and semi-firm texture, making them particularly versatile.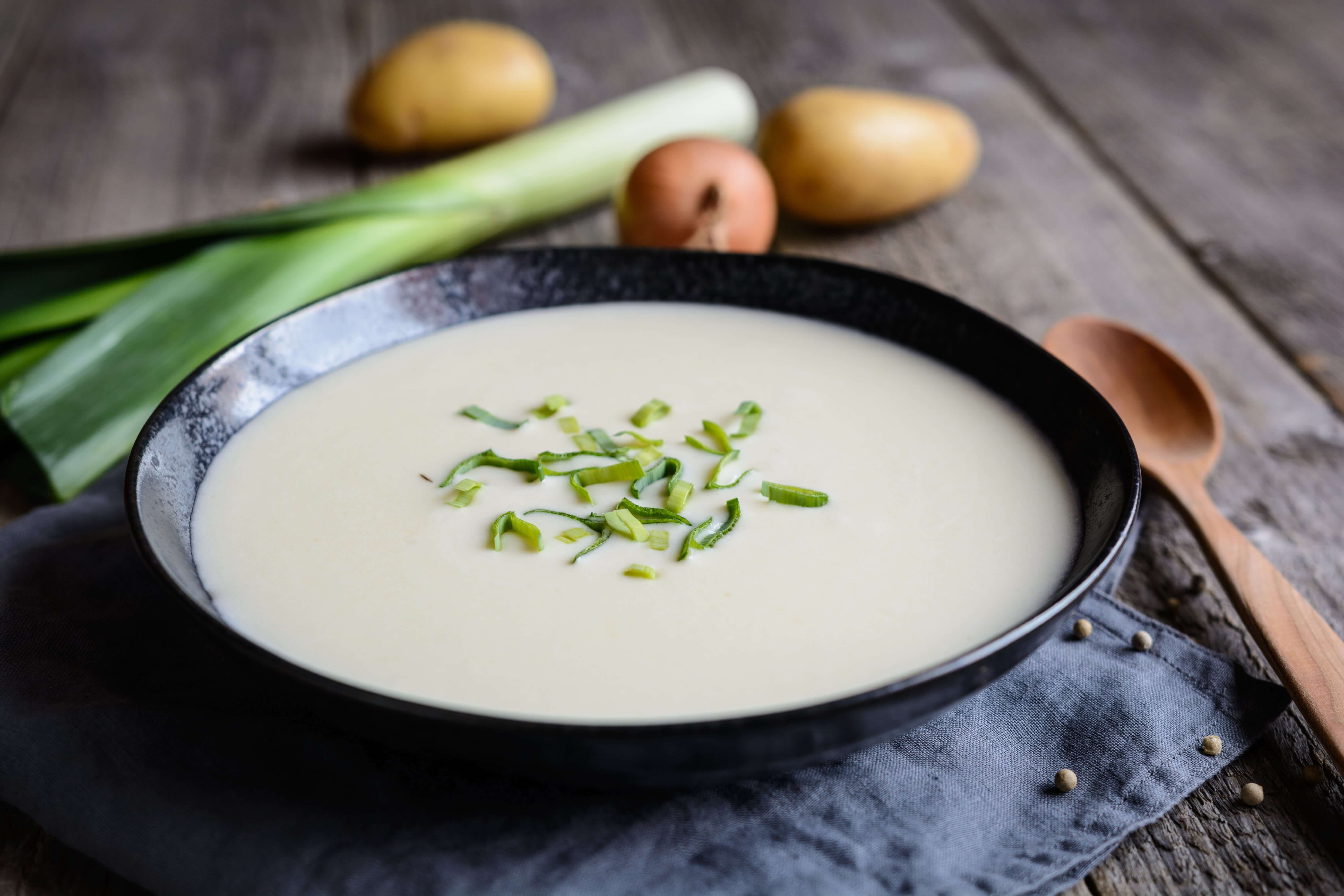 Ingredients for 4 people
Colomba-variety potatoes, 400 g
White part of leeks, 450 g
White onions, 150 g
Celery, 2 hearts
Butter, 60 g
Chicken stock, 1 l
Liquid cream, 200 ml
Chopped chives, 1 tablespoon
White pepper, to taste
Fine salt, to taste
Bread, 8 slices
Preparazione
Wash and peel the potatoes, peel the onion, wash the two celery hearts, then remove the green part and the bottom (the part with the root) of the leeks. Finely chop the leeks into round slices and the rest of the vegetables into small pieces. Melt 50 g of butter in a large saucepan, add the leeks and onions, then sweat them with the lid on over a low heat for about 10 minutes. Once this time is up, add the potatoes and celery, season with salt and pepper, cover with the stock and leave it to cook over a moderate heat for 30 minutes. Once cooked, take it off the hob and blend it with a hand-held blender. Once you have a smooth creamy mixture, put the pan back on the hob and add the cream, stirring it with a wooden tablespoon. Turn off the hob and pour the creamy soup into a bowl, leave it to cool down, then put it in the fridge to cool down for about 4 hours. A few minutes before serving it, toast the slices of bread. Plate up the vichyssoise, finish with chives and serve it with the toast.
Image by NoirChocolate from Shutterstock