In this recipe, the velvety filling is the star thanks to Constance variety potatoes with their light yellow flesh, semi-firm texture and excellent cooking qualities. This is how to make delicious ravioli where the goodness of Constance is combined with the enjoyably bitter flavour of spinach.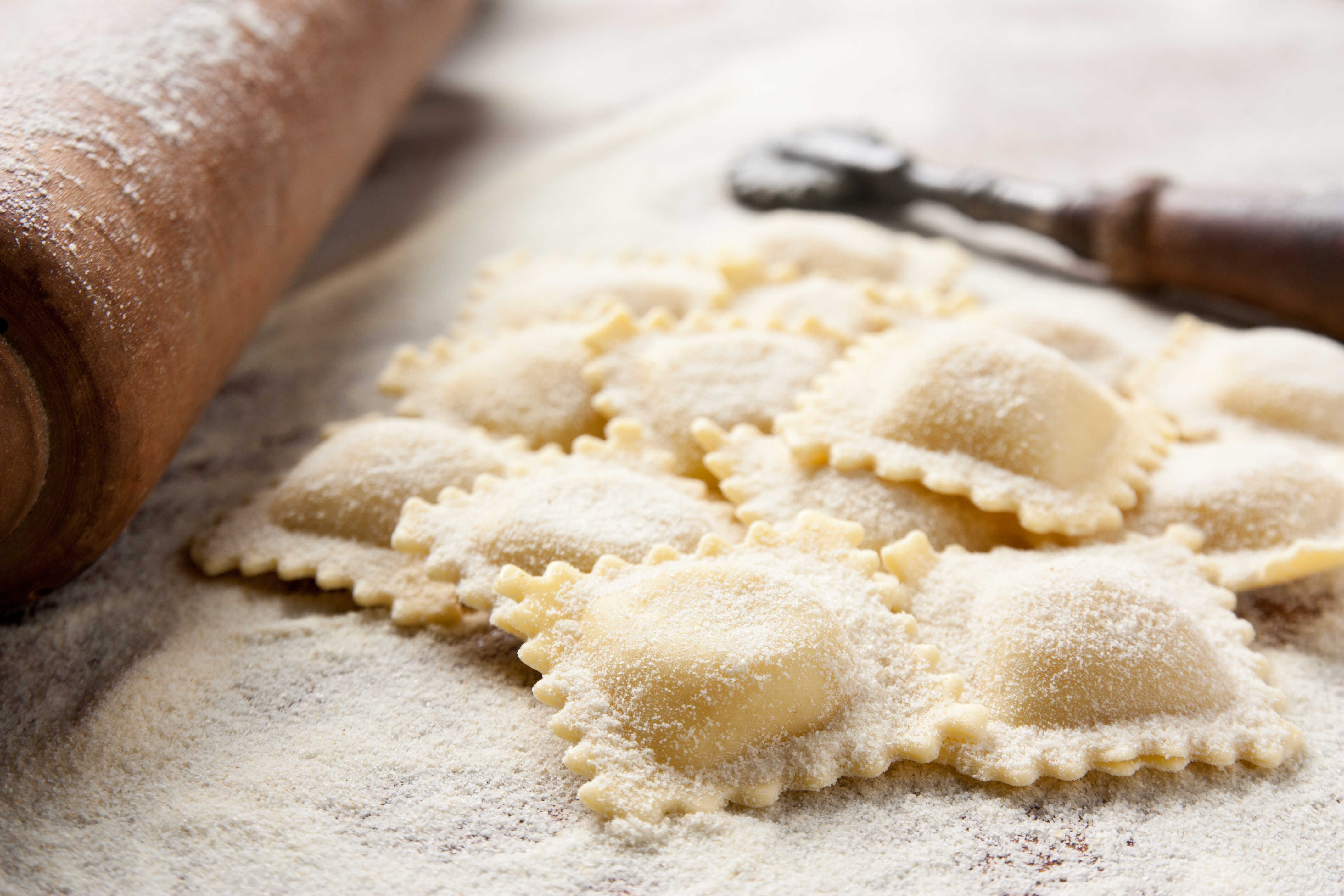 Ingredients for 2 people
Flour, 200 g
Eggs, 2
Constance variety potatoes, 2
Spinach, 400 g
Parmesan, to taste
Butter, 1 knob
Sage, to taste
Salt, to taste
Pepper, to taste
Nutmeg, to taste
Preparation
Make a well with the flour on a pastry board. Make space in the centre and add the eggs. Knead the mixture until you get a smooth dough, cover it and then leave it to rest for 30 minutes. In the meantime, peel the potatoes and dice them. Leave them to soak for a few minutes in a bowl of cold water to remove the starch, rinse them and then steam them for about 15-20 minutes until they are soft. Thoroughly wash the spinach and sauté it in a pan for a few minutes with some extra virgin olive oil and a pinch of salt and pepper until you make it sweat. Once ready, drain it to remove any excess liquid and blend it in a mixer or chop it finely with a knife. Mash the potatoes, then add the parmesan, the spinach, a pinch of salt and one of nutmeg. Put the filling to one side and start making the pasta. Divide it into two equal parts, roll it out using a rolling pin or a pasta roller; if it is too firm or, on the contrary, too moist, you can adjust its texture by adding water or flour. Using a tablespoon, put as many spoonfuls of the filling onto half a piece of pasta as the number of ravioli you want to make. Cover the stuffed pasta with the other half of the dough and cut it with a ravioli wheel to make ravioli about 4 cm wide. Using your fingers, make sure the edges are firmly closed.
Cook the ravioli in boiling salted water for about 3 minutes, drain them and then sauté them in a pan with some butter and sage. Plate up by finishing with a few leaves of fresh sage.
Image by martiapunts from iStock