This fresh summer salad is made from Colomba variety potatoes, with their soft, light yellow flesh, cucumbers and radishes, then seasoned with yoghurt sauce.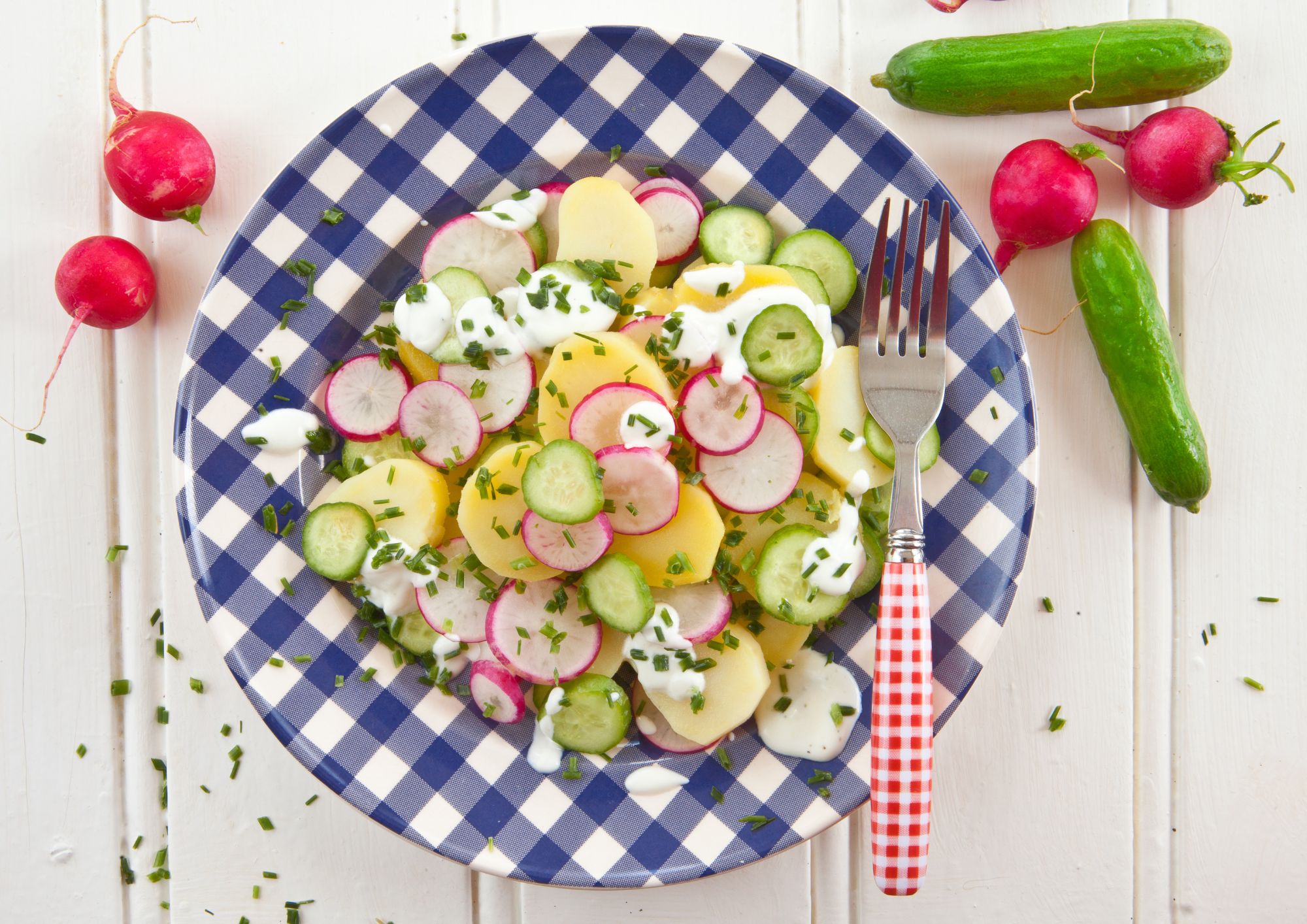 Ingredients for 4 people
Colomba potatoes, 400g
Radishes, 8
Cucumbers, 3
Natural plain yoghurt, 100ml
Garlic, 1 clove
Extra virgin olive oil, 2 tablespoons
Lime juice, to taste
Table salt, to taste
Black pepper, to taste
Chives, to taste
Preparation
Thoroughly wash the potatoes, peel them and boil them in plenty of boiling water for about 25-30 minutes, or until they are soft enough. In the meantime, thoroughly wash the cucumbers and radishes and then cut them into round slices. When they are ready, drain the peeled potatoes and, once they have cooled down, cut them into pieces. Put the vegetables and potatoes to one side.

To make the yoghurt sauce, first of all, clean and finely chop the garlic. Pour the plain yoghurt into a bowl and soften it by stirring it with a teaspoon, then add the lemon juice and chopped garlic. Now add the oil, the salt and the pepper, and mix everything together well. Leave the sauce to cool down in the refrigerator for at least 30 minutes.

Take a large bowl and put the potatoes in. Add the cucumbers and radishes cut into round slices and season to taste with the garlic-flavoured yoghurt sauce. Lastly, finely chop the chives and sprinkle them over your salad.
Image: Canva