A light vegetarian recipe by @uno.spicchio.di.melone, the potato gnudi with creamy squash and mushroom soup are made with our èVita Residuo Zero potatoes of the Levante variety, ideal for a smooth texture.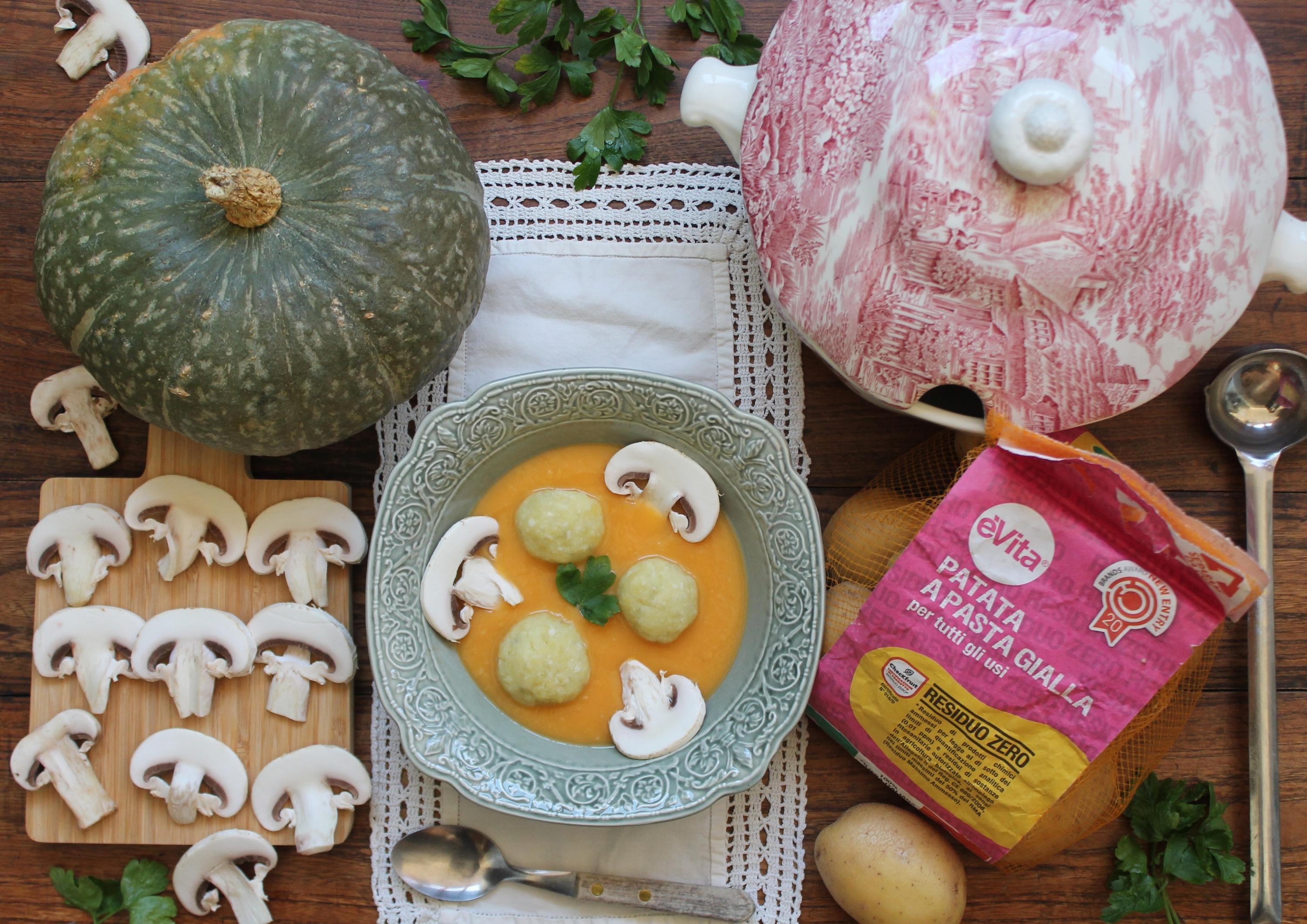 Ingredients for 4 people
Potatoes (Levante variety), 4
Squash, 500g
Champignon mushrooms, 250g
Onion, 1
Parmigiano Reggiano, 100g
Water, as required
Extra virgin olive oil, as required
Sea salt, to taste
Table salt, to taste
Pepper, to taste
Preparation
Wash the mushrooms thoroughly and slice. Sauté the finely chopped onion in a large saucepan with extra virgin olive oil as required. When the onion is sufficiently tender, add the mushrooms and let them brown. If desired, set aside to garnish the finished dish. Wash the squash and cut into cubes of about 2x2 cm. Add the squash cubes to the mushrooms and the onion and then mix. Once the vegetables are browned, cover completely in water, add salt to taste and bring to the boil. Cook for 15 to 20 minutes and, with the heat off, blend all the ingredients together.
While the creamy soup is resting, prepare the potato gnudi. Thoroughly wash the potatoes, peel, then boil in plenty of salt water. When sufficiently soft, strain and let cool for several minutes. Mash with a fork, add the Parmigiano Reggiano and shape into small balls. Finally, warm the gnudi slightly (a microwave is fine) and place in the creamy soup already served. Garnish according to taste with sliced mushrooms and a few parsley leaves.
Image: Irene Bombarda