A soft, aromatic focaccia where potatoes are combined with the freshness of lemon and the balsamic hints of rosemary, to be enjoyed either on its own or stuffed with vegetables, sauces or cured meats.
A simple yet mouthwatering recipe for an appetising snack or an aperitif. Don't worry if a few slices are left over, as you can store them in the freezer and defrost them whenever you want.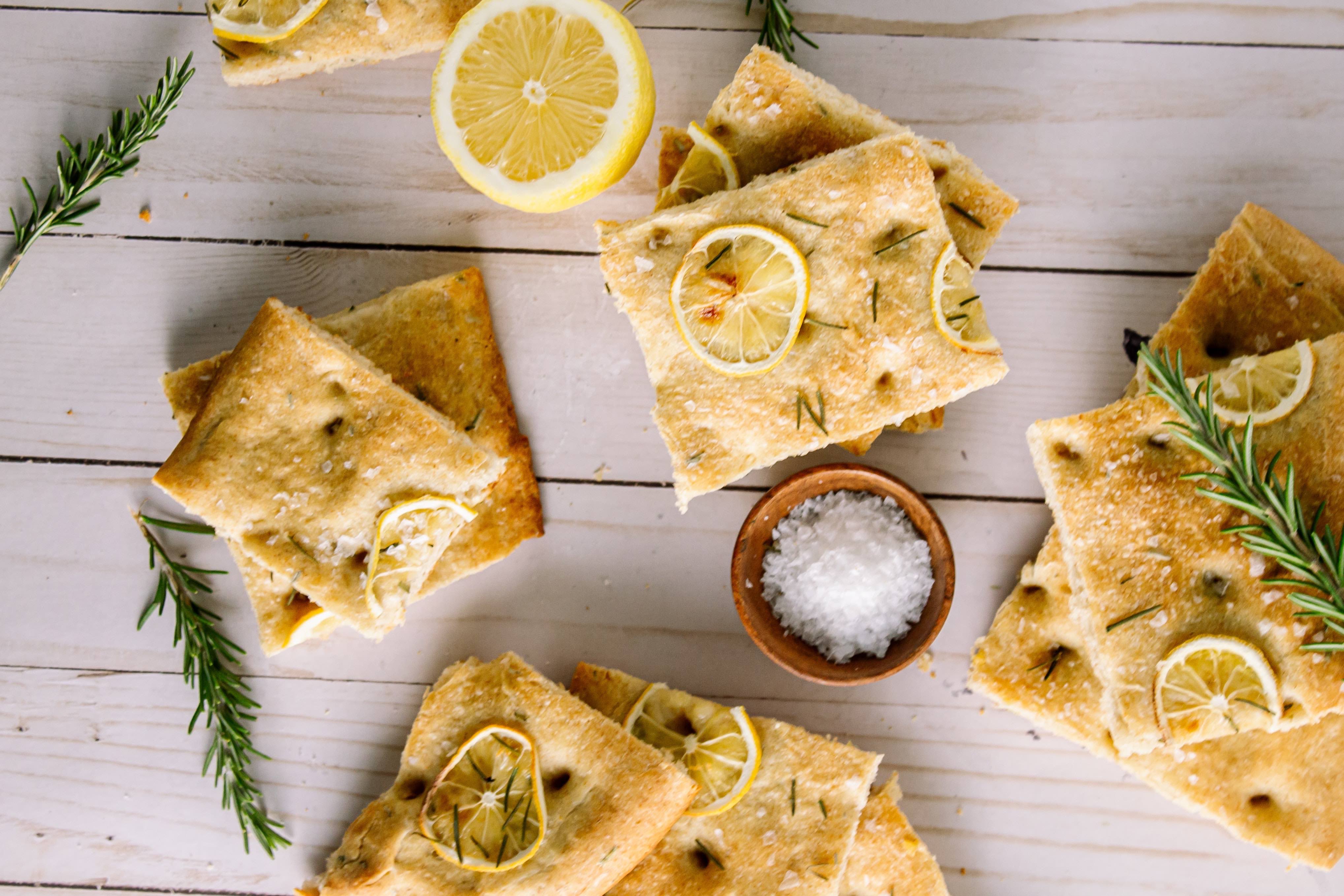 Ingredients for 1 focaccia
Manitoba flour, 300 g
White potatoes, 200 g
Dry brewer's yeast, 7 g
Sugar, 1 teaspoon
Organic lemon, 1
Extra virgin olive oil, 3 tablespoons
Rosemary, 1 sprig
Fine salt, 1 teaspoon
Coarse salt, 2 pinches
Mineral water, as required
Preparation
Wash the potatoes, peel and dice them and then boil them in salted water for 10-15 minutes. Once cooked, drain them and mash them with a potato masher and then leave them to cool down.
Add the yeast and the sugar to the flour, mix them together thoroughly and make a well with all these ingredients on a pastry board. Gradually mix in the water as you keep kneading, then add the fine salt, the potatoes and a drizzle of extra virgin olive oil. Knead it vigorously, add the grated lemon peel and keep working it until you get a compact ball of dough. Transfer the dough into a greased container, cover it with a damp cloth and leave it to rise for about two hours.
Once it has risen, roll out the dough on a well-oiled baking tray – use a rectangular one measuring about 28 x 22 cm or a round one 28 cm in diameter – pour a drizzle of oil on the surface and spread it around evenly with a pastry brush, put a few leaves of rosemary and the coarse salt on top, and finally decorate with a few very thin slices of lemon. Bake in a preheated oven at 220°C for 20 minutes.