This is a delicious main course where crispy potato wedges meet pork loin, made even more mouthwatering by the citrus notes of oranges. Despite the rather long cooking times, this dish is very easy to make.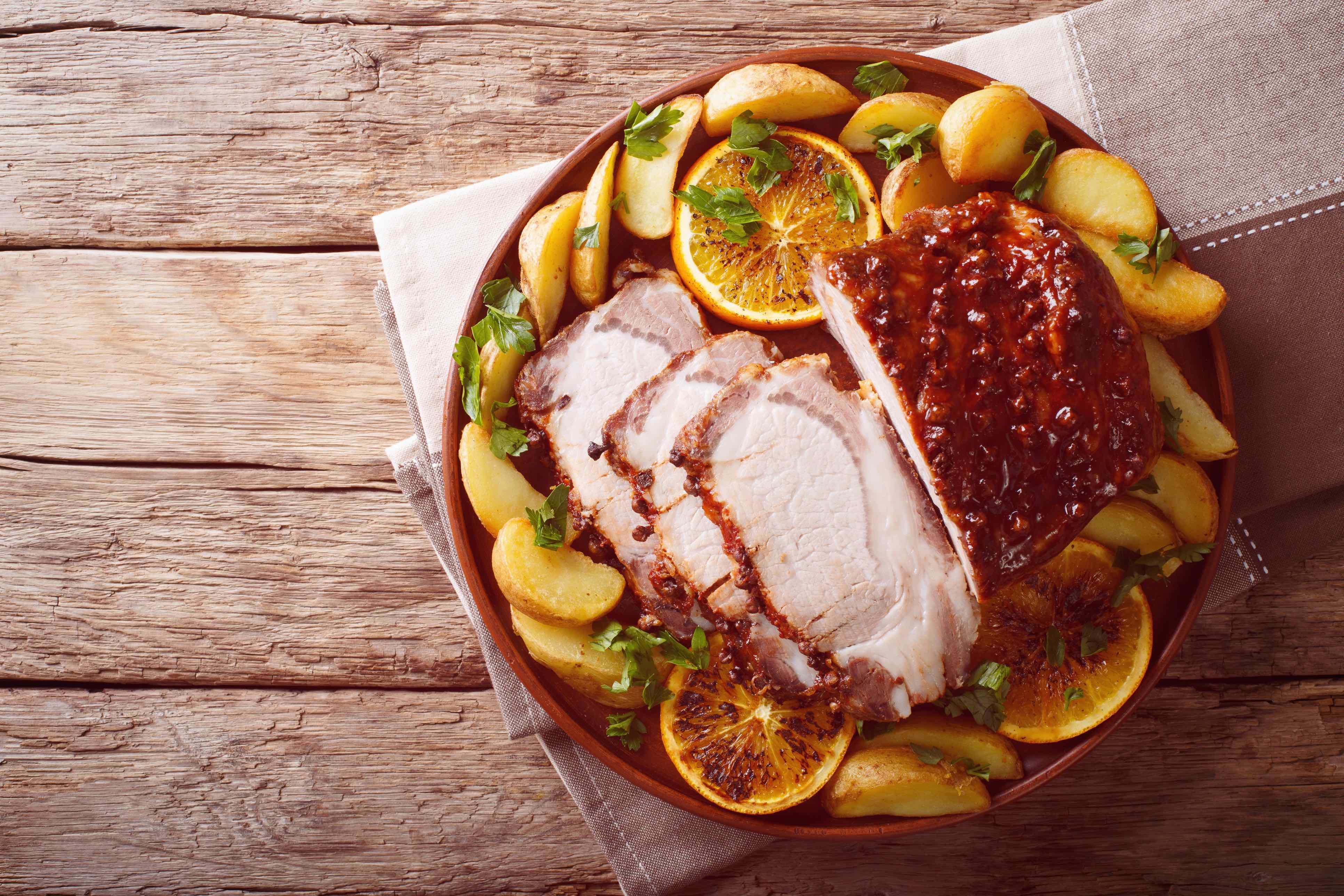 Ingredients for 4 people
Pork loin, 1 kg
Yellow potatoes, 600 g
Oranges, 3
Garlic, 2 cloves
White wine, 1 glass
Butter, 15 g
Salt, to taste
Extra virgin olive oil, to taste
Pepper, to taste

Preparation
Wash two oranges, cut them in half and squeeze all of them, then filter the juice with a sieve and keep it to one side. Mix the oil, salt and pepper in a small bowl and pour this emulsion over the entire surface of the pork loin, then marinate it in the orange juice.
Tie the pork loin with some kitchen twine and brown it with some butter for a couple of minutes on each side in a non-stick pan over a high heat, turning it an even golden brown colour. This step will ensure that the meat does not lose its juices and stays tender even after cooking. Simmer with ½ glass of white wine until reduced.
Wash the potatoes, peel them and cut them into wedges. Put them in a bowl and add the garlic cloves cut in half, the oil, pepper, salt and some parsley leaves. Mix thoroughly to spread the condiments over the potatoes.
Remove the twine from the pork loin and put it in a pre-greased ovenproof dish or covered with baking paper, then place the potatoes around the meat. Bake at 180°C for about 60 minutes and, halfway through cooking, pour another half glass of white wine over the meat. Take it out of the oven, remove the garlic cloves, which will have flavoured the potatoes by now, and decorate the serving dish with a few slices of oranges and some parsley leaves.