For the Week of Italian Cuisine across the World, we're taking you back to one of the most symbolic dishes of our culinary traditions: margherita pizza.
You'll be amazed by this version, prepared using a potato-based dough that comes out particularly soft and delicious.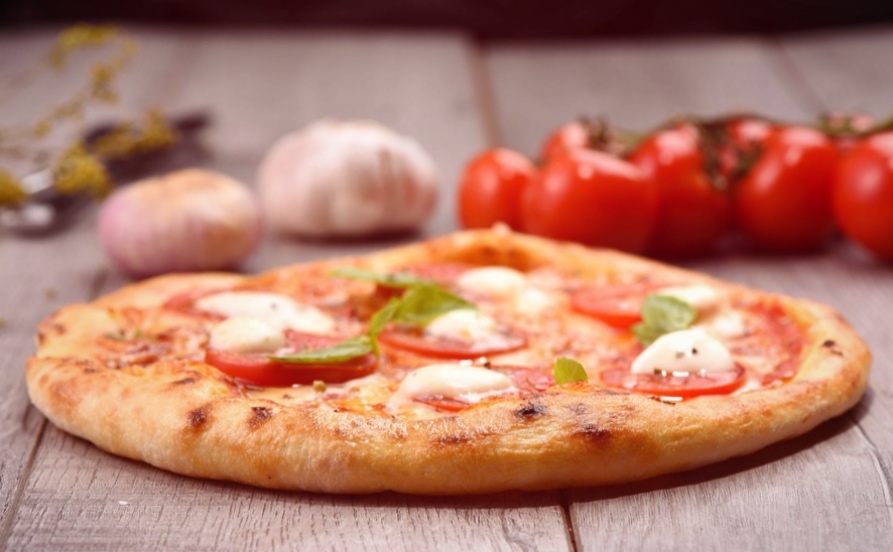 Ingredients for 4 pizzas
Durum wheat flour, 200 g
0-grade flour, 300 g
White potatoes, 300 g
Salt, ½ teaspoon
Mozzarella, 400 g
Basil, a couple of leaves
Brewer's yeast, 20 g
Tomato pulp, 500 g
Round tomatoes, 4
Mineral water, as needed
Extra-virgin olive oil, as needed
Preparation
Wash the potatoes, and then peel and dice them. Boil them in plenty of salted water for 10-15 minutes, and then turn off the stove and drain them once they have become soft. Mash them with a potato masher until you have created a mash and then leave it to cool down.
Use the flours to make a well on a pastry board. Dissolve the brewer's yeast in a glass of lukewarm water and then, little by little, pour it onto the flour and start to knead it. Add two spoonfuls of extra-virgin olive oil and the salt. Keep kneading until you have a compact ball of dough. Then add the mashed potato and continue to vigorously knead the dough, adding some water or flour if needed. Leave to rest for 30 minutes in a floured bowl and cover it with a dishcloth. Knead it a second time and then leave it to rise for 6 hours in a warm environment (you can place it in an unlit oven but with the light on; the gentle heat coming from the lamp will be enough to create the perfect environment).
Once the dough has doubled in size, roll it out onto well-oiled baking trays and cover it with the tomato pulp. Add a drizzle of extra-virgin olive oil, season with a pinch of salt, and then bake for 15 minutes in a static oven that has been preheated to 220°C. Add the mozzarella and the sliced tomatoes and cook for another 10 minutes. Remove from the oven, decorate with a few basil leaves, and then serve.