Fish and chips originated in England and are enjoyed by people of all ages. They are served in pubs all over London, and further afield too. There are a number of varieties, which differ depending on how the batter is seasoned. Here's the original recipe below.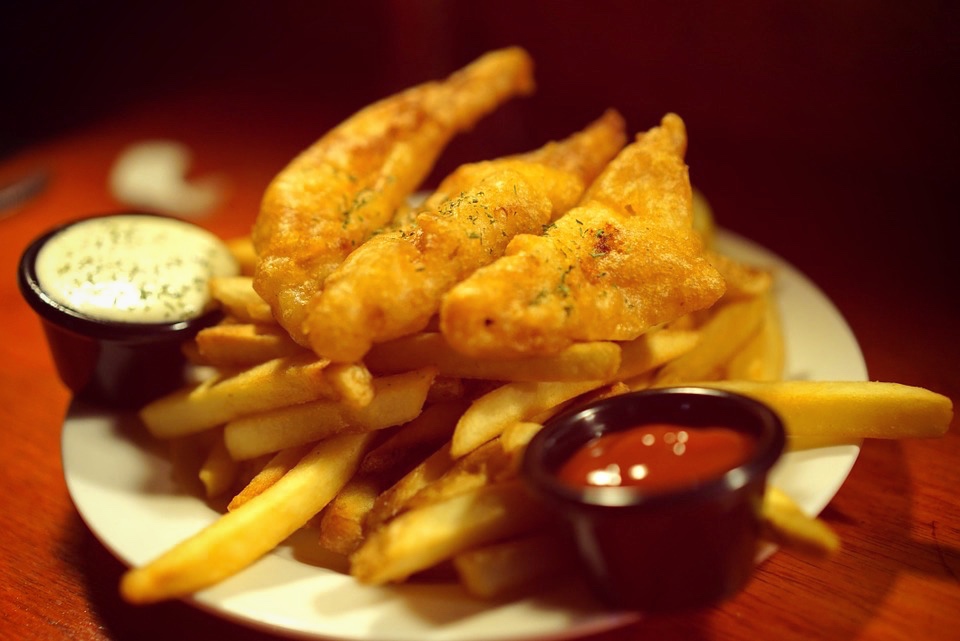 Ingredients for 4 people
Cod fillets, 400 g
Potatoes, 500 g
Flour, 200 g
Sparkling water, 150 ml
Egg, 1
Baking powder, 20 g
Oil for frying, as needed
Salt, as needed
Preparation
Carefully wash the potatoes and cut them into small batons of no more than 1 cm thick (you don't need to peel them). Heat up the oil, add the potatoes, and fry them for about 5 minutes. When they're perfectly golden, drain them and then leave them to cool down on a paper towel.
Now move on to making the batter. Put the flour, baking powder, egg, salt, and sparkling water together into a bowl. The sparkling water will help to make the batter crunchier. Use a whisk to mix everything together well. The batter should be quite creamy; add some water or flour if needed to get the right consistency.
Coat the cod fillets with flour first – making sure that they are covered all over – and then coat them with the batter. Fry the fillets in boiling oil for 5 minutes. Drain them and then leave them to cool down.
Add a pinch of salt and serve the fish and potatoes together on the same plate: your fish and chips are now ready to eat!