Pizzoccheri are a type of pasta like tagliatelle, but shorter and slightly wider, typically made in Teglio (SO), a small municipality in Valtellina at the foot of the Alps.
The special feature of pizzoccheri from Teglio is that they are made with about two thirds buckwheat flour, a grain used in Valtellina since the 14th century and still used today for making various traditional dishes. Pizzoccheri alla valtellinese are made with delicious natural ingredients and are perfect for winter.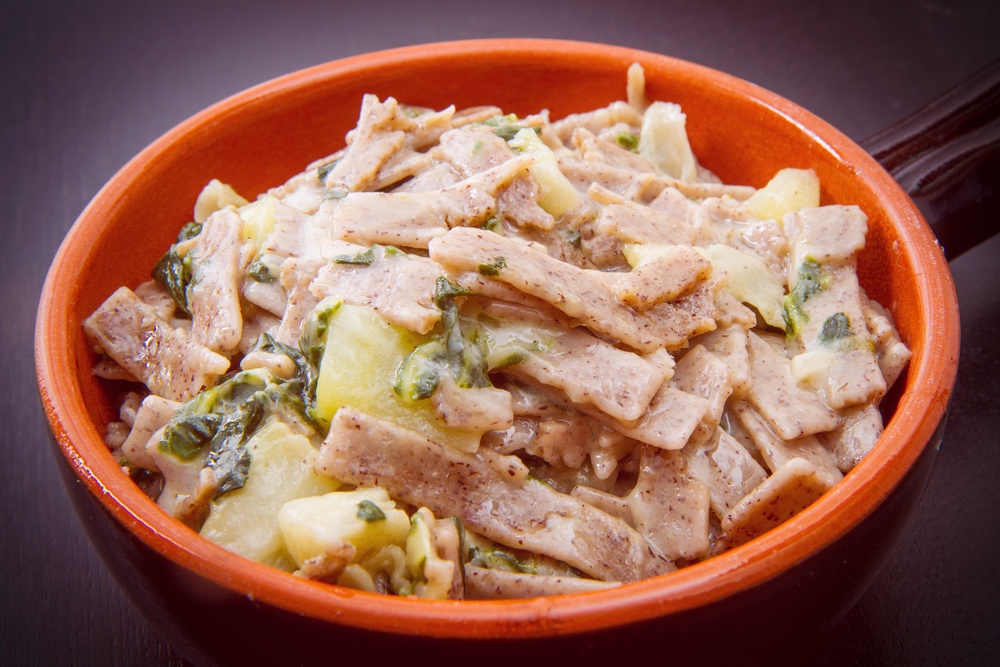 Ingredients
Buckwheat flour, 400 g
0 flour (ultra-fine), 100 g
PDO Valtellina Casera cheese, 200 g
Grated Grana cheese, 200 g
Potatoes, 300 g
Butter, 200 g
Savoy cabbage (or you can use Swiss chard), 200 g
Garlic, 1 clove
Salt and pepper, to taste
Water, as required (about 100 ml)

Preparation
Sieve the two flours together, slowly mix in the water (it's better if it's slightly warm) and knead the dough vigorously by hand for about 5 minutes. Stretch out the dough with a rolling pin until you get a rectangle 2-3 mm thick so you can cut out strips about 7 cm wide. Put the strips on top of each other and cut them with a knife lengthwise so you get short tagliatelle about half a centimetre wide.
Boil some salted water in a very large saucepan and cook the chopped savoy cabbage (or Swiss chard) and the diced peeled potatoes. After about 10 minutes, add the pizzoccheri. After about another ten minutes, drain the pizzoccheri with a strainer and put a first layer directly in a rimmed baking tray, then sprinkle with a layer of grated Grana and flakes of PDO Valtellina Casera cheese. Repeat this process, alternating several layers of pizzoccheri and cheese in the tray until you run out of ingredients.
Finally, season with the melted butter you used to fry the garlic and serve the pizzoccheri (without stirring them) with a sprinkling of pepper.