"Tortel di patate" are an iconic dish of Trentino's cuisine, with many variants found in the different parts of the region.
The recipe presented here is the official one of the "Confraternita della torta e del tortel di patate" (Brotherhood of potato tortel and cake), an organisation born in 1998 in Sporminore, Trento, with the goal of preserving and promoting the tradition of this ancient and simple recipe, which only has three ingredients: potatoes, oil and salt.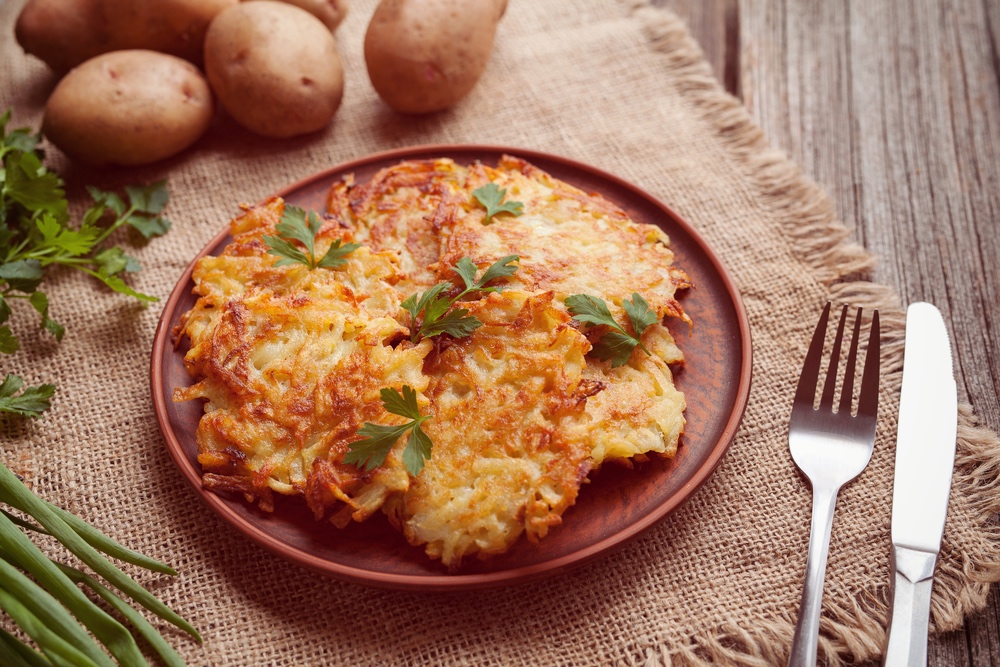 Ingredients for 4 people
Potatoes, 1.5 kg
Fine white flour (type "0"), 4 table spoons
Salt and pepper, to taste
Sunflower seed oil, to taste
Preparation:
Wash and peel the potatoes, then grate them with a large-hole grater (the kind used to julienne carrots is perfect!) and place them in a bowl. If some water gathers at the bottom of the bowl, be sure to drain it all out before continuing with the preparation.
Add flour, salt, pepper, and mix everything together. This dough mix doesn't need to have a perfectly smooth and even texture. Heat the sunflower seed oil in a non-stick pan then, using a spoon, place small chunks of dough into the boiling oil, so as to obtain several dumplings about 6 cm in diameter. Instead of frying, it is possible to lay out the dough in a non-stick casserole dish and bake it in the oven at 200° for 15 minutes. As soon as it turns nicely golden, you can cut it and let it cool.