A typical summer recipe, this salad made from octopus, celery and Bleuet potatoes, with their semi-firm flesh and delicate flavour, is a fish main course that is also perfect as a starter!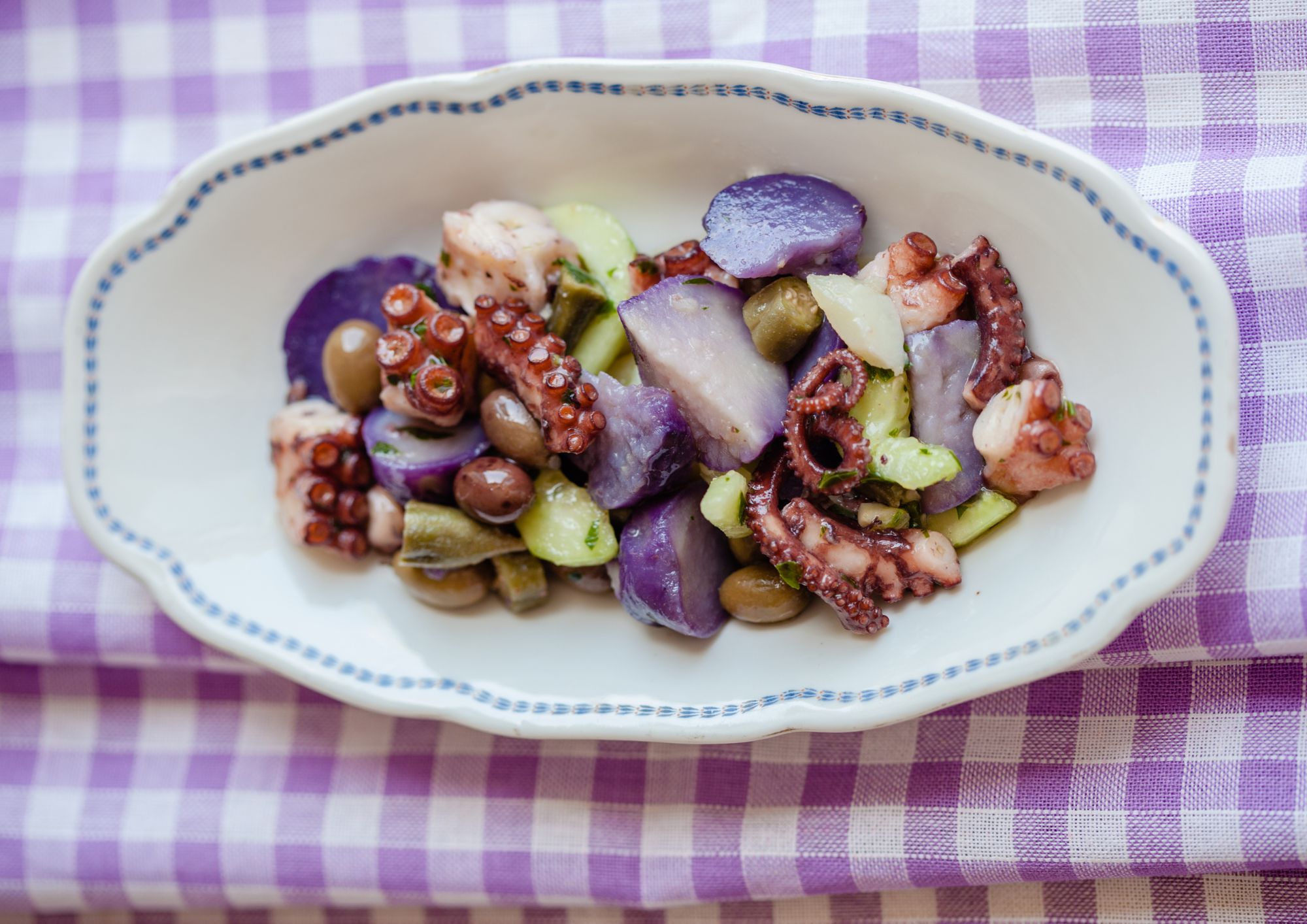 Ingredients for 4 people
Bleuet potatoes, 500g
Octopus, 700g
Celery, 150g
Olives, 50g
White wine, 250 ml
Lemon juice, 40 ml
Extra virgin olive oil, 50 ml
Bay leaves, 2 leaves
Parsley, to taste
Table salt, to taste
Black pepper, to taste

Preparation
First of all, thoroughly clean the octopus, removing the eyes and beak and emptying the sac, then rinse it under running water. Add the white wine and bay leaves to a pan of boiling water. Dip the tentacles in 3 times so they curl up, then put the whole octopus in and cook it for about 25 minutes over a moderate heat. Then turn off the hob and leave it to cool down in its water for another 40 minutes.

In the meantime, thoroughly wash the potatoes and boil them in plenty of boiling water for about 25-30 minutes, or until they are soft enough. When your boiled octopus has cooled down, separate the tentacles from the body and cut them into pieces. Cut the sac into thin strips as well. Drain the potatoes and leave them to cool down for a few minutes: the potatoes should be peeled while still hot to make it easier.

Once the potatoes have been peeled, cut them into large pieces. Thoroughly wash the celery as well and cut it into pieces. Take a large bowl and put the octopus inside with the potatoes, olives, celery and chopped parsley. For the dressing, put the extra virgin olive oil and lemon juice in a small jar, along with a sprinkling of pepper and a good pinch of salt. Close the jar and shake. Pour the dressing into the bowl and stir well. Season with salt and serve the salad warm or cold, depending on how you like it!
Image: Canva