Creamy celeriac sauce, pears with ginger, stringy tomino with walnuts and crispy speck feature in this Serramare Garden's baked potato made with Residue-Free Twister potatoes.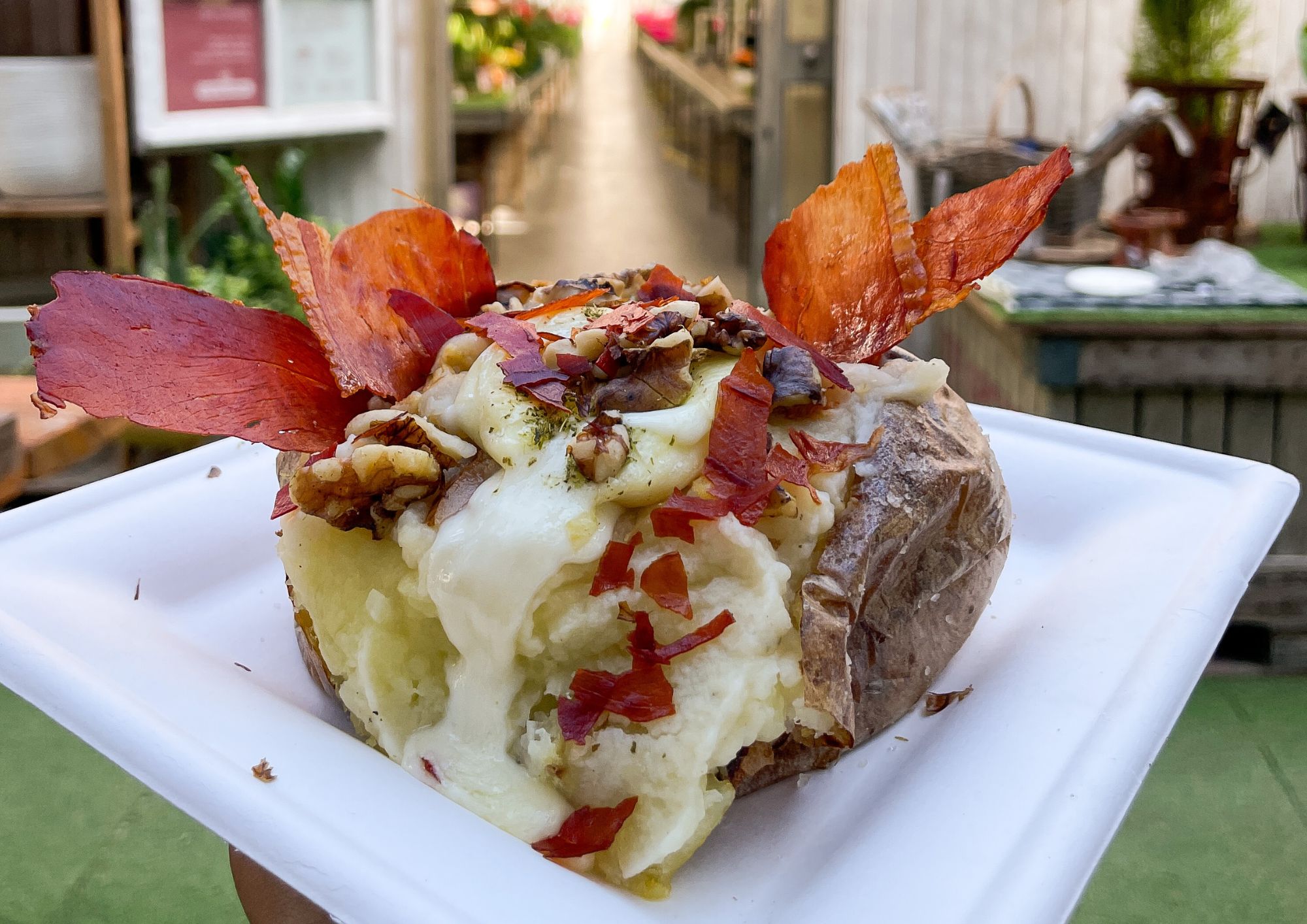 Ingredients for 1 baked potato
Residue-Free Twister potatoes, 1
Pears, 1
Celeriac, 1
Tomino cheese, 1
Walnuts, 50g
Speck ham, 50g
Ginger, to taste
Thyme, to taste
Extra virgin olive oil, as required
Table salt, to taste
Black pepper, to taste

Preparation
Thoroughly wash the potatoes, then bake them for about 50 mins at 200 degrees.
Place the slices of speck ham on a tray lined with baking paper and bake for about 15-20 minutes or until they turn as crispy as you like. Once ready, put them to one side.
In the meantime, wash the pears, peel them and dice them, then sauté them in a pan with the pre-grated ginger and put them to one side.

Thoroughly wash the celeriac root and, once you have removed the skin, cut it in half. Cut it in half again, first into strips and then into cubes. Brown the celeriac in a pan with a drizzle of oil, then add half its weight in water and leave it to cook for 30 minutes. Once the time required is up, season with salt and pepper and use a mixer to blend everything until you get an even, velvety cream.

Toast the walnuts in a pre-heated non-stick pan for about 5 minutes. Once ready, put them to one side. Using the same pan, cook the tomino cheese for 3 minutes on each side, then once it has melted, season with dried thyme.
The potatoes will now be ready, so leave them to cool down for a few minutes and then cut them in half. Start to fill the potato with the creamy celeriac sauce and diced pear, put the stringy tomino cheese on top, sprinkle everything with the toasted walnuts and lastly add the slices of crispy speck ham.
Image: Serramare Garden