A recipe created with seasonal ingredients, very tasty and brightly coloured thanks to the purple of the potatoes and cauliflower and the bright green of the curly parsley used as garnish, which make this dish very attractive.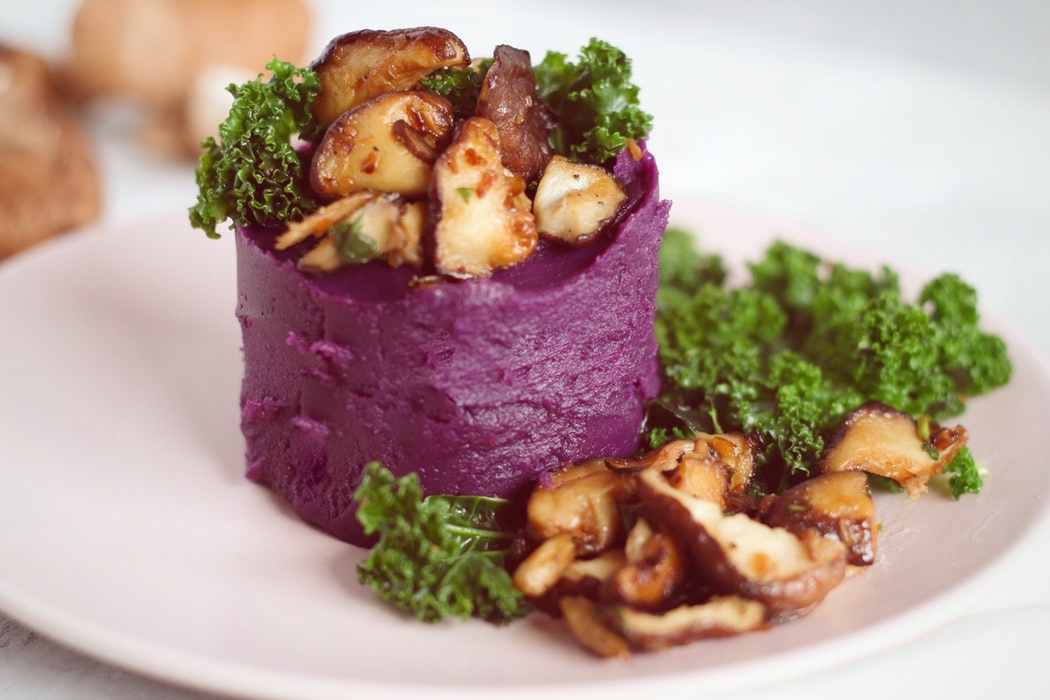 Ingredients for 4 people
Purple cauliflower, 500 g
Purple potatoes, 300 g
Fresh ricotta, 150 g
Egg, 1
Grated cheese, 100 g
Mixed mushrooms, 800 g
Garlic, 1 clove
Curly parsley, 4-5 sprigs
Butter, 30 g
Extra virgin olive oil, 4 tablespoons
Nutmeg, to taste
Salt, to taste
Preparation
Carefully wash the purple cauliflower and cut the individual florets (only the tops are used for this recipe). Steam for about 15 minutes. Separately steam the potatoes for 20 minutes. Steam cooking allows less water to be absorbed by the vegetables and consequently gives greater firmness of the flan. To ensure that the bright purple colour of the cauliflower and potatoes does not fade, after cooking dip them in a bowl filled with ice water for a few seconds.
Add the cauliflower to the potatoes and blend with an immersion blender. When they have a creamy consistency, add the ricotta, cheese, and egg, and season with nutmeg and a pinch of salt. Mix well to blend the ingredients evenly.
Butter single-portion cylindrical moulds and fill them with the mixture. Cook the flans in a preheated oven at 160° for 40-45 minutes. Remove from oven and let cool.
Meanwhile, prepare the mushrooms. In a non-stick pan, heat a knob of butter and 4 tablespoons of extra virgin olive oil, add a clove of garlic and heat until softened. Add the mushrooms, sauté on high heat for a couple of minutes, then lower the heat and cook gently for another 15 minutes. Season with a pinch of salt and add a bit of finely chopped parsley.
At this point you can arrange the plates. Remove the flans from the moulds and place them one per plate, add the mushrooms as accompaniment, garnish with the parsley and serve.
If you prefer, you can substitute the mushrooms with cubes of eggplant, zucchini, or other vegetables.