Invented in the late nineteenth century by the chef of the legendary Union Club in New York, the club sandwich has spread all around the world to the point that it has now become an essential symbol of the perfect American brunch.
With a similar base to a BLT, another star of American sandwiches, the club sandwich can come in many different variations: from high-protein ones with eggs, bacon and turkey or chicken, to vegetarian ones with hummus, avocado and vegetables.
In this recipe, we offer one of the most popular versions on English-speaking menus, where it is strictly served with crispy French fries. To make them here, we have used Alouette potatoes, with their red skin and yellow flesh, which are perfect for frying thanks to their compact flesh.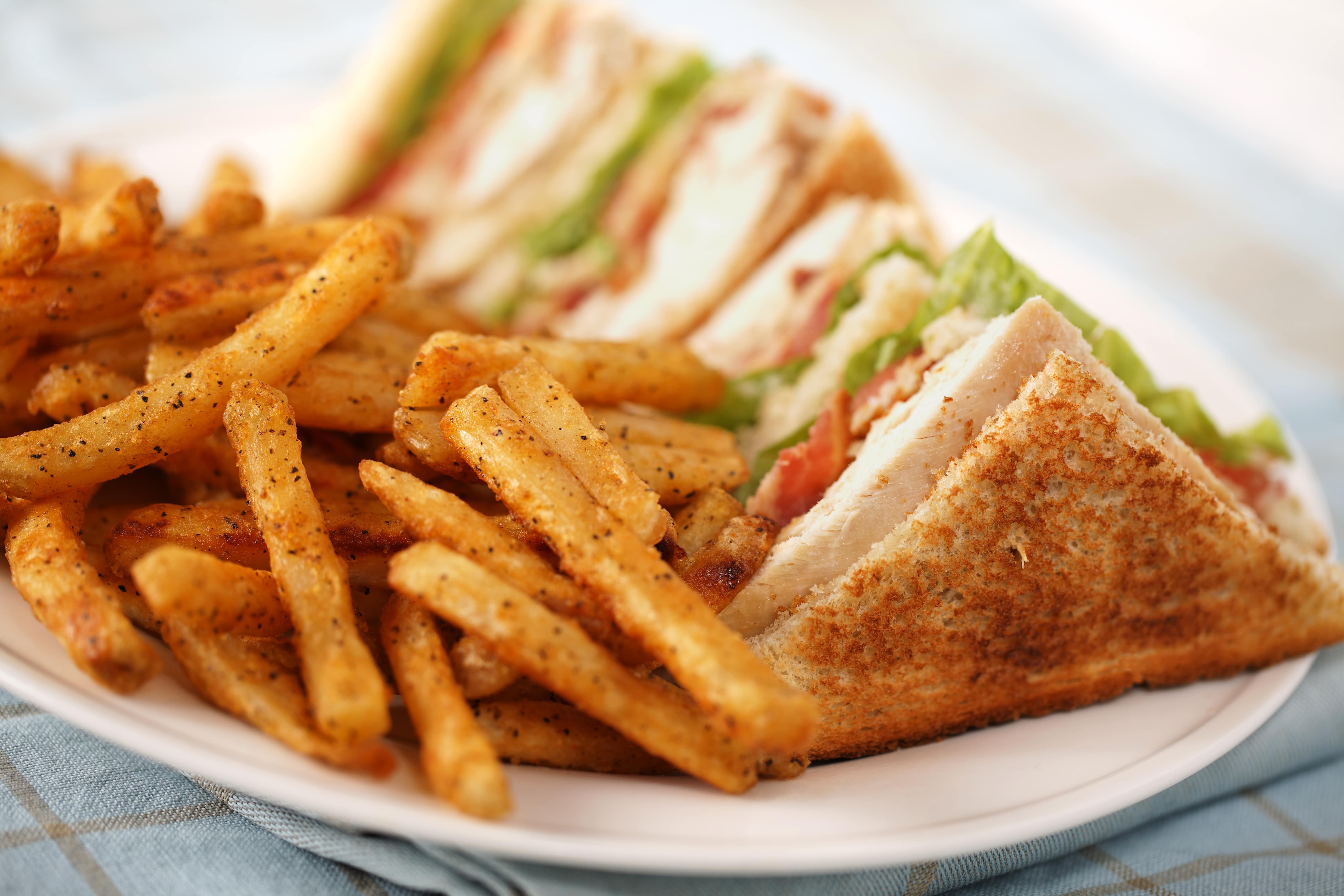 Ingredients for a club sandwich
White sandwich bread, 3 slices
Bacon, 4 slices
Tomato, 1
Turkey or chicken breast, 3 thin slices
Iceberg lettuce, to taste
Mayonnaise, 1 tablespoon
Alouette variety potatoes, 2
Peanut oil for frying, 500 ml
Salt, to taste
Pepper, to taste
Preparation
Start by making the fries. Wash the potatoes, peel them and cut them, first into slices about 1 cm thick and then into sticks about 1 cm thick. Soak the sticks in cold water for about two hours in the fridge. This step will help remove any excess starch and make crispy fries. Once this time is up, drain the potatoes, dry them thoroughly and fry them in a non-stick pan in boiling peanut oil until they reach the desired golden brown colour and consistency. While the potatoes are frying, fry the bacon in a pan for a few minutes until it turns crispy. Do the same thing for the chicken or turkey; in this case, as the slices are thicker, you will need to leave them on the hob for a few minutes more and make sure they are well-cooked inside. In the meantime, toast the bread and prepare the fresh ingredients: the sliced tomato and lettuce leaves.
Once the meat is cooked, spread some mayonnaise on the toast, place the tomato and bacon on top and, once you have added the second slice of bread, add the chicken or turkey, another slice of bacon and a few lettuce leaves. Finish by closing the sandwich with a third slice of bread and cut it into quarters. Serve the sandwich with the fries seasoned with salt and pepper.
Image by Paul Binet from Shutterstock