If you think that only a dip in the sea or a swimming pool can save you from the sultry summer heat, think again! Here are five fruits that guarantee hydration and freshness when the heat starts to feel overpowering.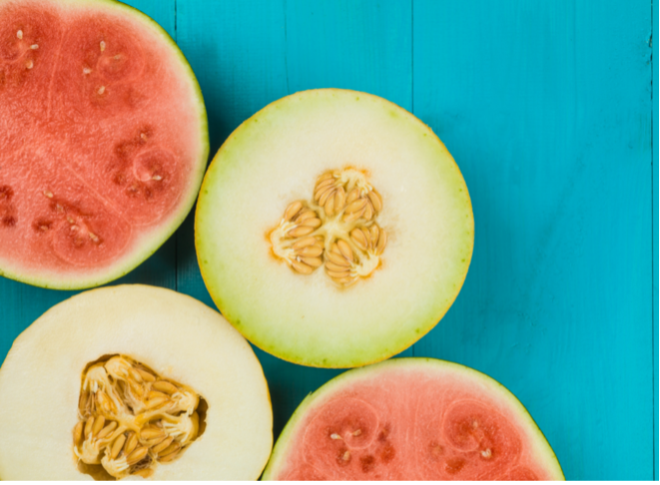 When the thermometer begins to rise, the body needs more fluids, mineral salts and vitamins. This is why it's even more important to make sure that fruit and vegetables are part of your diet. Some seasonal foods are particularly effective in helping combat the heat. Whether you prefer to enjoy them in thirst-quenching smoothies, rich shakes or in a simple fruit salad, these 5 fruits will freshen up your summer.
Melon. Sweet, refreshing and versatile, melon is an extraordinary ally in summer menus. Perfect in cool smoothies, as a single dish or starter in combination with cured ham, or simply to be eaten alone as a snack.
Watermelon. The quintessential summer fruit, watermelon is absolutely the most thirst-quenching seasonal fruit. It consists in 95% water, a true hydration boost. Also perfect for sweet shakes.
Peaches. Yellow, white, nectarines, flat, just to mention a few. Whatever your preferred variety, it isn't summer without peaches. Scented, rich in water and versatile in terms of other fruits they can be combined with, peaches are also good for staying hydrated and nourished.
Fioroni figs. Fioroni figs are different from the figs that mature at the end of summer: they are larger in size and have a less sweet flavour. Ideal for a snack, at the end of a meal or even eaten in combination with cheese, they are a superb energy source against summer fatigue.
Blueberries. An excellent source of vitamin C and antioxidants, blueberries are ideal for taking the edge off your hunger pangs or in tasty shakes, fruit salads, as well as with yoghurt or ice cream.
Image: Canva