Quality, research and innovation, sustainability, and the supply chain: Romagnoli F.lli Spa will be focusing on these topics at the next edition of Macfrut (Rimini Expo Centre, 8-10th May 2019).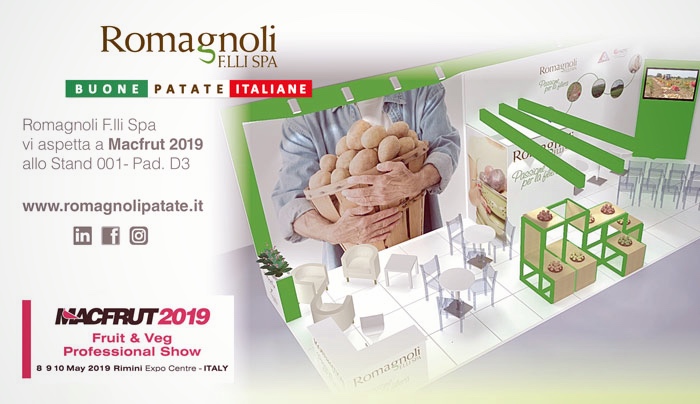 The company will once again this year be making an appearance at the fruit and vegetable industry's top national and international event (pavilion D3, booth 001). Here, it will be showcasing its excellent produce to a specialised crowd, encouraging opportunities to discuss and delve deeper into subjects that hold great relevance for production chains, the potato supply chain in particular.
Events by Romagnoli F.lli Spa at Macfrut 2019:
Wednesday 8th May, at 3.30 p.m., the Romagnoli F.lli Spa booth will be hosting the meeting "Potato varieties: the new generation", during which the company's specialists, Francesca Russo and Paolo Bai, will be talking.
Thursday 9th May, at 11.00 a.m., Angelo Gentili, manager of Agricoltura Legambiente, Gabriele Chilosi, professor at the University of Tuscia, and Guglielmo Donadello, from Legambiente, will be discussing the subject of "Research and experimentation for sustainable potato production".
Again on Thursday 9th May, at 3.30 p.m., we'll be continuing with the round table "Strength of the supply chain: added value, shared value", where Giulio Romagnoli, CEO of Romagnoli F.lli Spa, Luca Giavi, director of Consorzio di Tutela Prosecco DOC, Riccardo Deserti, director of Consorzio Parmigiano Reggiano DOP, will be speaking.
Roberto Della Casa, managing director of Agroter, will then bring our activities to a close.
At the end of the meeting on Thursday 9th May, our lovely guests will have the opportunity to taste some Parmigiano Reggiano DOP that has been aged for 20 months, and Prosecco Valdobbiadene DOCG.